Radicchio Tardivo con Aceto Balsamico – Balsamic Marinated Radicchio
March 20, 2017
Radicchio Tardivo con Aceto Balsamico – Balsamic Marinated Radicchio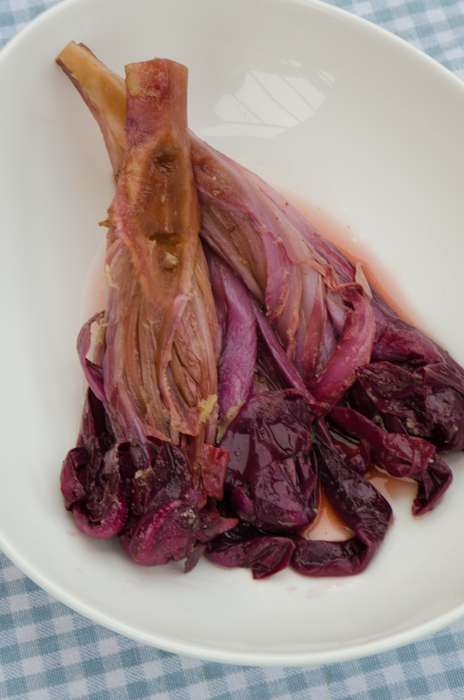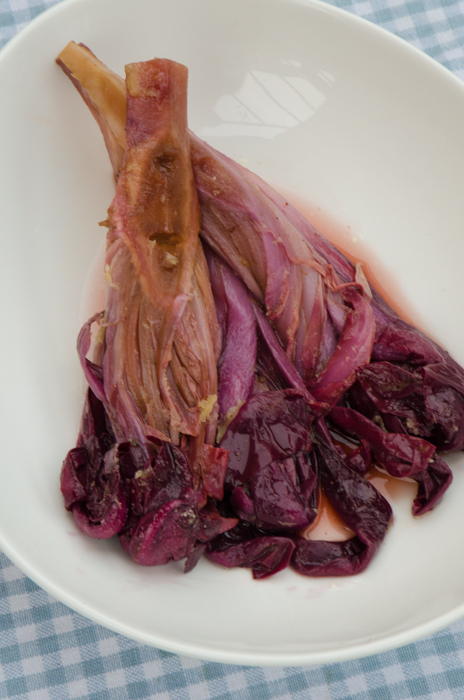 As I return to Italy for our first private walking tour, I arrive to enjoy the last of the winter Tardivo radicchio. The Tardivo is a uniquely shaped plant with elongated leaves and pronounced white ribs tinged with red, giving rise to its nickname Fiori d'lnverno or "winter flower". Red radicchio is a chicory, a relative of the wild plant you can still find growing along the roadside today. It was introduced to the Venetian republic in the fifteenth century and became intensely cultivated especially in the Treviso area. Growers here developed many different varietals over the years, each providing a different flavor profile and different growing season.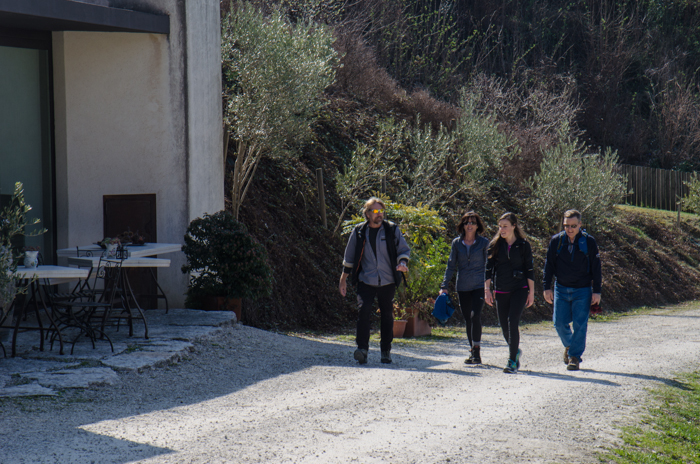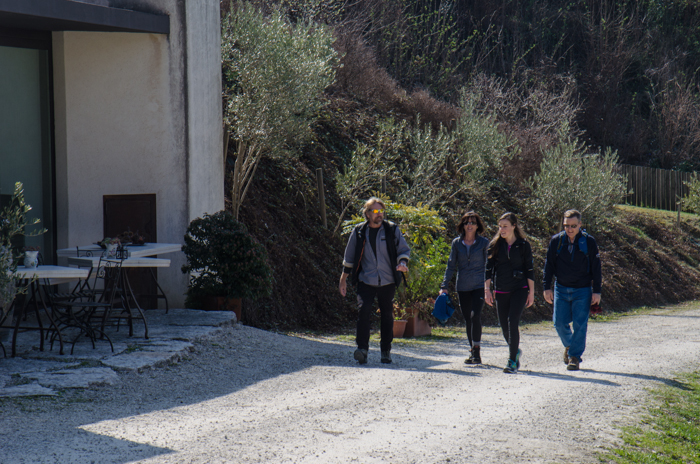 March is a great month for an Italy walking tour.
There are two varieties of Radicchio Rosso di Treviso which are grown in and around Treviso, and both are protected by their own IGP quality designation. The Precoce variety appears first in the season, and has deep red leaves, with an elongated shape. It has the sweetest and most delicate flavor in the radicchio family.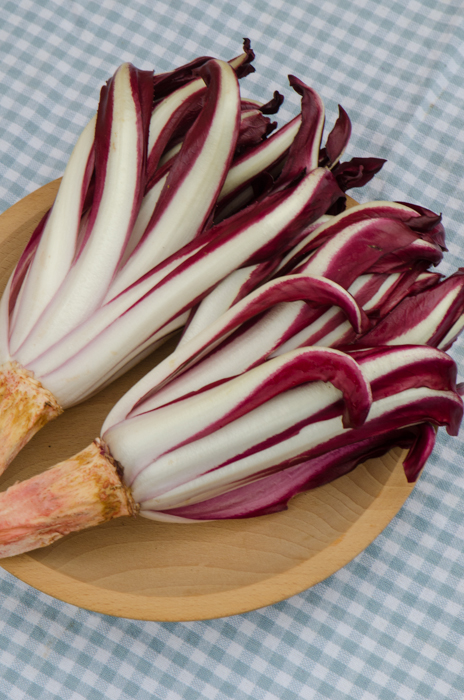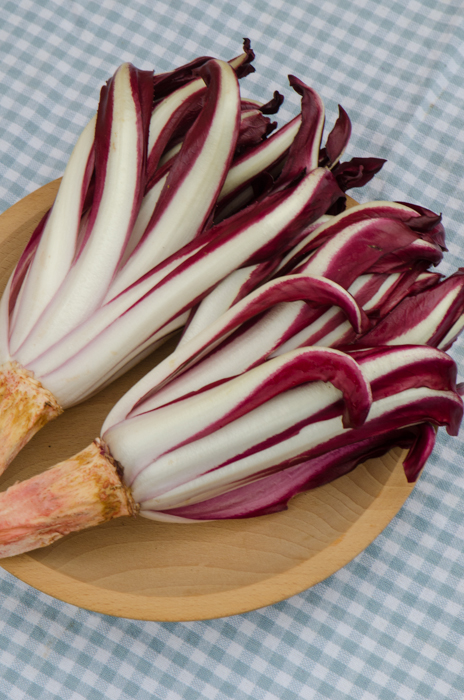 The second type, Tardivo, is more elongated, with a more pronounced vein. Radicchio di Treviso was engineered by a Belgian named Francesco Van Den Borre who lived in Italy and cared for the gardens of the villas in the Veneto.  He applied the imbianchiamento techniques used in his country to radicchio plants to create white-veins in the red leaves. This is a forcing, or 'whitening" process similar to that used for Belgian endive, in which field-harvested plants have their upper halves cut off, and then are replanted in running water. After a few days, the deep red inner 'heart' begins to grow, which is sweet and tender, with a touch of the original bitterness still remaining. The older outer leaves are removed and the heart is what you will see in the market.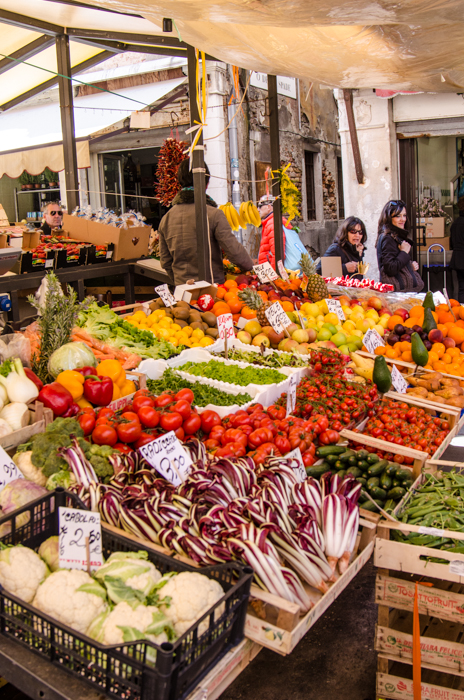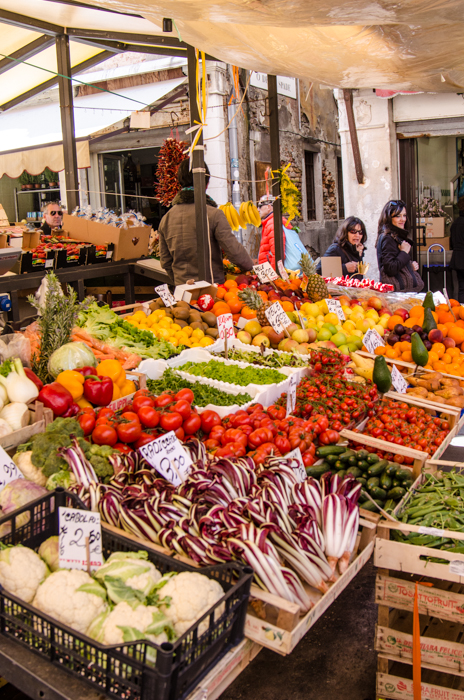 Radicchio tardivo at Rialto market in Venice
Tardivo is the more flavorful of the two, very crisp with strong bitter accents. It can be simply sauteed in olive oil and served as a side dish, or grilled. A very typical preparation found on antipasti platters here in the Veneto is the following version, where the radicchio tardivo is blanched and marinated in balsamic vinegar and olive oil. You can add some sweetness with the addition of dried fruits and pine nuts. Leftovers can be used to flavor a risotto.
Balsamic Marinated Radicchio
4 heads of Radicchio Tardivo
4 cups water
1/2 cup red wine vinegar
1 cup dry white wine
1 tablespoon kosher salt
Juice and zest of 1 lemon
2 tablespoons extra virgin olive oil
6 tablespoons balsamic vinegar
Kosher salt and freshly ground pepper
Fresh thyme leaves
Wash and cut the radicchio lengthwise into quarters, making sure to split it from the root, so that the leaves will stay together.
Place the water, red wine vinegar, white wine, and salt into a large pot and bring to a boil over high heat. Blanch the radicchio for two minutes, then remove and place in a colander to drain.
Prepare the marinade by mixing the balsamic vinegar, olive oil, lemon zest, a pinch of salt and pepper and the thyme leaves.
Lay the radiccchio on a seving platter and drizzle with the marinade and lemon juice.