Pret a Manger's Vegetarian Pop-Up Store Is Now a Permanent Fixture
September 12, 2016
Pret a Manger's Vegetarian Pop-Up Store Is Now a Permanent Fixture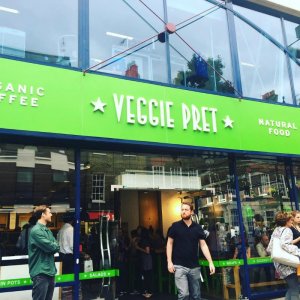 Plant-based food is popping up everywhere these days, and we couldn't be more thrilled. Recently, the popular sandwich and salad chain Pret a Manger (called Pret for short) opened up a meat-free store, called Veggie Pret, with tons of vegan options.
First visit to #veggiepret #veggie #vegan #healthylivinglondon
A photo posted by Angela Sheppard (@angesheppard) on Sep 9, 2016 at 5:34am PDT
The store was originally intended to be open for one month, but three months later, Pret has announced that it will stay open permanently.
On the Pret website, CEO Clive Schlee exclaimed, "I can now tell you that we've taken the decision to keep it open for ever(!)" In fact, a second London location is already planned.
At the new 100% vegetarian @pretamangeruk pop-up in Soho eating hummus and pickled onions on rye, chocolate pudding, and a ginger shot. Lots of the vegan stuff is already sold out, and it's only been open a few hours. Way to go, Pret! ✌️
A photo posted by quarrygirl (@quarrygirl) on Jun 1, 2016 at 6:46am PDT
Schlee came up with the idea for Veggie Pret after noticing a shift towards plant-based eating. One popular item, the SuperBowl, was selling more in the meat-free version than in the chicken, salmon, and crayfish alternatives. "This would have been unheard of five years ago," Shlee explains on the website.
Celebrating today's news that @pretamangeruk is keeping their trial all-vegetarian branch in London open permanently!
✌️
A photo posted by ASOS Eco Edit (@asos_ecoedit) on Sep 6, 2016 at 3:27am PDT
We hope the company opens a stateside Veggie Pret location soon!
Compassion speaks loudly, and people are listening. Have you been wanting to go vegan or to encourage a friend or family member to make the switch? Take our vegan pledge today.
The post Pret a Manger's Vegetarian Pop-Up Store Is Now a Permanent Fixture appeared first on PETA.