Playa de la Paz: New Luxury Development in a Secret Mexican Getaway
November 22, 2016
Playa de la Paz: New Luxury Development in a Secret Mexican Getaway
Never heard of La Paz? You're not alone. But this sleepy Baja fishing town is poised to become the next Mexican jet-set destination thanks to the opening of a new luxury real estate development called Playa de la Paz. Just a 90-minute drive north of Cabo on Mexico's Baja Peninsula, the little town of La Paz sits on a small bay in the nook of a peninsula. For that reason, although it is on the eastern side of Baja, it faces west, and the sunsets are spectacular, blossoming from gold to red and purple over the waters of the bay and the mountains.
Playa de la Paz lies just a short distance from the main town on its own private beach, a rarity in Baja. So although the attractions of the town, including a tranquil boardwalk and plenty of restaurants and nightlife are close at hand, the resort itself feels quiet and secluded. There are just 23 deluxe residences here ranging from one to three bedrooms, and priced from just under a million dollars to north of three million for the largest. All combine spacious indoor and outdoor living spaces, and the multilevel units boast al fresco patios and terraces overlooking the sea.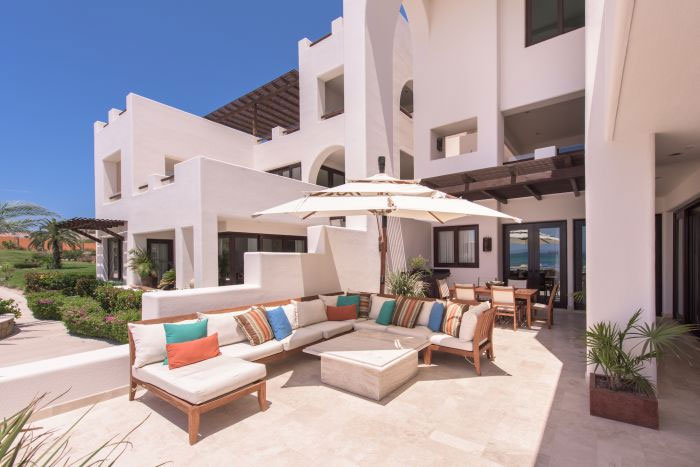 Each residence is fitted with hand-carved and hand-placed marble and stone tiling; maple, walnut and oak furnishings; full kitchens with Viking appliances; and dining areas and living rooms, not to mention the myriad of outdoor spaces with lounge and dining furnishings. The sleeping quarters have handsome, oversize beds that practically invite you to sink into the crisp, white linens after a sun-filled day on the tranquil little beach in front of the resort. There is also a curvaceous freeform pool fronting the beach with lounge chairs and seating areas, as well
Though the residences are currently for sale, visitors can also book several either directly through Playa de la Paz or via Inspirato for rates starting at $1,100 per night. During a visit, the staff can also arrange any number of excursions and treats to keep you busy as well. Take a sunset ride on Tecolote Beach on horses borrowed from the ranch of Playa de la Paz's owner, or ask for a poolside massage after a morning spent on one of the community's paddleboards.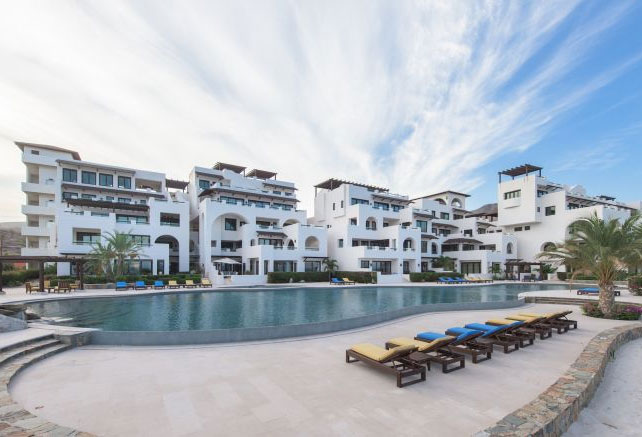 But the main reason to visit La Paz is for its incredible ocean environment. No less a luminary than Jacques Cousteau himself called the Sea of Cortez the "aquarium of the world," thanks to its biodiversity and the profusion of marine life found here. There are over 900 species of fish, including many that only exist in its waters. There are also several types of rays, sea turtles, marlin, tuna, the endangered vaquita porpoise and, of course, the largest fish on earth: whale sharks. This is one of the only places in the world where you can regularly swim with these leviathans, making La Paz that much more special.
These gentle giants typically come here to feed in the plankton-rich waters from October-February. They can weigh up to about 20 tons and get to be over 40 feet long. There are several outfitters in town that can arrange guided boating tours and swims with the whale sharks, but make an appointment with The Cortez Club, who can arrange all manner of ocean excursions and who will pick you up right at Playa de la Paz's beach for your day out on the water.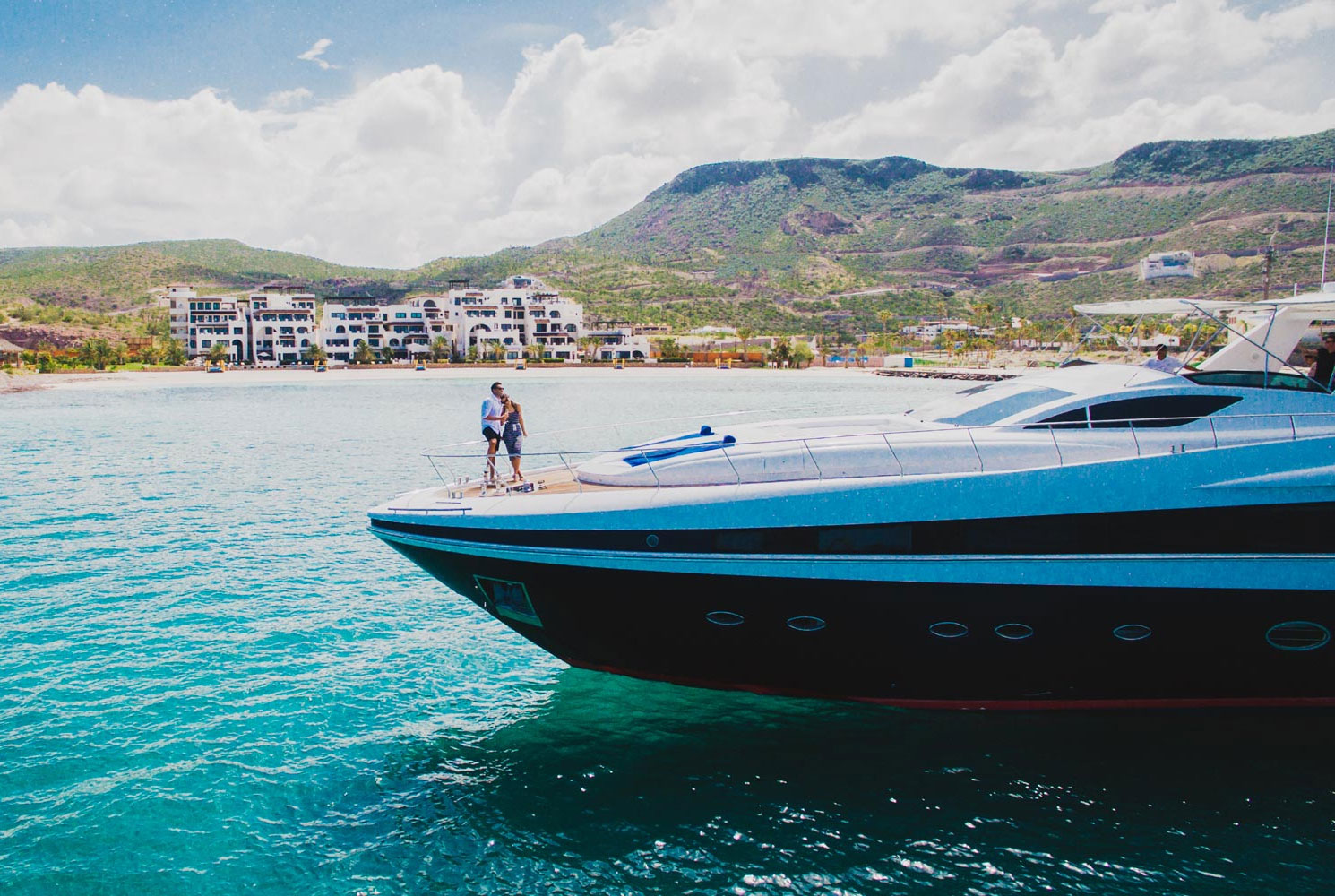 "Look for its fin and its tail swimming through the water," your guide will advise as you slowly motor through the placid waters of the Sea of Cortez. Shield your eyes from the morning sun's glare as you scan the surface looking for the telltale back-and-forth swish of a shiny gray tail or dorsal fin, and keep your mask, snorkel and fins at the ready.
When you do spot one, it's time to jump into the water and start swimming as fast as you can. During one morning out, we swam with about eight of them, mostly juveniles who were a mere 12-16 feet long. Impressive enough, but small by whale-shark standards. Some were nearly still as they quietly filtered the water for their meal while others drifted along with the current, barely seeming to move…though it will take all your strength and stamina to keep up with them for even a few minutes on the open water.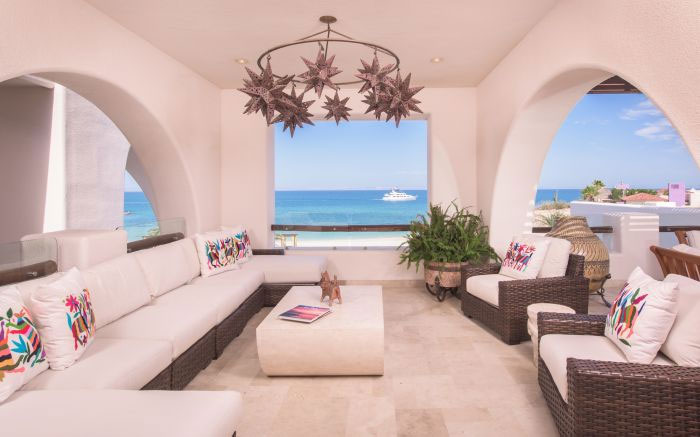 After your whale-shark swim, ask your captain to drop you off for a hearty seafood lunch at Pichilingue beach, including enormous brown-shelled "chocolate clams." Then charter a boat in the afternoon to take you past a sea lion colony up to the national park and UNESCO-listed Isla Espiritu Santo to swim its pristine waters. Take the opportunity in the evening to head into town for dinner in the brick-walled back garden at Las Tres Virgenes. There are plenty of local delicacies to indulge in, including fresh ahi tacos and mesquite-grilled Sonoran steaks. Just the sustenance you'll need for another day of adventure.
For those who have hit the Cabo clubs, are tired of Puerto Vallarta's tourist throngs and are over the cacophony of Cancun, La Paz is the perfect alternative. Quieter than better-known destinations, it retains an authentic Mexican character that other places are starting to lose, and boasts some of the best diving in the world. Now, with the opening of Playa de la Paz, it finally has luxury accommodations to match the spectacular setting.