Planet Smoothie Introduces Three Out-of-This-World Vegan Flavors
September 12, 2016
Planet Smoothie Introduces Three Out-of-This-World Vegan Flavors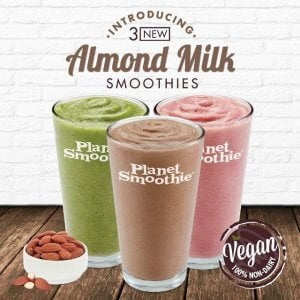 Almond milk is the coolest plant-based milk on the block, and Planet Smoothie recently got on board with three limited-time vegan smoothie flavors: Pineapple Tropi-Kale Twist, Salted Peanut Butter Cup, and Strawberry Chia Chiller.
Looking for non-dairy alternatives? We've got you covered. Introducing three new, vegan smoothies made with almond milk!
A photo posted by Planet Smoothie (@planetsmoothie) on Sep 8, 2016 at 10:44am PDT
As people continue to learn how terrible cow's milk is for animals, the environment, and their personal health, smoothie chains like Jamba Juice and coffee retailers such as Peet's and Starbucks are catering to the growing demand for plant-based milk.
The new flavors will be available until January 2017, but almond milk will continue to be available for any smoothie after January.
Who's thirsty?
Sign up for our Living E-News newsletter for the latest vegan recipes, news, and tips, sent to your inbox once a week.
All fields in bold are mandatory.
By submitting this form, you are agreeing to our collection, storage, use, and disclosure of your personal info in accordance with our privacy policy as well as to receiving e-mails from us.
The post Planet Smoothie Introduces Three Out-of-This-World Vegan Flavors appeared first on PETA.