ONE Restaurant/Lounge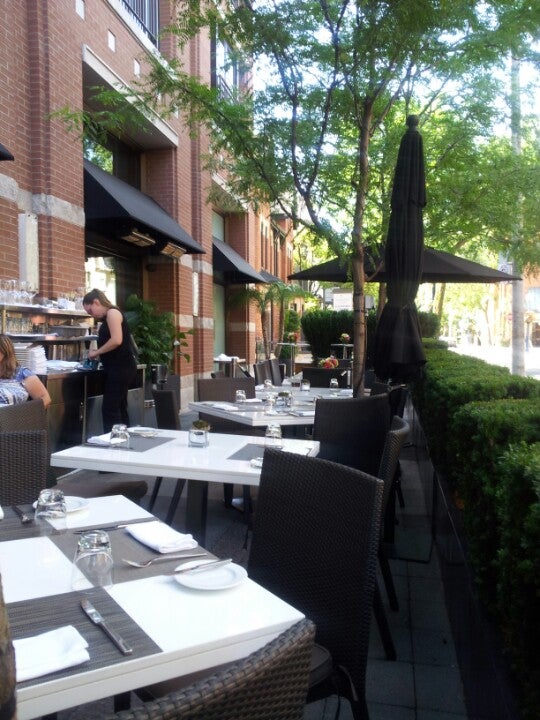 Foursquare Tips
This is THE star gazing spot during TIFF...

Mostly prostitutes.

Lobster spoons is a great appetizer !

Great patio! The albacore tuna was so delicious. Oysters are great. Reasonably priced for the area.

Having a great cinnamon bun

Saffron Sling for those who like Gin. Lipstick for the ladies. Guys get your woman a few Lipsticks ;)

Some of the must-try dishes include foie gras with pickled blueberry and Alaskan black cod marinated in miso.

The beef carpacio with smoked cheddar and truffle is a must.

Excellent place, very fast service, nice drinks and delicious salads!!

The best brunch in Toronto, especially in the summer. Well curated menu, very attentive staff. Off menu recommendation: lobster carbonara.

Eggplant arrabbiata, prawn lettuce wraps, and Cajun fried cauliflower were delicious. For main, branzino was heavenly. Also try their olive bread! For dessert, try either cheesecake or chocolate cake

One of the great places I've been to greet food and beautiful area #Toronto #Canada #food #

It is a great fancy restaurant with very delicious food and deserts .

One is everything a good hotel restaurant should be: Luxurious, fancy and run by a celebrity chef. Read more: http://jamiesarner.com/toronto-life/2016/07/5-tips-summerlicious/

Prices are very high and the food is indifferent from the other restaurants in the neighbourhood. Service is very slow

Way...way over priced. Many better restaurants in Toronto for the price.

Amazing dessert!!

Lobster spoons, tacos and vodka cappuccino martinis!

Way....way over priced....save your money and go somewhere cool

Buen buen restaurante. Recomiendo sentarse en la terraza.