The Must-Try Vegan Products from Natural Products Expo 2017
March 14, 2017
The Must-Try Vegan Products from Natural Products Expo 2017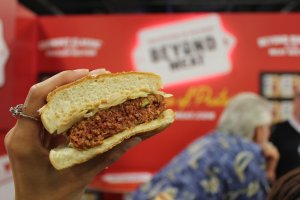 Natural Products Expo West is a huge annual tradeshow that exhibits the latest food, beauty, and household products. It features thousands of vendors that offer samples of their newest products, many of which are cruelty-free and vegan! This year's show was held in Anaheim, California, and offered a wealth of great new products, including many that took home NEXTY awards. Here are some of our favorites.
Last year, we mentioned Miyoko's Kitchen's NEXTY Award–winning vegan butter, and the company's latest product didn't fail to tantalize our taste buds, either. Its new Smokin' VeganMozz will be available in stores this summer, just in time to make that outdoor grilled pizza you've been dreaming about.
Last day here at #ExpoWest! We launched our Smoked VeganMozz to retail & will start shipping to stores this summer just in time for outdoor grilled pizza! If you happen to be here at Expo please swing by to sample and say hello! Booth 2999!
A post shared by Miyoko's Kitchen (@miyokos_kitchen) on Mar 12, 2017 at 9:15am PDT
Vegan culinary innovator Follow Your Heart's collaboration with Spork Foods yielded a deliciously convenient bottled pancake batter called Rocket Cakes, which earned a coveted Best in Show Award from VegNews. The easy-squeezy batter is vegan and gluten-free and makes fluffy, delicious pancakes. Follow Your Heart also debuted a pourable version of the popular VeganEgg and a brand-new line of yogurts in an impressive variety of flavors.
#ExpoWest was a whirlwind of a day! So fun running into our fav @sporkfoods cuties at @followyourheart
They have so many exciting things happening including this pre made/instant pancake mix! #AllDayVegan
A post shared by Christopher & Elizabeth (@alldayvegan) on Mar 12, 2017 at 10:49am PDT
The new @followyourheart yogurt line!! Kiley loved the key lime one #expowest #followyourheart #naturalproductsexpo
A post shared by A Vegan (@yourveganfriend) on Mar 11, 2017 at 12:30pm PST
The vegan burger masters at Beyond Meat will stop at nothing to prove that their animal-free products can fool any omnivore. This year, the company's booth emulated the look of fast-food giant In-N-Out Burger. Although the brand didn't debut any new products at the event, it offered Beyond Burger samples and advertised a soon-to-be-released frozen patty.
Crushing burgers and breaking hearts at #ExpoWest day two. This weekend has been nuts. We've shot a dozen videos for vegan companies we work for (and a few rad bits for the @veganfoodshare feed), and in between I'm trying to grab quality time with out of town marketing directors and ceos. Looking forward to a long sleep tonight, then back in the studio tomorrow filming a music video for a British boy band. #vegandirectorsclub
A post shared by Asher Brown (@smasherbrown) on Mar 11, 2017 at 5:28pm PST
Daiya—best known for its delicious variety of nondairy products—wowed its fans with a full kitchen setup at the expo, serving several new and reformulated products. New offerings included cheeze sauce, a seasonal pumpkin cheezecake, and new American cheeze slices. Everything was just as creamy and satisfying as we expected, and we may have gone back for seconds—a few times!
Into these new cheese sauces by @daiyafoods
Going to be so perfect for all our nacho needs #AllDayVegan
A post shared by Christopher & Elizabeth (@alldayvegan) on Mar 12, 2017 at 6:09pm PDT
Flavor master Sweet Earth Natural Foods served up its newest offering, a Mediterranean veggie burger, which not only packs a punch of 11 grams of protein but also is free of palm oil. The tasty burger, made from organic chickpeas, won the NEXTY for best new meat alternative. This filling burger has a great texture, and the blend of Mediterranean spices gives it a fresh flavor—perfect for summer cookouts.
And congratulations to @sweetearthfoods for taking the #bestnewmeatalternative #NEXTYAWARD at @natprodexpo #vegan #palmoilfree #vegansatexpo #mediterraneanveggieburger we carry their Hickory Sage Benevolent Bacon at the shop, stop on by and grab yourself some!
A post shared by Orchard Grocer (@orchardgrocer) on Mar 11, 2017 at 3:35pm PST
Field Roast, a premier maker of grain meat sausages and roasts, as well as Chao Slices, shared its new boxed Mac n' Chao Cheese, along with Miniature Corn Dogs, Fruffalo Wings, and seven other yummy vegan products that will all be available in stores soon. Pairing the convenience of a boxed meal with the classic charm of everyone's favorite comfort food, the Mac n' Chao left us craving more.
Today's a big day for us. Announcing today at #ExpoWest, we are officially launching 10 brand new products this year. We have four new products from our CHAO Creamery line: Creamy Mac n Chao, Chili Mac n Chao, Chao Mayo, and Chao Butter. We will also be rotating three new Seasonal Sausages: Bratwurst, Lil' Smokies and Hawaiian. Last but not least, we are also launching three new frozen snack items: Fruffalo Wings, Sunflower Katsu Cutlet and Miniature Corn Dogs. We can't wait for you to try them, and keep with us on social for more information on when and where they'll be available!
A post shared by Field Roast (@fieldroast) on Mar 10, 2017 at 5:06pm PST
Tofurky isn't new on the vegan food scene, but it continues to expand its product line in unique and delicious ways. At this year's expo, it served up skewers featuring a meat-free beer-glazed ham roast, just in time for Easter. This savory "ham" had a perfectly salty-sweet flavor that paired well with the peppers and pineapples on the sample skewers.
Come see us at @natprodexpo – Booth #2487! We're slingin' up some tasty new products – including our new beer-glazed Ham Roast!
A post shared by Tofurky (@the_tofurky_company) on Mar 11, 2017 at 10:53am PST
So Delicious, the maker of dairy-free milks and a swiftly growing variety of creamy products, brought its new coconut milk yogurt to the expo. With a rich texture and decadent flavors, this new vegan yogurt is definitely worth trying. Luckily, it's already available in stores!
Well-played, Whole Foods, well-played.

How could I resist?? Excited to try this coconut yogurt and the cashew yogurt I picked up! #wholefoods #coconut #cashew #coconutyogurt #cashewyogurt #dairyalternative #dairyfree #nondairy #sodelicious #groceries #necessities #yogurt #snacks #plainyogurt #vanilla #chocolate #coconutmilk #coconutmilkyogurt #snacktime #chocolateyogurt #unsweetenedcoconut #yum #love #nursingstudent #groceryshopping #gettingbackontrack #food #wholefoods #groceries #snacks #organiccoconut @wholefoods @so_delicious
A post shared by Stacy (@stacyklejwa) on Mar 9, 2017 at 9:08pm PST
We tried hundreds of new vegan products at this year's expo, and while these were a few of our favorites, we also really enjoyed samples from Forager Project, Good Karma Foods, Vega, Upton's Naturals, and many more. We can't wait until all these products are available in stores, and we're already looking forward to Natural Products Expo West 2018!
Want more vegan tips, recipes, and news? Of course, you do! Sign up for PETA Living E-News, sent to your inbox once a week.
All fields in bold are mandatory.
By submitting this form, you are agreeing to our collection, storage, use, and disclosure of your personal info in accordance with our privacy policy as well as to receiving e-mails from us.
The post The Must-Try Vegan Products from Natural Products Expo 2017 appeared first on PETA.