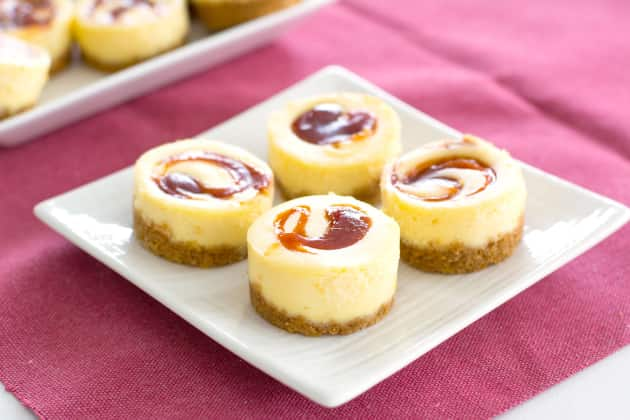 For Christmas I received a mini cheesecake pan. I adore cheesecake (who doesn't?) and I happen to believe that food tastes better when it's tiny.
That might be purely psychological, but nevertheless I was eager to put my new pan to use!
Plain cheesecake is amazing, of course, but it's even better when dressed up. There are so many flavors, so many different types of crust… the options are literally endless!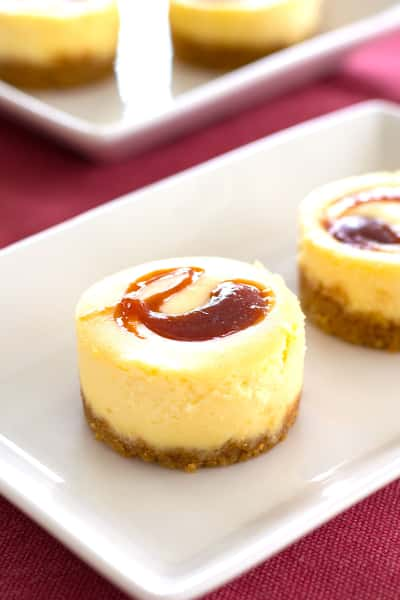 You can even use different types of cheese, which I may have to share with you all sometime, but in the end I settled upon classic cream cheese for the inaugural bake.
More often than not, my thoughts turn to Puerto Rican food. One of my all-time favorite meals is a bowl of Puerto Rican rice and beans. But when it comes to dessert, guava fruit is a popular flavor in the Caribbean.
It's a really simple ingredient to work with. For example, only guava paste and puff pastry are needed to make pastellitos (guava puffs) and they're absolutely gorgeous!
Guava is often paired with cream cheese since the sweetness complements the tang so beautifully. So I decided to drizzle some on top of my mini guava cheesecakes for a burst of flavor and pop of color. Aren't they adorable?
If you don't have guava paste (available in Hispanic markets), you can also use guava preserves, or the preserves of your choice. Strawberry and raspberry jam are favorites, but pineapple would be a delicious tropical twist!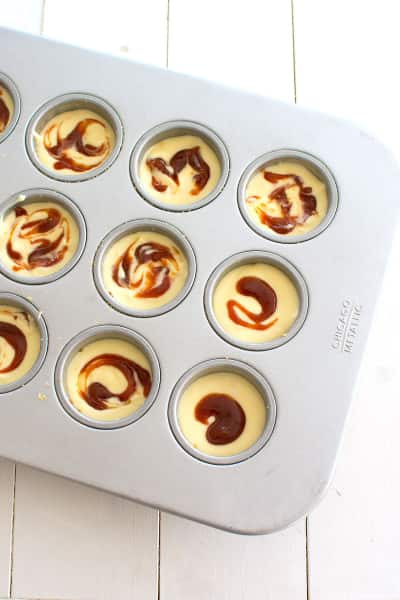 I absolutely love my mini cheesecake pan! The bottoms pop out so the cheesecakes are easy to remove. They're also the perfect portion size. Highly recommend getting one.
If you don't have a mini cheesecake pan, don't worry! You can still make these in a cupcake pan. I recommend lining the cupcake pan with paper liners for easy removal of the cheesecakes.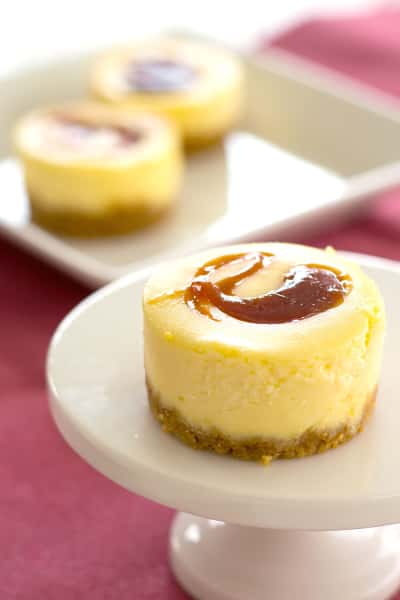 Ingredients
For the Crust:
1 cup Graham Cracker Crumbs, about 5 crackers
4 tablespoons Butter, melted
1 tablespoon Granulated Sugar
For the Cheesecake:
8 ounces Cream Cheese, softened
1/4 cup Granulated Sugar
1 large Egg
2 tablespoons Heavy Cream
1 teaspoon Pure Vanilla Extract
For the Swirl:
6 teaspoons Guava Paste
1/4 teaspoon Lemon Juice
Directions
Preheat oven to 325°F. Lightly grease a mini cheesecake pan with 12 wells, or line cupcake pan with paper liners.
For the crust, combine the graham cracker crumbs, melted butter and sugar. Press a heaping tablespoon into the bottom of each cup and tamp down firmly.
In a stand mixer, beat the cream cheese and sugar until smooth. Add the egg, cream and vanilla; mix on low speed until combined. Evenly divide the mixture among the cheesecake pan.
In a microwave safe bowl, warm the guava paste until melted, but not hot. Add lemon juice to thin it out and stir to combine.
Place a half teaspoon of guava paste on each cheesecake and swirl with a toothpick. Bake for 15-18 minutes, or just until set. Let cool on a wire rack before removing from pan, then chill cheesecakes thoroughly before serving.
Notes
You can also use guava preserves or preserves of choice in place of guava paste.
Recommended