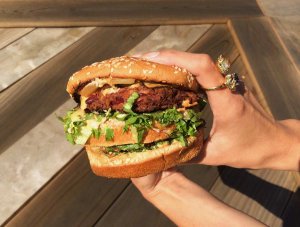 A new food truck has stormed onto the market in London, Ontario, offering the perfect vegan "cheat day" meal: an all-vegan Big Mac style burger. Judging from the lines, we think this vendor is onto something.
The truck goes by the name of McVegans, and it stops all over the London area. The founder, James McInnes, named this vegan behemoth of a sandwich—the Big McInnes—after himself. And customers are willing to brave the lines. The vendor has been a hit at food festivals and farmers' markets, selling over 1,000 burgers in its first weekend in operation.
vegan big mac from GloballyLocals booth was soo good!
#bigmac #globallylocal #vegan #local
A photo posted by kat
(@being.kat) on Jul 30, 2016 at 9:01pm PDT
You can track McVegans' schedule by checking out its Facebook page or visiting its storefront at 5619 Colonel Talbot Rd. in London, open daily from 10 'til 6.
This is just the tip of what we hope turns out to be a very big and delicious iceberg.
If a vegan Big Mac sounds like your dream, you may be able to find one near you.
After opening a new store in Toronto, Doomie's Home Cookin'—which also has a restaurant in Hollywood, California—is noteworthy for serving vegan Big Mac style burgers in two different countries. You may not spot it on the menu, but never fear: It's just a mouthwatering secret.
#VeganSoCool
✌Vegan fast food has opened in LA and Toronto, can't wait to give it a try (one day) haha but that's just AWESOME though !!!!!
A photo posted by 21 | Tahiti | R.F
(@timoonl) on May 2, 2016 at 12:04pm PDT
Los Angeles–area marketplace Organix also features an outstanding vegan "Mac Daddy" (among other delicious sandwiches and Mexican fare) at its deli counter.
Oh, @organixla, will you marry me? #vegan #bigmac #MacDaddy
A photo posted by Melon
Ⓥ (@koalifiedvegan) on Feb 3, 2016 at 5:57pm PST
We even spotted a meat-free ode to the Big Mac in Australia.
THE MAC IS BACK! After far too long an absence from our burger lineup we've got our big mock available again. Come in today to order this monster burger with two vegan beef patties, lettuce, cheese and special sauce on a sesame seed bun.
Follow us @Bontavera and tag us #mybontavera when you visit
Tag your favourite foodies in the comments
A photo posted by Bonta Vera (@bontavera) on Nov 5, 2016 at 3:17pm PDT
Be amazed by all the things that can be made vegan!
Creative chefs in restaurants and home kitchens all over the world are showing that you can make vegan versions of anything you can eat—from American fast-food staples such as Big Macs to caviar and haggis (and, of course, the foods that you already eat every day).
Not only is vegan food delicious, it's also good for animals and the environment.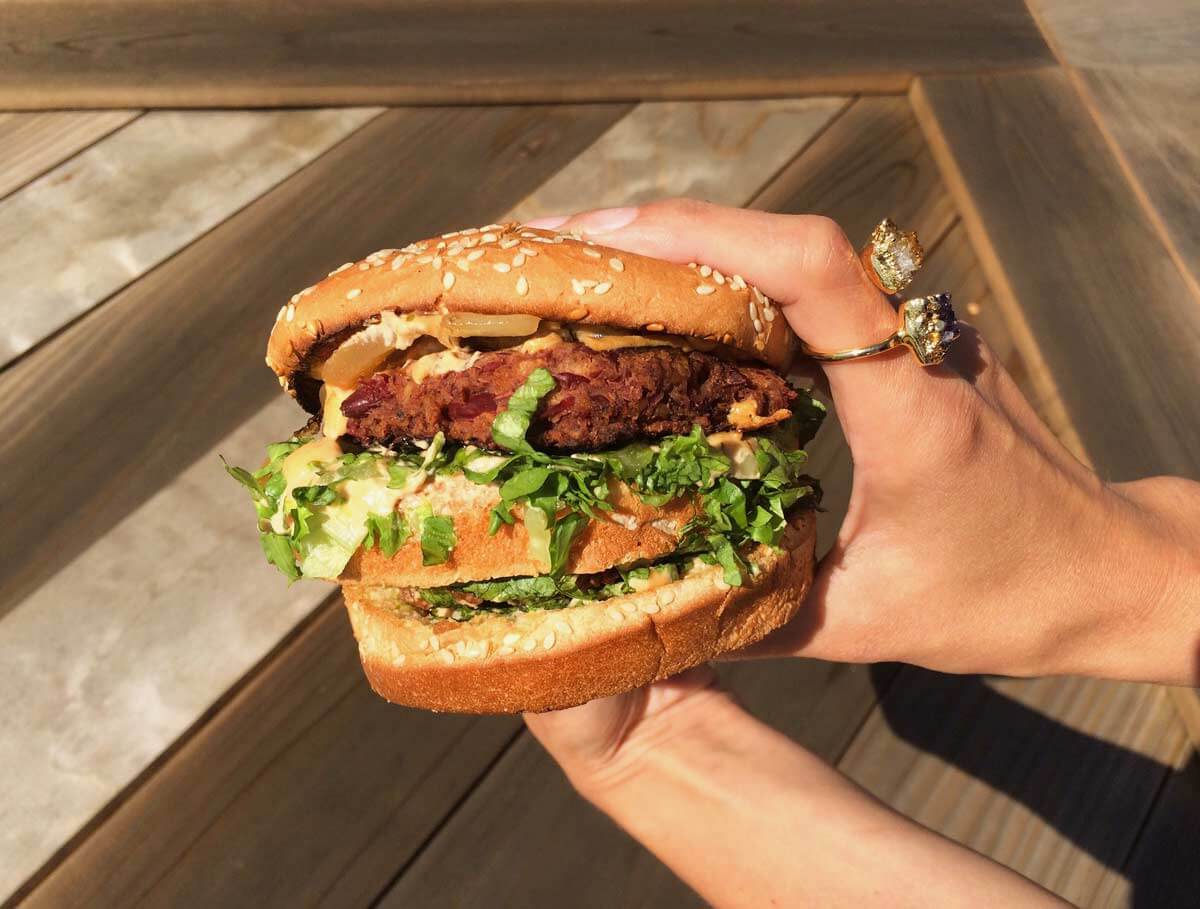 And while you definitely shouldn't eat whopping burgers like this every day if you're concerned about your health, we can help you find a tasty, healthy recipe for every other meal you'll eat this year. So take the pledge to go vegan now, then sign up for PETA Living E-News to get all the latest vegan news, recipes, and life hacks each week.
All fields in bold are mandatory.
By submitting this form, you are agreeing to our collection, storage, use, and disclosure of your personal info in accordance with our privacy policy as well as to receiving e-mails from us.
The post Looking for a Vegan Big Mac? Hallelujah, Look No Further appeared first on PETA.