Les Papilles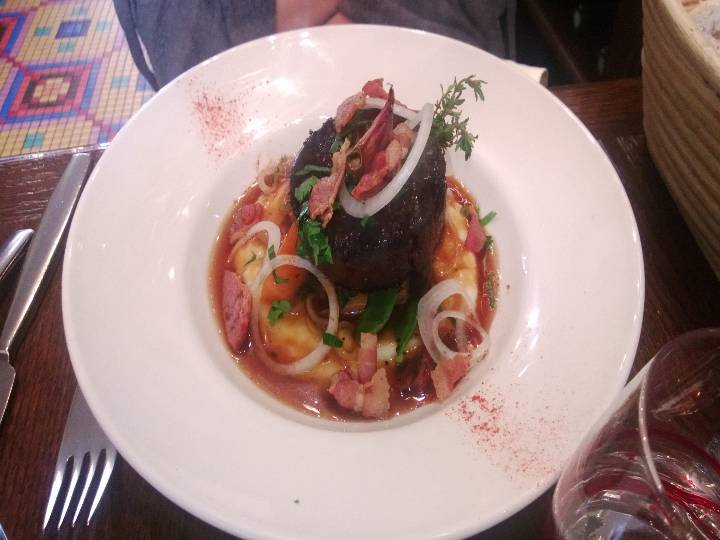 Map: Surroundings & Nearby
Around the Web
manger Les Papilles Paris Prix Fooding Guide 2004 Prix Fooding Guide 2004 de la meilleure auberge L'Ami

Papilles Le Baron Rouge Beaujolais Nouveau Paris Favorites Time Out Paris Dining Guide French Menu

prize L'Ourcine Paris 2005 Fooding Guide award for best cave à manger Les Papilles Paris Fooding Guide

newsletter You might also like Chocolate, On Rue Tatin French Chocolate Indulgence On Rue Tatin Les Papilles

O Chateau Wine Bar and Tastings in Paris Restaurant Write-Up Policy Les Papilles Restaurant & Wine

les Pates Vivantes € West Country Girl € Les Cocottes de Christian Constant €€ Les Papilles €€ Breizh
Foursquare Tips
This narrow wine shop with just a few tables and a bar is home to a chef with haute cuisine credentials. Great menu with sophisticated bistro cooking served family-style in cast-iron and copper pots.

. .

Arrive, pick a wine, and your server will tell you what is on the menu. It is a new dish every day. We had a delicious soup followed by a rack of lamb with polenta then goat cheese with olive spread.

Hidden gem. Set menu every night w an endless selection of wines. Must-go if in Paris.

! , , , -. , 70 . .

Simply amazing...!

Absolute favorite. Serves one fixed menu every night for about 30 Euros - no choice - The gimmick is that you get up from your table to browse the shelves and pick your own wine. Reserve for dinner.

Perfect wine resto - set menu, you pick wine from the wall and pay 7 euros over retail price

Great meal. Just pick your wine off the wall, sit down and be served whatever is on the menu for the day. Really enjoyed it here.

Excellent French home cooking. Concept is 1 single menu per day (starter + main dish)

Paris'teki favori restaurantlarimizdan biri. Yemekler harikadir!

From DLebovitz 10 Things Not to Miss: This is one of my favorites, serving delicious food. Doubling as a wine bar, you pick a wine from the rack on the wall then enjoy your dinner. The menu is fixed

Small place but with a vast winery list and perfect food. It's like a secret place in Paris that you must visit have a daring and eat.

Wonderful food, you will feel at home as they bring the "cocottes" directly to the table so you can share a real meal among friends or family. Amazing wine selection, too.

Make sure to make a reservation... This is a set menu. You can choose your bottle of wine right of the walls.

The food is expertly prepared and the atmosphere is fantastic. The best part - you get to shop for your own bottle of wine to drink at dinner - it doubles as a wine store when not serving meals.

Market fresh set menu. Everyday is different. We had a pumpkin&chestnut soup, slow cooked beef, blue cheese and pannacotta with fig. Great.set price 33 euro. Reserve ahead.

Menu "retour du march" impos avec entre, plat, fromage et dessert 28,50: fracheur ultime garantie, avec un rapport qualit/prix exceptionnel!L'adresse fait aussi cave vin et picerie fine p

One of the best dinner we had in Paris!3 course menu-38(no choice)good wine selection(from 25per bottle+7)suggest to book table in advance!very small restaurant!Sancerre wine was delicious

Fixed menu that changes all the time, the food is classic and not snobbish and yet so good! Great price for a big meal.