Lancaster Central Market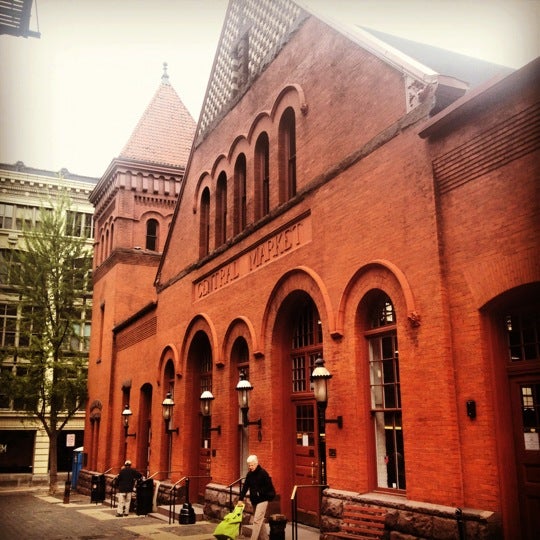 Map: Surroundings & Nearby
Foursquare Tips
The Mean Cup brews a mean cup.

Welcome to the oldest farmers' market in the US. This is the place to try some scrapple, stock up on apple butter and splurge on a handmade quilt.

Stop by the Amish stand that sells Achenbach's Bakery items. Hands down best cheese Danish I ever had. Soft, gooey. melts in your mouth!

Really love Weaver's, especially the sweet bologna and dried beef!

i need to get fruit here on tuesday

I always get my produce from Stoner's stand. They're friendly and get most of their produce from their own farm. When I think of a farmer's market, Stoner's stand is pretty much what I have in mind.

The spice man...need I say more?

A tip for all you tourists out there: Central Market is in a city, crowded with people. Although there are parking lots nearby there is no free parking whatsoever unless you can walk 5 or 6 blocks.

Thom's Rosemary Olive oil bread is delicious !

Get a coffee from the friendly baristas at Lancaster County Coffee Roasters.

In 1730 Andrew and James Hamilton laid out the town of Lancaster and designated a 120 foot square lot to be a public market, which it remains to this day - more than 280 years later.

Central Market is the best! Fresh veggies, meats, bread, pre-prepared foods and more all priced perfectly for a college-student budget. Open Tuesdays, Fridays and Saturdays.

Voted the fourth best market in the nation by USA Today, Lancaster Central Market has been recognized as America's oldest farmers market and is the best place to find Pennsylvania Dutch cuisine.

Rooster Street Pork has an amazing "meat cup" sampler of their best meats. Yum!!!!

Pure Blend Tea for some awesome blends - cannot wait to try the dark chocolate chai!

Some prices are lower during the week

Do not skip this gem. If you're in town, make time.

Rick's bread is a must try, and also the veggies.

Peppermint mocha @ Mean Cup

Named as one of America's top 10 public spaces - a must-see if you're in Lancaster on Tues. Fri. or Sat. www.centralmarketlancaster.com is a great website with a nice listing of all standholders.