Genghis Grill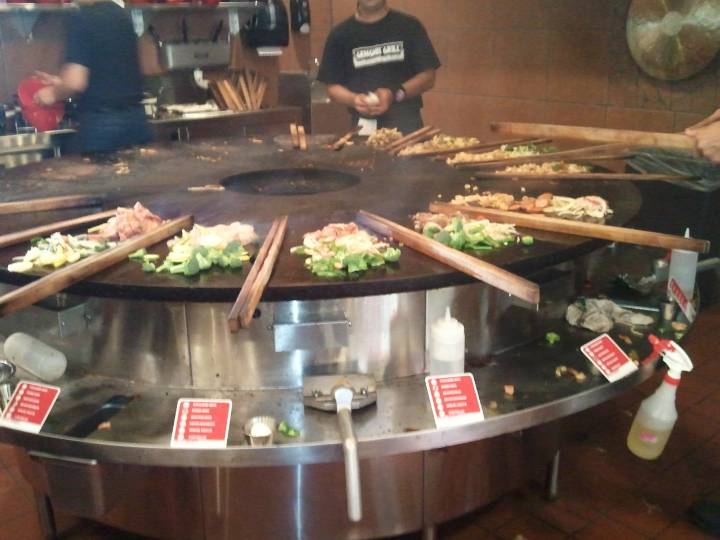 Map: Surroundings & Nearby
Foursquare Tips
This place is changing my life as we speak

We love this place for lots of reasons cc @lauriewdavis

If you can't find something you like, you have nobody to blame but you.

How good is the service? Uh, AMAZING!!!!!

Ahhhhfreakin'mazing!!!

Put the veggies on the bowl first, then meats. Works better that way. :-)

OMG. Cram the bowl to flat level with beef. Pile carrots, onions and water chestnuts as high a they will go without falling off. Submit with Mongo BBQ sauce and get fried rice. Awesome!

Get your kid to drive you here so you can partake of Saki and or Saki bombs!

Smash your bowl down once you have the veggies in it - you can double how much you get in it.

Fill your bowl up! Healthy, affordable, quick AND tasty!

Create your own bowl. Watch the spice. I love it but kids will complain if it's too much ;)

this place is amazing.. bowl suggestion: chicken, dragon salt, onion, tomato, spinach, mushrooms, egg, and 3G sauce over udon noodles = awesome

Healthy and delicious. Great staff

They have tofu and its separated from the meat for all you Vegans. Also if you like it hot then try the amazing Dragon Salt and/or Sauce. It's great!!!

Most satisfying meal I've had in a long time. Definitely recommend

No appetizers, so if you have a while to wait for part of your party no munching ahead of time.

What a fun place to take the kids

Easy on the spices. It can get hot and salty quick!

Be sure to ask for the tortilla, cheese, and sour cream when making fajitas! It's all included in the base price. Yum!

Get the biggest bowl that you can. During my first visit I purchased the small bowl and my vegetablesvwere falling out.