Focaccia al Rosmarino e Aglio – Focaccia with Rosemary and Garlic
January 6, 2015
Focaccia al Rosmarino e Aglio – Focaccia with Rosemary and Garlic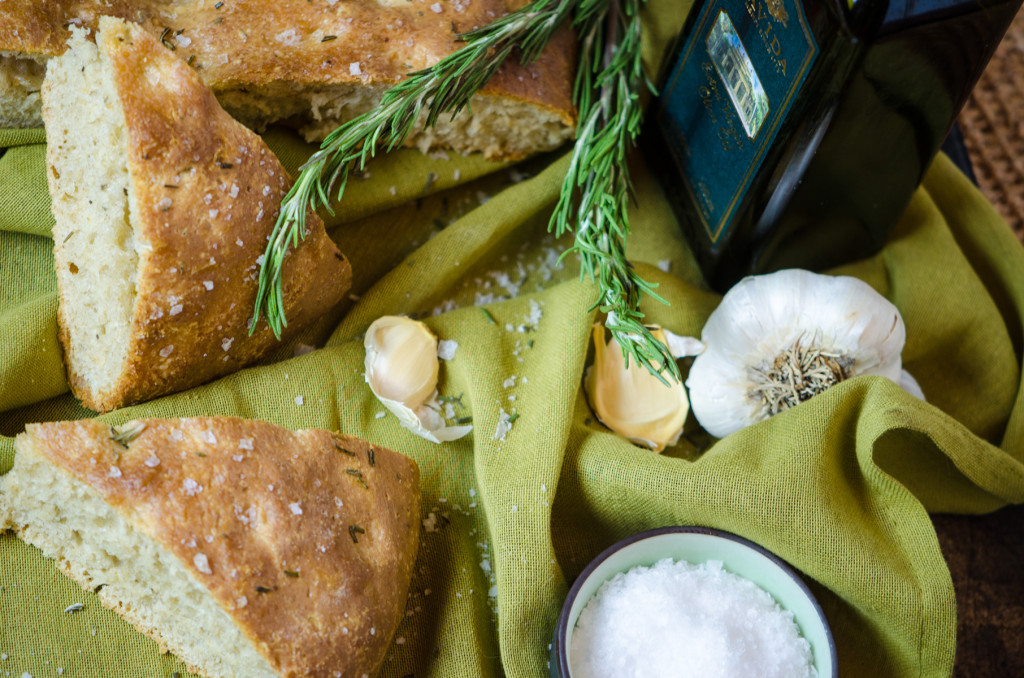 Whenever I have a hankering for fresh homemade bread, but not the time nor energy to indulge myself in the rather time consuming process, focaccia is my treat of choice. Focaccia is a traditional Italian flatbread that is easily prepared – a simple dough that can be quickly made in a food processor, doesn't need to be formed into a complicated shape, and with countless variations, there is always a new flavor to enjoy. I've long lost count of the many ways we've found it prepared on our Italiaoutdoors Food and Wine Italy tours. I turned to Carol Field's book, "Focaccia", for a start on this post. Dedicated to this single subject, it contains over 50 recipes for savory, stuffed, and even sweet focaccia.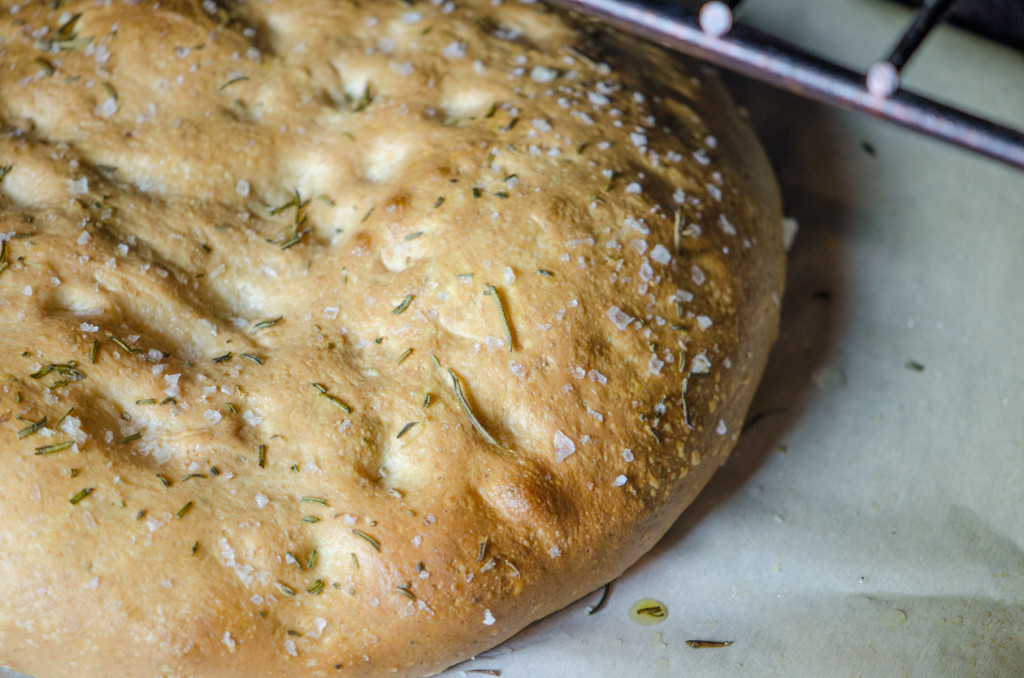 Focaccia dates back to ancient Rome, when panis focacius was a flat bread baked on the hearth. The word comes from the Latin focus meaning hearth, or place for baking. It is most commonly associated with the region of Liguria, on the Mediterranean, where each small village seems to have it's own favorite recipe, from flat and hard bread to soft, light, and loaded with the local fruity olive oil. Recco and Verese in Liguria are renowned for their focaccia filled with the local cheese, focaccia col formaggio. Other stuffings range from eggplants and tomatoes in Sicily, mussels in Puglia, and any conceivable combination of vegetables. A slice of focaccia stuffed with mozzarella and prosciutto has been a welcome snack along many of our cycling tours. In Puglia, some areas add mashed potatoes to the dough, resulting in a thick, light and fluffy focaccia. In central Italy, focaccia is called schiacciata or stiacciata, from the Italian word "to smash". When in Venice, we find fugassa around Easter, the equivalent to Christmas's panettone. A richer version, with the addition of eggs, flour, butter and sugar topped with sugar and almonds, crusty on the outside, moist and golden inside. In many wine regions you will find a sweet focaccia topped with grapes and sugar during harvest time.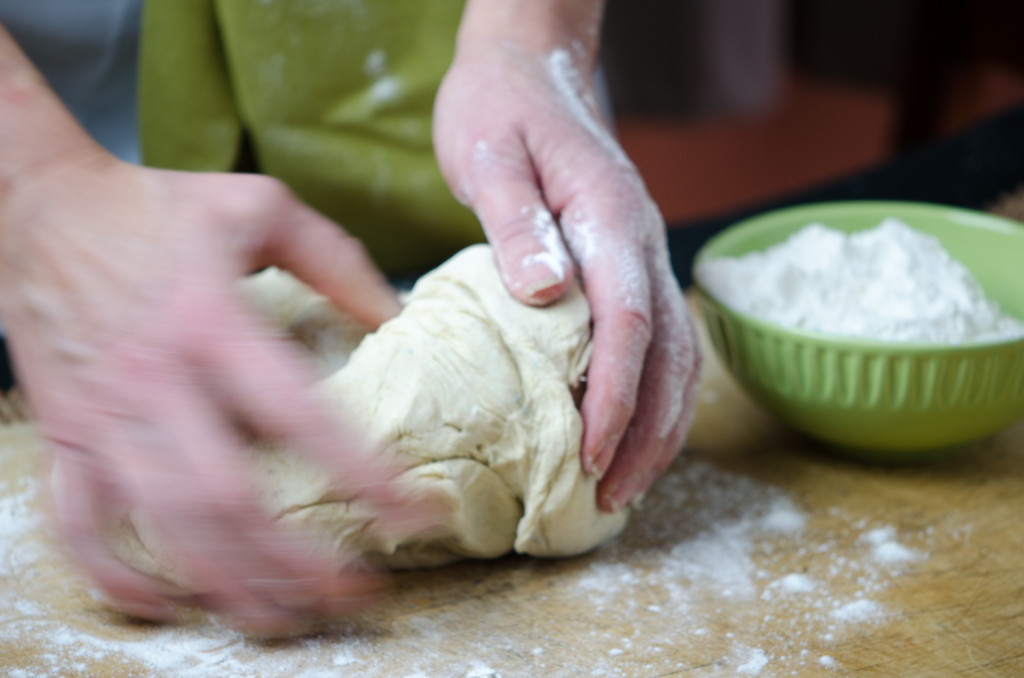 The recipe below started from one of Carol Field's recipes, with several modifications. Many recipes, and my own personal experience, recommend using a starter, or biga, to begin. This is a mixture of flour, water, and a bit of yeast that is allowed to enjoy a long, slow rise. This initial fermentation develops a richer flavor profile, giving your focaccia a more complex taste. I do this as often as I remember, but don't always succeed in beginning the night before. When that happens, I begin the starter only a couple of hours in advance, using a bit more yeast. In a pinch, I skip the starter altogether, and increase the main recipe by the amount of yeast, water and flour needed for the starter. Not quite as good, but still satisfies!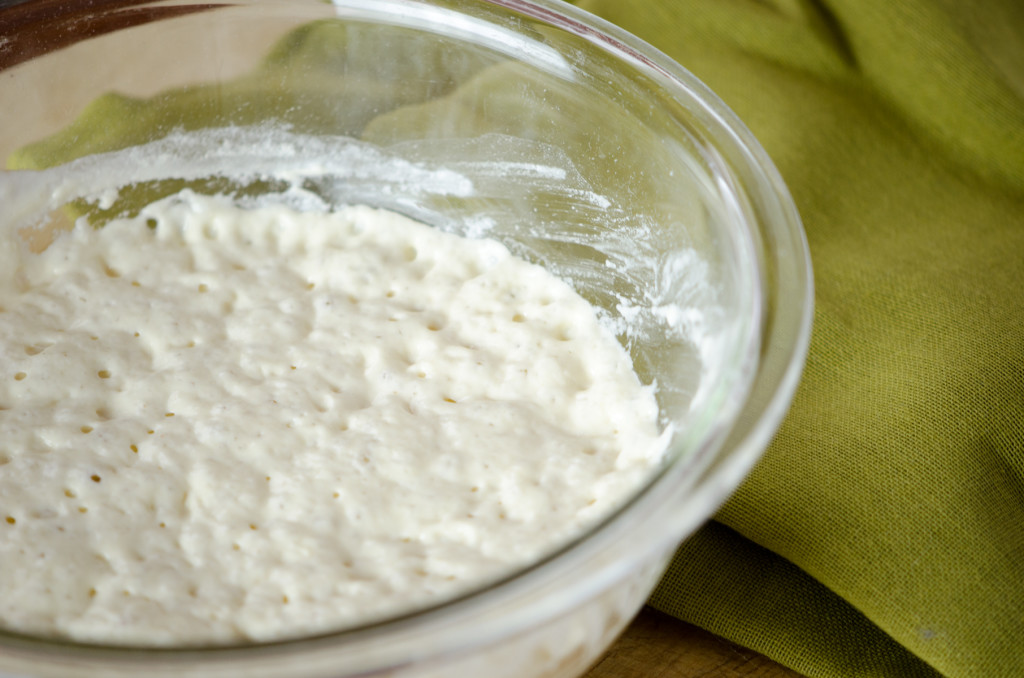 Here's my favorite version, with rosemary, garlic, sea salt and flavored with your best extra virgin olive oil. Salty and savory, best enjoyed still warm from the oven.
Makes 2 10-12" focaccia rounds
Starter:
1/4 teaspoon active dry yeast
1/2 cup warm water, 110°
1/2 cup unbleached all-purpose flour
Dough
Leaves from 2 sprigs rosemary
2 cloves garlic
2 1/2 cups unbleached all-purpose flour, plus more for kneading, adjusting if necessary
3/4 cups whole-wheat flour
1 tablespoon sea salt
1 1/4 cup warm water, 110°
1 1/2 teaspoon active dry yeast
1/2 cup extra virgin olive oil, plus more for drizzling on top
Starter
To make the starter:
Sprinkle the yeast over the warm water in a medium bowl, whisk it it and let stand until bubbly, about 10 minutes. Stir in the flour. Cover tightly with plastic wrap and let sit overnight. It should be bubbly and thick.
To make the dough:
Place the rosemary leaves and garlic into the bowl of a food processor. Using the steel blade, pulse until minced.
Add 2 1/2 cups of the all-purpose flour, the whole-wheat flour and the salt to the food processor. Scrape the sides to incorporate the garlic and rosemary. Pulse to combine.
Transfer the starter into a large quart glass measuring cup, with a spout. Add the 1 1/4 cup warm water, the 1 1/2 teaspoon yeast and the 1/2 cup extra virgin olive oil. Stir gently to combine. Use a bowl if you don't have a large enough measuring cup, then transfer.
With the motor running, add the liquid ingredients to the flour, pouring the liquid down the feed tube. The dough should come together into a rough ball of dough that leaves the sides of the food processor bowl pretty clean. If it is too moist to form a ball, add some additional all-purpose flour. Add this flour a tablespoon or so at a time, pulsing to combine after each addition. You want a rough ball of dough that holds together and pulls away from the sides of the food processor. When this happens, stop adding the flour. At this point, knead the dough by processing for 30 seconds.
Lightly flour a work surface, and turn the dough out on the flour. Knead for a few moments by hand to check the consistancy; you want the dough to be moist, but not so sticky that you cannot handle it. Add more flour if needed. Form into a ball.
Coat a large bowl with olive oil. Put in the ball of dough, flipping it around so all sides are coated with oil. Cover with plastic wrap and set aside in a warm area (68 – 72°) to rise until doubled, about 2 hours.
Brush two sheet pans with olive oil. Punch down the dough, and divide into two halves. Focaccia is best eaten the day it is made, so if you won't consume two loaves, freeze one of the halves to use another day. (Place it as a ball into a resealable plastic bag. Defrost for a couple of hours at room temperature.)
Place each half on a sheet of parchment paper, and form into a round disc, about 1/2 inch thick. Pick up the parchment paper and focaccia and place on the sheet pan. Cover with plastic wrap and let rise for an hour. While the focaccia is rising, preheat the oven to 425°. Use a baking stone if you have one.
Uncover, and dimple the dough with your fingertips, creating lots of little round indentations. Drizzle with more olive oil, and sprinkle with additional chopped rosemary and sea salt.
Place the focaccia in the oven, either on the sheet pan, or pick it up using the parchment paper and place directly on your baking stone. Bake until the crust is crisp and the top is golden, about 20 to 25 minutes. Remove from oven, and pan, and cool on a wire rack.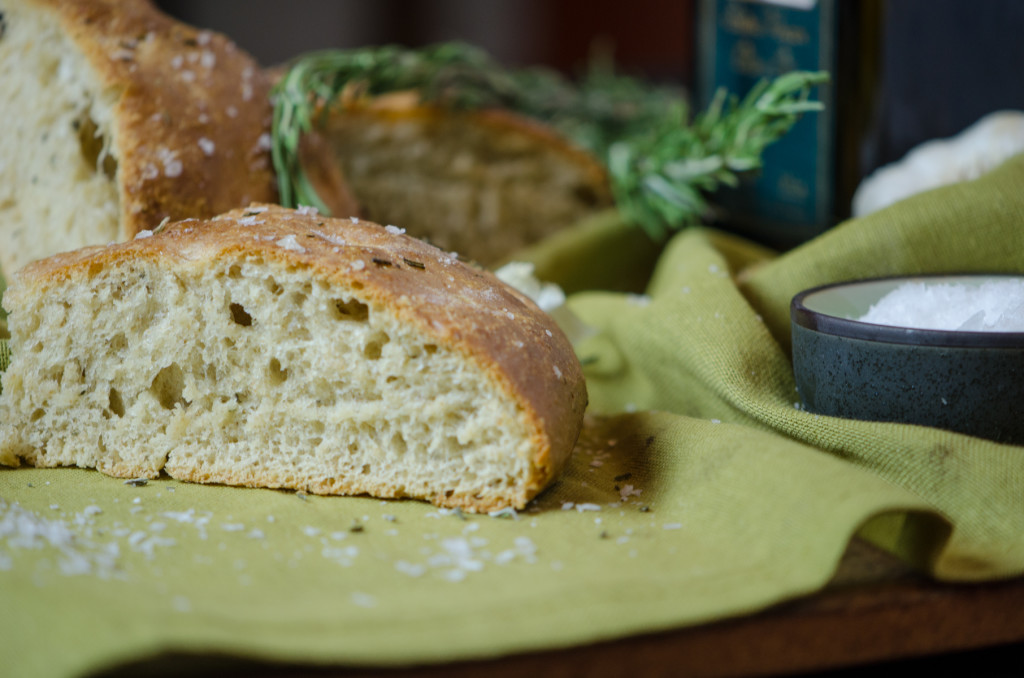 Note: No food processor?
Mince garlic and rosemary.
Place starter plus all liquid ingredients, garlic and rosemary in a large bowl. Mix to combine. Add the flours and salt, reserving about 1/2 cup of the flour. Mix to combine into a rough ball of dough, slowly adding the last 1/2 cup of flour as needed. You want a soft dough that is just dry enough to handle; if it sticks to your fingers, add a bit more. When it stops sticklng, stop adding flour.
Turn out onto a lightly floured surface and knead for 8 – 10 mintues until smooth. It should bounce back into shape when you poke it with your finger.