Exploring Bassano del Grappa – From Grappa and White Asparagus to Hemingway and Palladio
January 16, 2016
Exploring Bassano del Grappa – From Grappa and White Asparagus to Hemingway and Palladio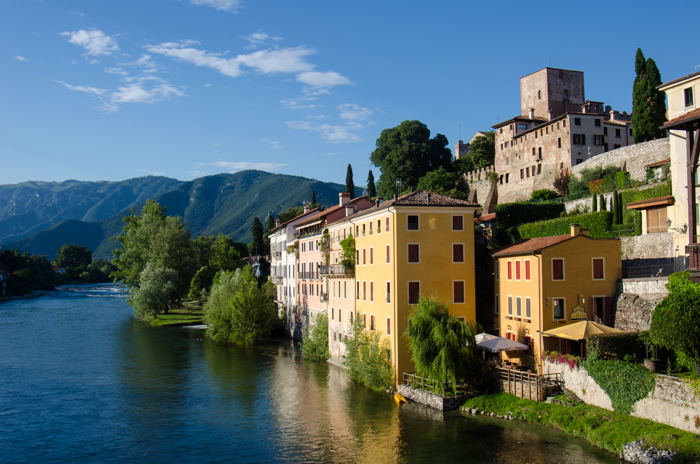 Bassano del Grappa is a beautiful town we visit often on our cycling adventures and hiking tours. Bassano has played a critical role in the history of the region, inspired artists from Palladio to Hemingway, and its singular terrain produces some remarkable foods and wines. Located in the province of Vicenza in the Veneto region, the city lies at the foothills of the Prealps, where Brenta river emerges from the southern end of the Brenta valley (Canale di Brenta) and begins its traverse of the lowlands past Vicenza and Padua on its journey to the Adriatic.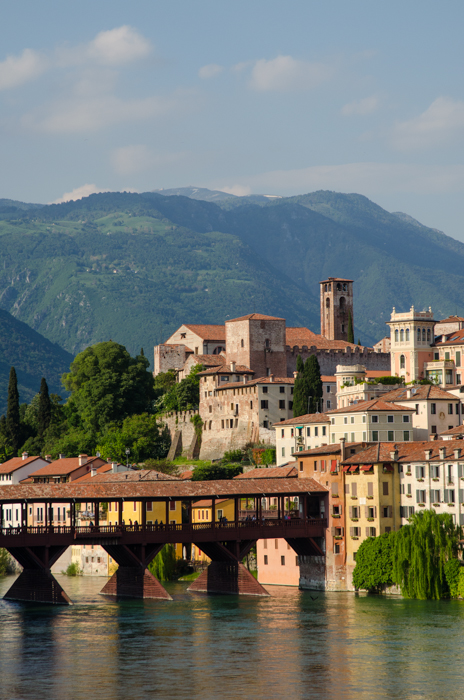 First colonized by the Romans around the 2nd century, the name Bassano comes from the Roman family Bassianus who began an agricultural estate here. Throughout history, the town survived rulers from all sides – first Vicenza, then a period as a free commune under the Ezzelino family, renowned for their cruelty, followed by Milan, Venice, and eventually becoming part of the newly unified Kingdom of Italy in 1866.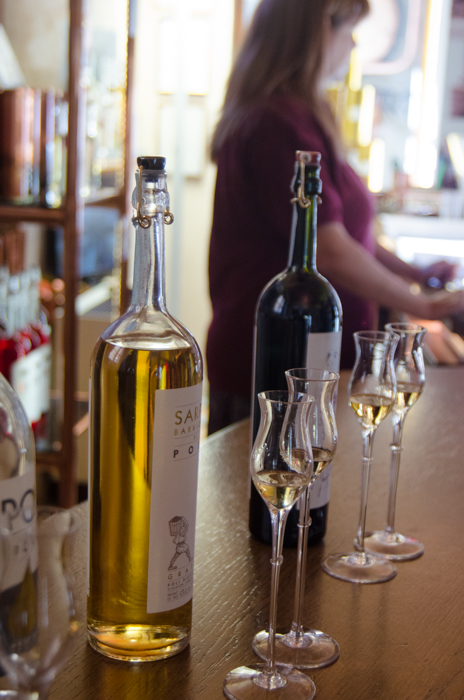 Originally the town was known as Bassano Veneto. The artist Jacopo Bassano lived most of his life in this town, and took it as his last name. The town is also famous for the renowned Italian digestif, grappa, made from distilling the remains from the winemaking process after pressing: grape skins, seeds and stems, called pomace. It is commonly believed that the spirit was named after the town, but the town itself was not called Bassano del Grappa until 1928, long after the spirit was invented.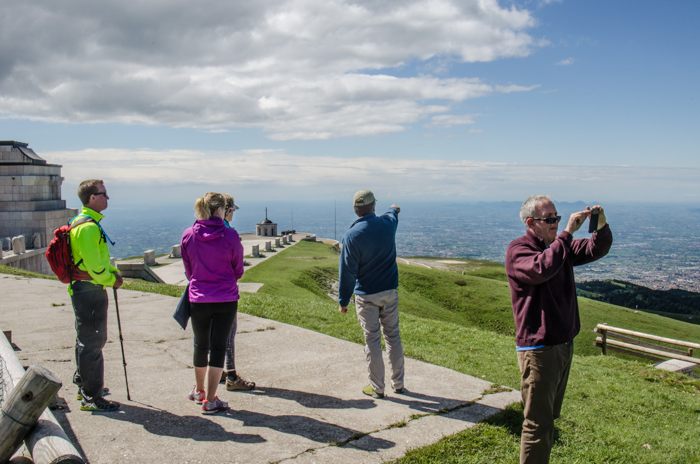 Walking tour at summit of Monte Grappa
Bassano was located right on the front line in both World Wars. During the first World War, terrible battles ensued on neighboring Monte Grappa, where the Italian army regrouped after their devastating loss at Caporetto and made a heroic last stand against the Austrians. At the top of the mountain lie the remains of over 12,000 Italian troops and over 10,000 Austrian and Hungarian troops who lost their lives during this battle. In 1928, the name was changed to Bassano del Grappa, in memory of the soldiers killed. Ernest Hemingway resided in Bassano during his days as an ambulance driver during WWI. His experience here provided inspiration for his novel "A Farewell to Arms. "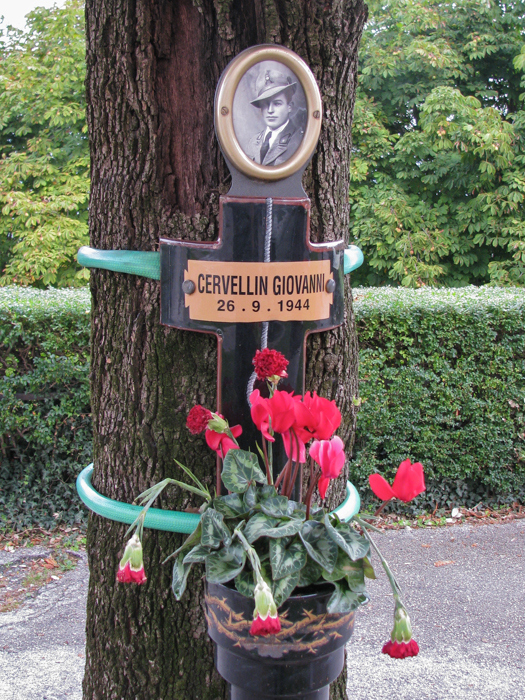 In World War II, after the Armistice, the city was invaded by German troops, who killed or deported numerous inhabitants. Memorials to these fallen heroes line a row of trees just outside the old town center. The most famous symbol of the town is the beautiful covered pontoon bridge, designed by famed architect Andrea Palladio in 1569. This bridge has been destroyed many times, most recently during World War II. The Alpine soldiers raised money and paid for the rebuilding of the bridge, known as the Ponte degli Alpini. Other sights to see include the Cathedral, the Palazzo Michieli-Bonato and Palazzo del Municipio, both with frescos by Jacopo Bassano, and the Town Museum with ancient archaeological remains, and works by Canova, Durer, Spagnoletto and Rembrandt.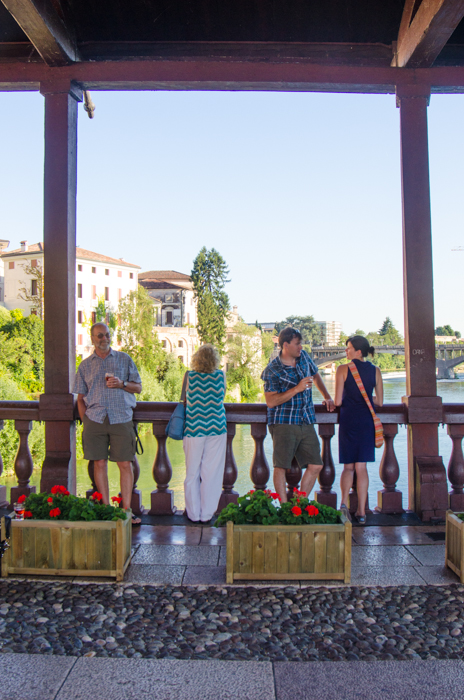 Enjoying Nardini spritz on Ponte degli Alpini
Bassano is also renowned for one of the rarest delicacies in Italy, its white asparagus that appears between mid-March and mid-June. The oldest legend attributes its introduction to the area by Saint Anthony of Padua, who was very fond of the vegetable and spread knowledge of it to Bassano. Here, it found its ideal environment in the sandy, soft, well-drained and calcareous soil along the Brenta River. In the 1500 and 1600s, the white asparagus of Bassano was prized, and reserved for the banquet of the Venetian nobility.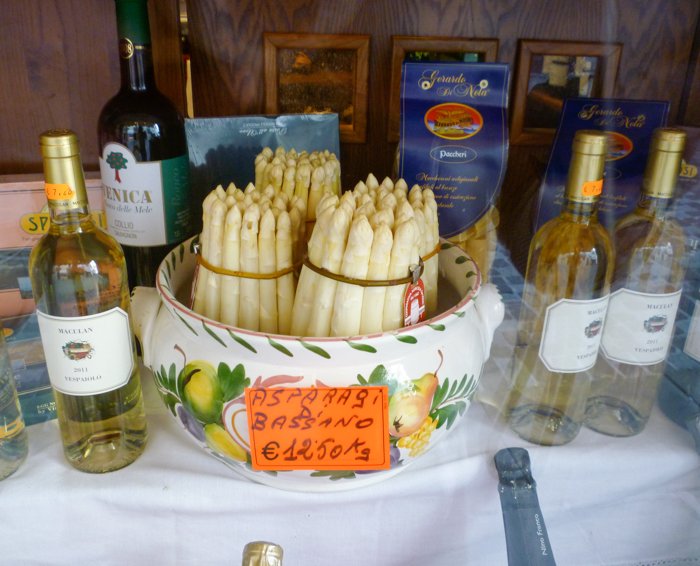 On a recent private bike trip, we were able to enjoy the real thing throughout the week, and made a wonderful, simple roasted white asparagus in one of our cooking classes. But I also found a way to take a little taste of this delicacy home with me; a family producer in Bassano that makes their own canned sauces and pestos called "Specialita in Gamba, Produzione propria e spaccio di conserve aglio e peperoncino", Production and sale of canned garlic and chili.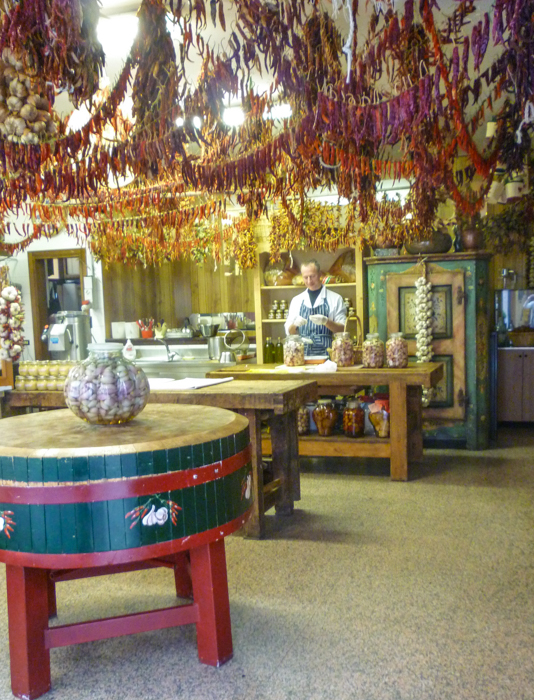 This beautiful shop is right in the center of Bassano, with Mom and Dad preparing the sauces, and the son greeting me and offering me many tastes of their wonderful products. I returned later with our trip guests, and more sampling. They had many tasty sauces; there most popular being AOP (Aglio, Olio e Peperoncino – garlic, oil, and hot peppers), but also a radicchio, a garlic pesto, a horseradish sauce (cren), a sauce for bigoli which I can't now recall exactly what it contained, and a white asparagus 'pesto' which made its way back to the US in my suitcase. They also pickle and preserve whole garlic, shallots, and mixed vegetables. Their products are very attractively displayed on wooden shelves, with strings of dried peppers hanging along the ceiling, and large baskets of garlic and shallots around the store. A leg of prosciutto is on a carving rack, its only purpose to accompany their sauces during tastings. Well worth a stop, and I will be experimenting with my own version of AOP when I return home.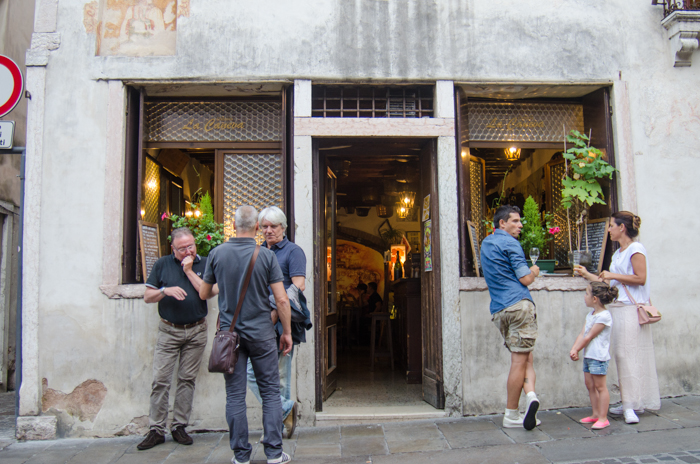 For dinner, there are many choices to be had here. For those looking for a nice, simple dinner I recommend Osteria La Caneva, right around the corner from Piazza Liberta. A very local establishment, with only about 6-7 tables, with a few more on the street outside, and the menu written on a chalk board.  Try the pasta fagoli, much better than many versions I've had at much more upscale locales;  or the fettucini with funghi and morlacco, a soft cheese produced on the Morlacco plain of Monte Grappa.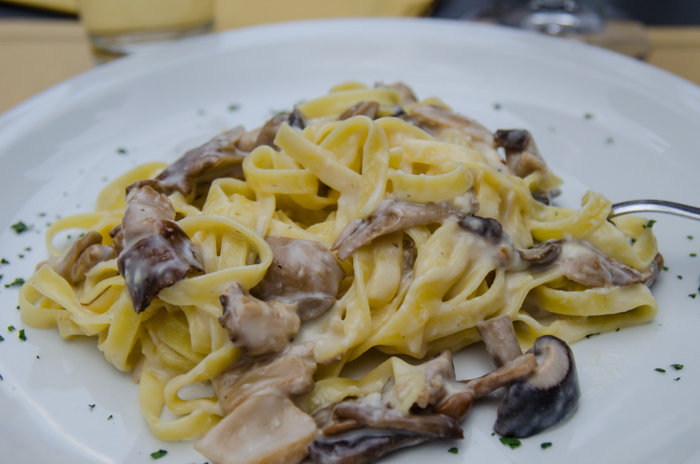 Another restaurant that serves traditional local foods is Antico Ristorante Cardellino on Via Bellavitis. Featuring "La Cucina della Memoria" – cuisine from times past – they use local ingredients including radicchio, white asparagus, asiago cheese and mushrooms in their classic regional dishes. Enjoy the house specialty, baccala vicentina, or bigoli con anatra or risotto con radicchio.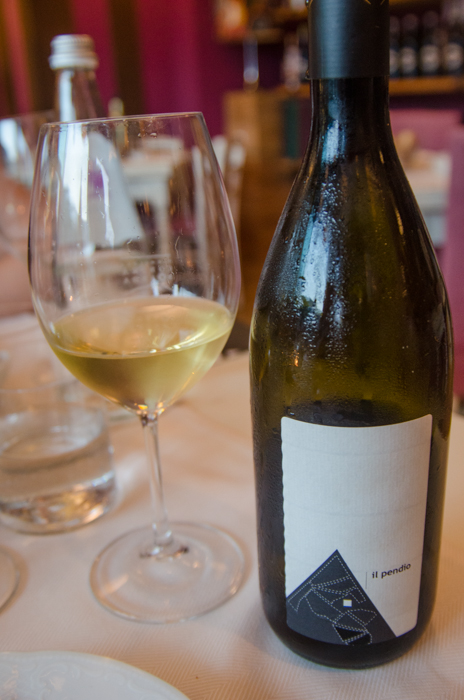 What wines should you try on a visit to Bassano del Grappa? The Montello e Colli Asolani DOC, the Vicenza DOC and the Breganze DOC are all right nearby, each with some wonderful wines to sample. A perfect aperitif to have with your antipasti would be a Colli Asolani Prosecco from Bele Casel or Villa di Maser.  A white wine to try would based on the local Garganega grape, a nice one is made by Contra Soarda, their Il Pendio which is a blend of Garganega and Vespaiolo. For red wine fans, the Il Saggio from Contra Soarda is a very intense, medium bodied wine, a blend of Carmenere, Grupello and Marzemino. Bordeaux blends from the Venegazzu vineyards of Montello, such as those made by Gasparini, are also worth a try. Finally, the well-known Breganze  winery Maculan has its Brentino, another Bordeaux style blend, as well as some tasty sweet dessert wines such as the Dindarello and Torcolato.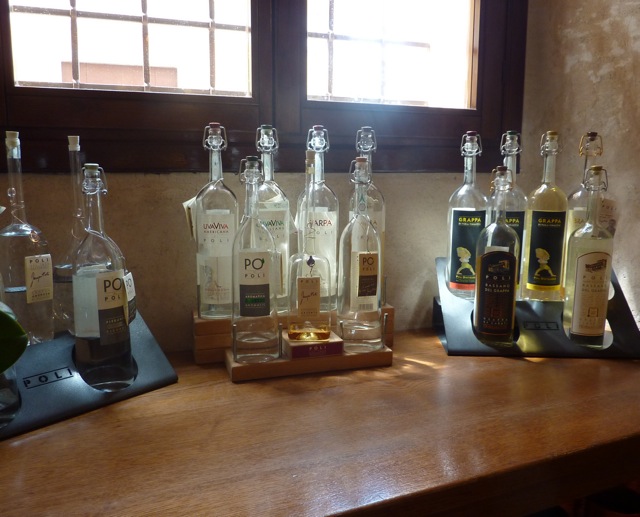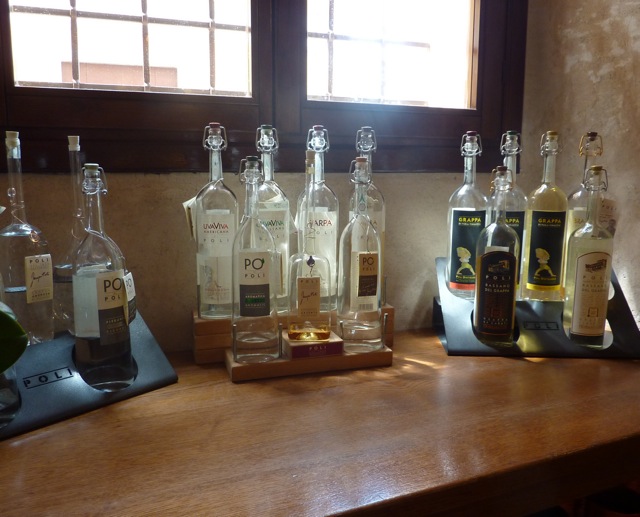 Grappa at Poli
And, of course, no visit to Bassano is complete without a tasting of the local digestif, grappa. The only distilled spirit produced from the grape pomace, there are two famous producers located in Bassano, right on or near the Ponte degli Alpini. Nardini is on the bridge itself, and you will often see the locals gathered inside and spilling out onto the bridge enjoying a drink. Across the street is the producer Poli, where you can taste a few varieties of grappa after you visit their grappa museum to learn how the spirit is made. You can also 'smell' many of their varieties – they have about two dozen or so stations that deliver a whiff of various flavors at the push of a button. A good way to experience the flavors without the alcohol!