Ingredients
1 box Red Velvet Cake Mix, (16.5 ounce)
1 stick Salted Butter, melted
1/2 cup Evaporated Milk
1 tube Refrigerated Chocolate Chip Cookie Dough, or Homemade Cookie Dough, chilled and divided into 15 golf-ball sized portions
For the Frosting:
4 tablespoons Salted Butter
2 tablespoons Unsweetened Cocoa Powder
3 tablespoons Evaporated Milk
1/2 teaspoon Pure Vanilla Extract
2 cups Powdered Sugar
Directions
Preheat oven to 350°F. Line 15 muffin tins with liners and set aside.
In a large bowl, stir together cake mix, melted butter, and evaporated milk until combined. Fill muffin tins about 1/2 full. Bake for 8 minutes.
Remove cakes from oven and gently press a ball of cookie dough into the center of each. Bake for another 12-15 minutes, until the edges are set.
Remove from oven and place on a rack to cool.
Prepare Frosting:
In a small saucepan, melt butter over medium heat.
Whisk in cocoa powder and evaporated milk, whisking until mixture comes to a boil.
Remove from heat and whisk in powdered sugar and vanilla until smooth.
Pour over warm brownies, dividing evenly.
Recommended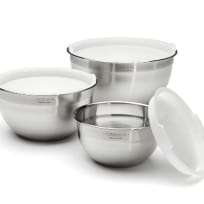 Cuisinart Stainless Steel Mixing Bowls