Peach Raspberry Galette Recipe
August 10, 2018
Peach Raspberry Galette Recipe
Peach Raspberry Galette Recipe
Ingredients
For the Galette Dough:
1 1/4 cups All-Purpose Flour
1/2 teaspoon Salt
1/2 teaspoon Granulated Sugar
8 tablespoons Cold Butter, cut into cubes
1/4 cup Ice Water
1 Egg
Turbinado Sugar
For the Filling:
3 Peaches, sliced
1 tablespoon Lemon Juice
2 teaspoons Pure Vanilla Extract
3 tablespoons Powdered Sugar
1 cup Raspberries
Directions
Make the dough. Add the flour, salt, and sugar to a food processor. Pulse twice to combine.
Add in the butter and pulse until the mixture looks like large crumbs about the size of lentils.
Add in the ice water and pulse until thoroughly combined. It should look like wet sand. You can check this also by pressing the mixture together. It should stick together in clumps when pressed.
Turn the mixture onto a sheet of plastic wrap and press the mixture into a disc. Wrap tightly and chill in the refrigerator for about an hour.
Lightly flour a clean surface and take out the dough. Unwrap the disc and place on your floured surface and allow it to warm for about five minutes. Preheat the oven to 400°F.
Roll out the dough until it is 1/4-inch thick and as close to a circle as possible.
Roll the disc gently around your rolling pin, then unroll into your skillet. There should be dough going up the sides all along the skillet. Store in the freezer as you work on the fruit.
Toss the slices peaches with the lemon juice, vanilla extract, and powdered sugar.
Take out the dough and arrange the peaches on the bottom of the skillet, then top with the raspberries. Brush any leftover juices from tossing the peaches over the raspberries. Fold over the edges of the dough.
Mix together egg and 1 tablespoon water to create a wash. Brush the egg wash over the folded over dough and then top with the sugar.
Bake for 50-60 minutes, or until the crust is golden brown and the fruit is cooked through.
Recommended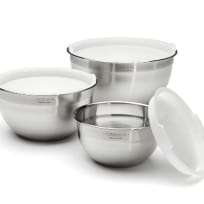 Cuisinart Stainless Steel Mixing Bowls