Garlic Butter Puff Pastry Pinwheels
June 14, 2018
Garlic Butter Puff Pastry Pinwheels
Garlic Butter Puff Pastry Pinwheels Recipe
Ingredients
1 sheet Puff Pastry, thawed
5 tablespoons Butter, melted, for brushing
Garlic Salt
Italian Seasoning
Grated Parmesan Cheese
All-Purpose Flour, for dusting
Directions
Lightly flour a clean, dry, flat surface and lay out thawed puff pastry.
Roll into 11 by 14 rectangle.
Brush butter onto the puff pastry dough.
Lightly sprinkle garlic salt, grated parmesan and Italian seasoning.
Roll lengthwise, wrap in plastic wrap and refrigerate until chilled, about 45 minutes to an hour.
Preheat oven to 375°F.
Remove from the freezer and cut into 1/8"-inch slices.
Place cut side down onto a baking sheet lined with parchment paper.
Bake for 10 minutes or until a light golden brown.
Recommended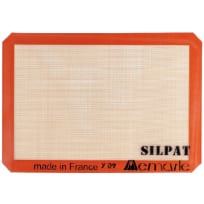 Demarle Silpat Non-Stick Baking Mat