Ingredients
1/2 cup Unsalted Butter, room temperature
1 cup Brown Sugar
1 large Egg
2 teaspoons Pure Vanilla Extract
1 1/2 cups All-Purpose Flour
1/2 teaspoon Baking Soda
1/2 teaspoon Salt
1 cup Chocolate Chips
11-ounce package Caramel Squares
2 tablespoons Heavy Cream
1 1/2 teaspoons Flaked Sea Salt, optional
Directions
Preheat the oven to 350°F. Line an 8x8 baking pan with parchment paper.
Beat the butter and sugar together until light and fluffy — about 5 minutes.
Add in the egg and vanilla extract and beat until well incorporated.
In a separate bowl, mix together the flour, baking soda, and salt together.
Pour the flour mixture into the butter mixture until well-combined. Add in the chocolate chips and fold until just incorporated. Take the bowl and place into the refrigerator until needed.
Add the caramel and heavy cream into a small saucepan and heat on medium. Stir until the caramel is at least mostly melted. Remove from the heat and stir until the caramel is fully melted.
Take out the dough. Press down about 2/3 of the cookie dough into the baking pan into an even layer. Pour the caramel over the cookie dough. Sprinkle the salt if desired.
Take chunks of the remaining cookie dough and flatten.  Place randomly over the caramel.
Bake for about 25 minutes, or until the cookie dough is a light golden brown.
Allow to cool completely. I find it is best to also chill the baking pan in the refrigerator before cutting.
Recommended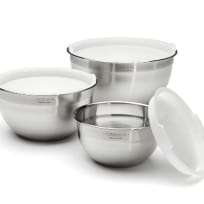 Cuisinart Stainless Steel Mixing Bowls