Emmett's Tavern & Brewing Co.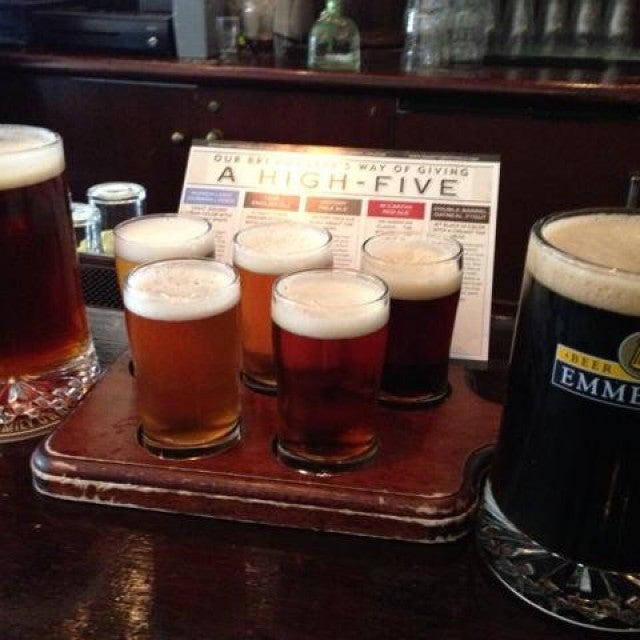 Map: Surroundings & Nearby
Foursquare Tips
$3 pint night is every Tuesday, and by far one of the best deals in town! :)

I can't help but think they're missing an opportunity for Emmett Brown Ale.

Never piss into the wind

$3 pints on Tuesdays!

The pale ale is the best in Illinois!

Portabello Mushroom Fries are unbelievable. Wash down with a Victory Pale Ale.

Birthday lunch worth the Mug club membership!

Do the Dopple bock while it lasts!!!

The service, beer and food here are amazing! But if you want a tip Check out the appetizer calledPoutine!!! This is a famous Canadian appetizer and they do it proud! You're gonna love it!

Awesome Oktoberfast

I've only gone the banquet route, but the food I had in the. How line was fabulous

Fantastic Steak sandwich and the cheddar ale soup is fantastic

Some of the best craft beer in the NW suburbs. Great staff!!!

Classy place. Great food.

I loved the brewmaster's chicken sandwich, with the pretzel bun and pale ale mustard. Tried several of their beers via samplers, and they were all quite good too.

Apparently medium means well done when it comes to burgers here.

Excellent good!

Came here with the kids. Cheese ale soup is outstanding! Truffle fries were fantastic as well. Not ridiculously expensive. Beers run $6--so not ridiculous. Will be back!

Ask them to double wrap the tacos or you'll be eating them with a fork.

A fine find for W. Dundee. Definitely a place to cool off after work for a drink with a group. Dining in the back is equally as relaxed and comfortable. Think extended pub with style.