Duckworth's Grill & Taphouse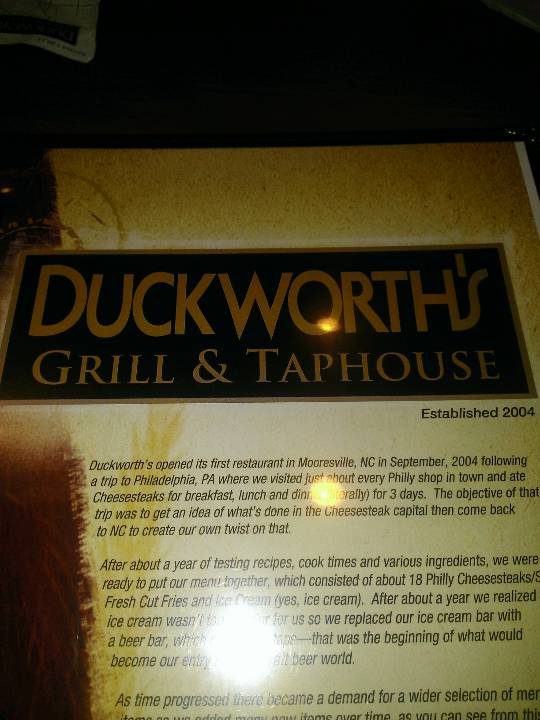 Map: Surroundings & Nearby
Foursquare Tips
Excellent Wings and Garlic Fries

Great place. And the waiters are HOTT.

Garlic Fries and Fried Banana Peppers are the perfect combo!

Burgers, and sweet potato fries

The fried banana pepper ring are surprisingly delicious!!!

Stupid good.

Delicious cheesesteaks, great beer selection. Get your fries "boardwalk style!"

Love all the beer options!!! Will take a few minutes to decide. Great special on Mon Nights. The flatbreads were great.

It was great I would go back there agen

Awesome hamburgers!!!

Great rib combo

Get the wings!

awesome chicken wings!! flat bread great!! ask for eddie and you will receive great dining experience.

Just opened today!

fajitas were kicked ass ask for eddie renta great waiter!

Large variety of beers on tap. Mostly IPAs.

They have an awesome beer selection. The food menu however focuses alot on chicken and spicy foods. Not a major fan of either. Other choices are limited...

Beer selection is awesome and lots of tvs so it's great to watch a game but food is barely okay and management doesn't really care! Won't go back!!

Outstanding craft beer selection, and the food was pretty solid. The salads were decent if you want to keep it healthy, but they had some good wings and tacos as well.

My favorite place to go! Good food, great service & the wait is not bad. A busy place on the weekend.