Dane County Farmers' Market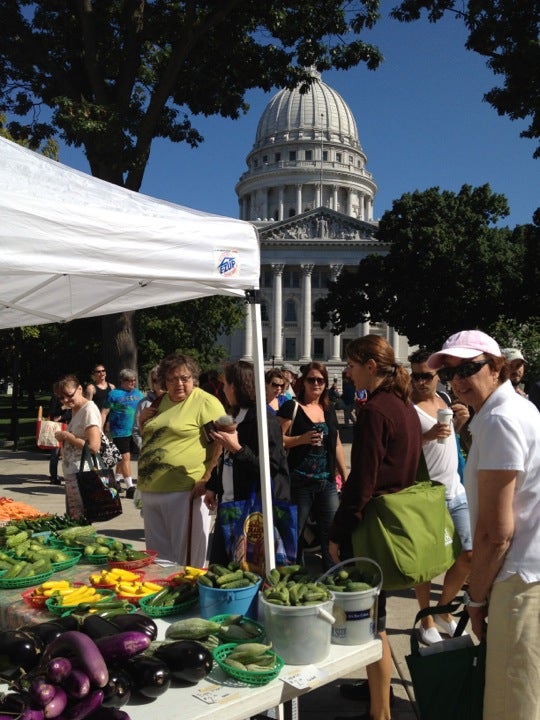 Map: Surroundings & Nearby
Foursquare Tips
SPICY CHEESY BREAD!

Make sure to walk with the crowd, not against it. Otherwise you'll be pegged as a market newbie and will be judged.

get the hot hot spicy cheesebread on the corner of Carroll & Mifflin

Farmer John has a stand on the side between W. Washington & Hamilton St...and has VERY fresh cheese curds! They rock!

If you are in Madison between mid-May and late-September, go to the Dane County Farmers' Market! Right on the square. It is unbelievably gorgeous and has delicious, local food!

Please make sure that you walk in the same direction as everyone else. Then you won't get nasty looks from the locals.

Oh Em gosh! A burger with the spicy cheese bread! After the market, Try the Mad Sconnie Burger at AJ Bombers 2 blocks down State (Gorham & Henry)

A must-try or buy is Brunkow Cheese (typically on either Main or Pinckney, with a red and white striped tent) - their sizzling cheese and squeaky curds top all other cheese vendors.

Amazing selection of wisconsin cheese, meats, jams... it's a really impressive farmer's market!

The fresh (is that the right word?) beef jerky is fantastic. I'd recommend spicy or peppered.

Check out the aged cheeses at Forgotten Valley Cheese. They are incredible!

DCFM is the country's largest producer-only farmers' market. Peruse our interactive feature of the FM for local chef recipes using market goods, a share-a-recipe database, plus what's fresh when.

Farmer John's Cheese Curds are the BEST!

Hooks has the absolute best blue cheese at the market! You even have multiple options.

Spicy cheese bread is now $8 a loaf. Pricey but addictive!

Try the garlic dill cheddar cheese curds. Whatever you do, DO NOT WALK CLOCKWISE!

Amazing bison burgers from Davals Bison Meats. If you cook them right, you will be back!

Arrive early if you can - many chefs from local restaurants load their wagons up with fresh produce in the early hours of the morning. They're fun to talk to!

MUST have the spicy hot cheese bread at Stella's!! So much cheese and the bread is always fresh and warm!! You will push people over to get some. Go before 11 am to make sure you get some!

Chris and Lori's has the BEST baked goods here!!