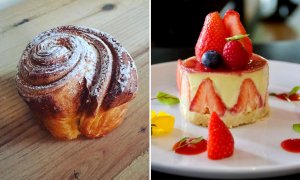 Turns out, the City of Lights is also the city of delicious vegan-friendly fare. We're breaking down where to go to get the crème de la crème of vegan food in Paris—croissant included. Check out our favorites. Bon appétit!
If you're looking for a cute French bistro, check out Brasserie 2eme ART. The restaurant—France's first vegan brasserie—offers waffles, kebabs, pastas, and more. Word to the wise, try the pizza:
Back to our favorite vegan restaurant in Paris. #veganinparis #veganpizza
A post shared by HindaⓋ aka Nature LoverⓋ (@inspirationsbyhm) on Jan 8, 2018 at 4:50am PST
Sitting in a Parisian café, sipping fine coffee, and enjoying fresh croissants and jam—does it get any more French than that? No, we didn't think so. If this sounds right up your alley, head over to Cloud Cakes. The adorable, all-vegan coffee shop is sure to satisfy your French fantasies and cravings.
What a perfect French breakfast we've had today, including the best croissants of my life (vegan or not!)

You should really visit @cloudcakesfr when in Paris, cute place with amazing baked goods!

#vegan #whatveganseat #vegansofig #veganparis #cloudcakes #vegantravel #vegantraveling #veganreisen #vegancroissant #petitdejeuner #croissant #igerssalzburg #totallyveg #totallyvegblog #allaboutveganfood #shareyourveganfood
A post shared by Claudia (@totallyveg) on May 18, 2017 at 6:32am PDT
A good coffee shop is a must, no matter where you are in the world. Luckily, Paris has Comptoir Veggie, a 100 percent vegan coffee shop and juice bar. Order a slice of the marbled matcha white chocolate loaf to go with your golden latte. Trust us—you won't be disappointed.
Le nouveau marbré matcha chez @comptoir_veggie est parfaitement bon
(Fermé le dimanche, c'était le goûter d'hier) #veganfood #comptoirveggie #parisvegan #matcha #marbré #matchalover #veganfoodie #veganplaceparis #sweetfood #goutervegan
A post shared by
VG-Zone (@vg_zone) on Jan 7, 2018 at 4:46am PST
When you think "Paris," you may not immediately think "burgers and hot dogs." But it turns out that East Side Burgers offers some of the best vegan versions in town. We're talking gourmet vegan hot dogs, themed burgers (just request vegan cheese!), sizzling onion rings, homemade vegan quiches, delicious vegan desserts, and more.
Attention roulement de tambours !!
Admirez, que dis-je, RUGISSEZ devant notre Everest burger, 100% vegan, aux saveurs montagnardes. Uniquement dispo les 2 et 3 février prochain ! Rappel des ingrédients : Bun aux oignons, galette de tofu fumé, cheddar mature végétal fondu, lamelles de pommes de terres, oignons croustillants, cornichons, moutarde. ROAAAR THE DATE!

Événement Facebook : https://www.facebook.com/events/188942201689068 #eastsideburgers #esbparis11 #burger #vegan #vegetarian #paris #everest #roar #vegetalien #vegetarien #bave
A post shared by East Side Burgers
(@eastsideburgers) on Jan 15, 2018 at 2:44am PST
This hip all-vegan eatery combines "the finesse of French gastronomy with an ethical and ecological dimension," providing patrons with one heck of a delicious meal. Choose from menu options like homemade faux gras, "cheese" fondue, raviolis, "Le Tofu," and mouthwatering desserts, like this strawberry sponge cake:
[A LA CARTE PRINTANIÈRE] Notre délicieux fraisier avec de belles fraises Gariguette, une crème mousseline et génoise à la vanille, et son coulis fraises-coquelicot. Que du bonheur

! Réservez maintenant pour venir le déguster

.
A post shared by Gentle Gourmet France (@gentlegourmet) on May 2, 2017 at 7:26am PDT
If you find yourself longing for good ol' burgers and pizza, stop by a Hank Restaurant (Paris is home to both Hank Burger and Hank Vegan Pizza). Everything is 100 percent vegan—so go ahead and satisfy your cravings.
Had some amazing vegan burgers in Paris today from @hankrestaurant
served with vegan cheese and a side of wedges w veganaise + quinoa salad + carrot cakes + bio lemonade + vegan cookie
What more could you want? #paris
A post shared by VEGAN
(@vegiful) on Jun 14, 2017 at 3:01pm PDT
Completely vegan and thoroughly delicious, Jah Jah by Le Tricycle is one eatery you don't want to miss. The Rastafari-themed casual restaurant features Jamaican flavors and a 100 percent raw vegan menu. And if you're looking for a great brunch spot, this is the place to be.
Enjoy your Meal Se régaler, partager et se nourrir d'amour, voilà mon plus grand bonheur

Toujours un délice chez @letricycle #jahjahbyletricycle ! #alexxxandraaaparis #paris #travelerinparis #lefooding #parisfood #food4life #helloparis #bonneadresse #coffee #topparisresto #cityguide#foodblogger #primeur #newinparis #vegan #thisisparis #lefooding #mercipourladresse #foodies #vsco #vscocam #eatparis #travel #veganparis #eatclean #travelerinparis #beautifulcuisines #buzzfeedfood #sweetpotato #primeur #fitgirl #vegoresto @vegoresto
A post shared by Alexandra MULLER (@passiondupain) on Jul 26, 2017 at 11:31am PDT
Craving a little variety? Check out Laélo, a hip all-vegan restaurant that serves a variety of salads, sandwiches, entrées, and desserts—in addition to Paris' staple croissants and pastries.
#restolaelo #veganburger #bio #vegan #gourmand #veganfood
A post shared by Laélo (@resto_laelo) on Feb 11, 2018 at 4:04am PST
Plant-based and gourmet—that's what you'll find at Le Potager de Charlotte. Everything on the menu is simple yet elegant, delicious, and oh-so-worthy of an Instagram share. The avocado "egg" starter is killer, and you won't regret ordering the Chickpea & Rice Pancake with cashew cream:
On ne s'en lasse pas

Crêpe de riz et pois chiche / crème cajou fines herbes / piment d'espelette / graine de courge torréfiées
Le tout sur une magnifique création fait main de @mariongrauxpoterie #foodporn #veganlifestyle #whatveganseat #foodlover #sansgluglu #vegan #veganfood #veganshare #veganfoodshare #bestofvegan #vegansofig #cuisine #restaurant #paris9 #paris #avecamour #veggie #foody #glutenfree #homemade #faitmaison #ceramic #poterie
A post shared by David Valentin (@lepotagerdecharlotte) on Jan 13, 2017 at 4:20am PST
You can't go to Paris and not gorge on some delicious vegan crème brûlée. To satisfy your sweet tooth with a traditional yet plant-based French dessert, check out Le Potager du Marais. The menu, which is entirely vegan, also features soups, salads, yummy entrées—like this smoked tofu dish—fruit cocktails, coffee, tea, and more.
Le Potager du Marais (24 Rue Rambuteau, 75003) http://www.lepotagerdumarais.fr/ #vegan #parisvegan #veganparis #veganfood #vegancremebrulee #vegandessert #veganfrenchfood #cremebrulee
A post shared by Veganlicious Paris (@veganlicious_paris) on Jan 25, 2018 at 7:45am PST
Although it's a bit far from Paris' city center, a visit to Season Square is well worth the trip. The menu, which features all-vegan ingredients, includes soups, gourmet burgers on brioche buns, healthy bowls, and delicious desserts, as well as hot and cold coffee and tea beverages, like this delectable-looking latte:
tout est bon là-bas, allez faire un tour ! @season_square
A post shared by Jenny Chatenet (@jennychatenet) on Jan 9, 2017 at 11:48am PST
If a 100 percent vegan afternoon tea in a palace-like hotel in Paris sounds like a good time, you'll want to check out Shangri-La Hotel. According to its website, "Five o'clock tea at Shangri-La Hotel, Paris is the most vegan, natural and gourmet afternoon tea in the capital."
Stay warm and cosy in hour historical Lounges and enjoy a delicious 100% Vegan Afternoon Tea
. #shangrilaparis #vegan #teatime #pastry
A post shared by Shangri-La Hotel, Paris (@shangrilaparis) on Jan 13, 2018 at 6:48am PST
You may not get super powers by visiting Super Vegan, but you can get a Super Kebab—the fast-food joint's flagship menu item. According to the eatery's website, "The Great Kebab [is] a vegan kebab that [has everything a meat] kebab [does], except animal suffering!"
Avouez. Ça vous manque. Pas vrai ? On revient très très vite ! #soyezpret #kebab #vegan #veganfood #kebabvegan #supervegan #superkebab #frites #foodporn #paris #food #legrascestlavie
A post shared by Super Vegan (@superveganparis) on May 9, 2017 at 9:43am PDT
If you're looking for a cozy eatery serving delicious vegan food, look no further than VégéBowl. The Asian-inspired menu features mouthwatering dishes, such as mapo tofu, vegetable stew, and curry casserole. This grilled vegetable vermicelli salad with tofu "chicken" looks pretty tasty, too:
'Poulet' végétal grillé & salade de vermicelles au tofu, allumettes façon 'jambon' et pousses de soja
#vegebowl #paris #whatveganseat
A post shared by Amalia Piovoso ▲ (@ama_retto) on Feb 23, 2016 at 4:04am PST
Did someone say "pain au chocolat"? That's right—you can have your French pastries and eat them, too, thanks to VG Pâtisserie. Choose from delicious baked goods, like chocolate treats, Orange Chocolate Croissants, and the "cruffin"—a cross between a croissant and a muffin:
Aujourd'hui on essaie le cruffin à la vanille de chez @vgpatisserie, léger et crémeux à la fois, à essayer d'urgence
Meeting between a croissant and a muffin, let's say it's a good match #vgpatisserie#vegan#cruffins#veganfood#veganfoodlovers#whatveganseat#veganpastry#veganbakery#govegan
A post shared by Lesveganeriesdemarine (@lesveganeriesdemarine) on Dec 12, 2017 at 5:12am PST
Animals have personalities. They play, learn, and think, and they don't deserve to be served for dinner—in Paris or anywhere else.
Learn How to Be Vegan Around the World
Booking a weekend getaway? Planning an exotic vacation? Click the button below to get tips for a cruelty-free trip, and we promise that you'll be living like vegan royalty all around the globe. And don't forget to check out our vegan airport survival guide, too!
How to Be Vegan Around the World


Learn How to Be Vegan All the Time
Whether you're traveling or at home, going vegan is easier now than ever before, thanks to PETA's vegan starter kit. Request one, and gain access to recipes, tips on making the compassionate switch, and so much more!
The post Where to Go to Get Delicious Vegan Food in Paris appeared first on PETA.