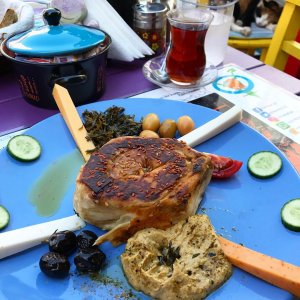 Are you traveling to Istanbul and curious about where you can get animal-friendly traditional Turkish cuisine? Don't worry—here's a guide to vegan eating in the city:
Order anything at Mahatma Cafe—the menu is 100 percent vegan and brimming with local ingredients. We're talking falafel, stuffed grape leaves, lentils, zatar, börek, and more.
Turkish breakfast done #vegan (with a friend
)! Potato börek, olives, cheese, zatar, hummus, and tea, on the lovely sidewalk courtyard at @cafemahatma.
A post shared by Ashley Byrne (@ashlovesmongo) on Aug 20, 2017 at 4:09am PDT
Whether it's a vegan market or restaurant you're after, Vegan İstanbul has what you need. The café and market offers 100 percent vegan items, and many feature Turkish ingredients.
Vegan Lahmacun #vegantrip #veganturkey #veganistanbul #goodfood #lahmacun
A post shared by retetecutania (@retetecutania) on Aug 14, 2017 at 5:55am PDT
Check out Zencefil for traditional Turkish fare. The restaurant has many vegan-friendly options, like stuffed dried eggplant, smoked bulger with veggies, okra with chickpeas, and vegan tarts for dessert.
Smoked bulgar salad and simmered beans #vegan #plantbased #vegantheworldover #istanbul
A post shared by Joules BeIdo
(@vegantheworldover) on Feb 26, 2017 at 2:53pm PST
If your accommodations include a kitchen, you'll likely want to do a little shopping. Thankfully, there's Vegan Dükkan—one of Turkey's first vegan grocery stores. Here, you'll find breakfast foods, plant-based milks, snacks, tofu, other vegan protein options, and so much more. Happy shopping!
Yulaf lapası, Mornflake'in çabuk pişen yulafıyla bir başka lezzetli oluyor…Nereden mi alacaksınız? Elbette Vegan Dükkan'dan… www.vegandukkan.com #vegan #yulafezmesi #yulaflapası #superfastoats #oatsforporridge #mornflake #protein #veganistanbul #veganturkiye #vegandükkancihangir #vegandükkan
A post shared by Vegan Dükkan (@vegandukkan) on Dec 3, 2017 at 10:45pm PST
If you're planning to do some home cooking, pick up a few brand items from Veggy, which offers one of Istanbul's first meat substitutes—and they're delish. Choose from meat-free tofu kebabs, meatballs, or schnitzel. Follow Veggy on Instagram for some yummy vegan recipe inspiration:
Bezelye kıymalı tatlı patates
#bolprotein
#vegan
#dusukkalori #yuksekprotein #bitkisel #veganlarneyer #veganyemek #bitkiselbeslenme #peaprotein
A post shared by Veggy (@veggyturkiye) on Jul 26, 2017 at 1:38am PDT
Order in with Bi Nevi Deli, a plant-based kitchen that conveniently delivers. Choose from stir-fry meals, quinoa burgers, and the bowl of the day—it even serves Veggy products! (See above.) Click here to check out its daily menu.
French Onion Soup. Bugün menüdeki Soğan çorbasının
secret icerigi Kombucha

yaninda bezelye proteini kofteleriyle hem doyurucu, hem de besin degerleri yuksek bir ogle yemegi
#kombucha #guthealth #iyibakteri #fermentedfoods #onionsoup #gfcroutons #cashewcheese #veganistanbul #wfpb #creativeplantbasedkitchen
A post shared by Bi Nevi Deli (@binevideli) on Dec 2, 2017 at 2:35am PST
If you're looking for a great cup of coffee, check out Kronotrop. This specialty coffee shop offers both soy milk and cold-brew options. Whether you prefer hot or cold—it has your fix.
Kronotrop Cold Brew! #kronotrop #coldbrew #brewing #roaster #roastery
A post shared by Kronotrop (@kronotrop) on Jun 9, 2016 at 12:54am PDT
Get in the zone—Falafel Zone! Most of the menu options here are vegan, and there's so much more to choose from than just falafel. The vegan muffins, burgers, soups, and hummus plates are all great options.
Falafel

#vegan #vegancooking #veganfood #veganfoodshare #veganlifestyle #veganlife #veganlarneyer #whatveganseat #veganistanbul #falafel #veganfalafel #veganfalafelwrap #falafelzone #vegancheatmeal
A post shared by Vegan Yolculuk (@veganyolculuk) on May 8, 2017 at 12:31pm PDT
Need a great place to stay? Hungry for delicious vegan food? Vegan BellaVista Hostel does it all. Located in the heart of Taksim Square, it offers budget-friendly accommodations and features an on-site café that serves strictly vegan food.
Hayvanları katletmeden lahmacun da olur, ayranda ve temiz bir vicdanınızda..
#vegan #veganism #govegan #veganfood #veganayran #veganlahmacun #soyakıyması #soymince
A post shared by Murat Mendeş (@naturalsmurf) on Jun 9, 2017 at 11:14am PDT
Learn How to Be Vegan Around the World
Booking a weekend getaway? Planning an exotic vacation? Click the button below to get vegan trip tips, and we promise that you'll be living like vegan royalty all around the globe. And don't forget to check out our Vegan Airport Survival Guide, too!
How to Be Vegan Around the World


Learn How to Be Vegan All the Time
Whether you're traveling or at home, going vegan is more doable than ever before, thanks to PETA's vegan starter kits. Click the button below to request a free kit and gain access to recipes, tips on making the compassionate switch, and so much more.
Send Me a FREE Vegan Starter Kit
The post Traveling to Istanbul? We've Got Your Vegan Guide to the City appeared first on PETA.