Rappers Styles P and Jadakiss' Juice Bar Is Changing Lives [Video]
October 27, 2017
Rappers Styles P and Jadakiss' Juice Bar Is Changing Lives [Video]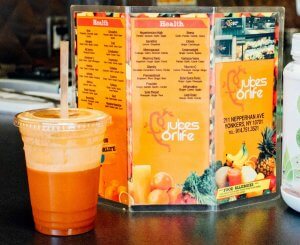 If you haven't heard, rappers Styles P and Jadakiss are changing New York City, one juice bar at a time.
Their popular juice-bar franchise, Juices for Life, serves up vegan juices and smoothies, along with a loving community atmosphere for their customers. The store's motto is "Love is love," and as Styles P explains, "If you don't save yourselves, we can't be a better community all together."
We were totally moved by this Tastemade video:
@juicesforlife LOVE IS LOVE . And we here to spread it !!! Be mindful of what you put in your body ! Take care of yourself family and community ..
A post shared by realholidaystyles (@realholidaystyles) on Oct 22, 2017 at 5:47pm PDT
Angela Yee, host of New York's The Breakfast Club radio show, opened the second Juices for Life in her neighborhood of Bedford-Stuyvesant, Brooklyn. "I was really excited when I heard Jadakiss and Styles P were opening a juice bar. I thought it was great because it shows they care about their community. … I think that, actually, was an inspiration to a lot of people."
Styles P is happy to champion the power of a plant-based lifestyle, as it helped change his life for the better: "Before a plant-based diet, I had all these issues. … So I was like … what is it that's making me go this way? So I said, 'Something has to do with food.'"
He goes on to say, "You can change your community through the business of being healthy, so much so that if I knew … that fruits and veggies … was this important, I would've been spreading the word my whole life."
As of the time of this writing, there are four locations of Juices for Life: one in Yonkers, two in the Bronx, and one in Brooklyn.
LOVE IS LOVE !! #Juicesforlife #1028CastleHill #277Malcolmxblvd #3463ETremont #211Nepperhan #Culture #juicebar #healthiswealth #community #vegan #fruits #veggies @juicesforlifebk @juicesforlife_tremont @juicesforlifeyo
A post shared by juicesforlife (@juicesforlife) on Jul 29, 2017 at 1:29pm PDT
The more people who are given access to vegan foods, the more people will become aware of the many hazards of a cruel, meat-laden diet. Not only are animals slaughtered by the billions every year in the meat industry, meat is also killing us and the environment.
Areas where healthy, fresh food is hard to find are usually disproportionately located in African-American communities and low-income neighborhoods. People living in these areas are locked into the system of food injustice, because having to resort to eating processed meats and snacks puts them at higher risk of suffering from diabetes, heart disease, cancer, and strokes. Live in a food desert? Here are seven ways to thrive.
What You Can Do Right Now
Inspired to go vegan? Order our free vegan starter kit today!
I Want a Free Vegan Starter Kit!
The post Rappers Styles P and Jadakiss' Juice Bar Is Changing Lives [Video] appeared first on PETA.