#NewYearNewVegan: All the Best Tips and Resources for 2018
December 22, 2017
#NewYearNewVegan: All the Best Tips and Resources for 2018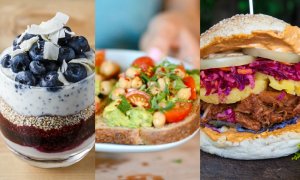 It's 2018. You've been thinking about going vegan, and we're here to help. If you need inspiration, look no further than this guide, which offers reasons to go vegan, the easiest ways to make the transition, and how to make it last a lifetime.
What are you waiting for?
Order PETA's Vegan Starter Kit
Order a free copy of our vegan starter kit. It'll guide you through the transition to a healthier, happier, and longer-lasting life. It has everything from recipes and tips on eating out to health information.
Join Our Vegan Mentor Program
PETA's Vegan Mentor Program makes the transition even easier by offering one-on-one support from a knowledgeable vegan. Mentees are paired with mentors who address questions and concerns about going vegan, as well as offering guidance on shopping, cooking, dining, or anything else related to vegan living. The program strives to foster a healthy, sustainable lifestyle shift by offering a network of support and resources that promote kindness over cruelty.
Check Out Our 'How to Go Vegan' Guide
Going vegan is easier than ever before, but we're here to make it even easier. Check out this guide to going vegan in three steps: what to buy, what to make, and where to eat.
Not sure what to eat? Our two-week sample vegan meal plan is designed for new vegans who aren't sure what to eat as well as longtime vegans looking to try something new.
2 WEEK VEGAN MEAL PLAN

Why go vegan?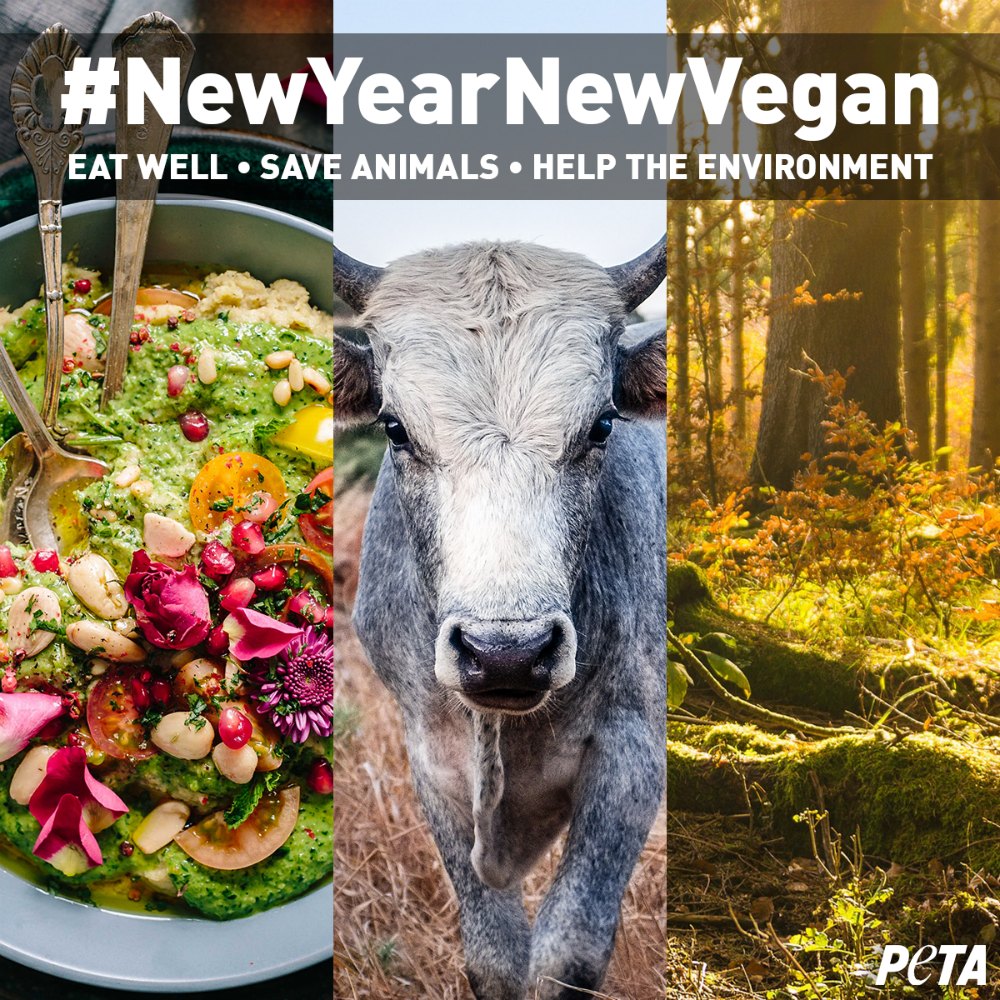 For Animals
The meat industry's rampant abuse of animals is the number one reason to go vegan. Whether it's chickens, pigs, cows, fish, or any other animal, no one wants to die to end up on your plate. By going vegan, you won't contribute to the suffering that's inherent when animals are bred and killed to be eaten. You'll also no longer support the mass culling of male chicks in the egg industry or the removal of baby cows from their mothers for dairy milk, cheese, yogurt, and ice cream.
For Your Health
There's no nutritional need for humans to eat anything derived from an animal—in fact, all of our dietary needs are best supplied by a meat-free diet. Eating vegan can reduce the risk of suffering from many chronic degenerative diseases and other conditions, including heart disease, cancer, obesity, hypertension, and diabetes. Check out our guide to getting all your essential nutrients and vitamins from plant sources:
For the Environment
Raising animals for food requires massive amounts of land, food, energy, and water. A staggering 51 percent or more of global greenhouse-gas emissions are caused by animal agriculture. The absolute best way to combat the worst effects of climate change is to go vegan.
Use #NewYearNewVegan on Facebook, Twitter, and Instagram to let us know about your progress. Here's to a happy, healthy, and vegan 2018!
The post #NewYearNewVegan: All the Best Tips and Resources for 2018 appeared first on PETA.