Here's Everything You Need to Know About Eating Vegan in Barcelona
October 27, 2017
Here's Everything You Need to Know About Eating Vegan in Barcelona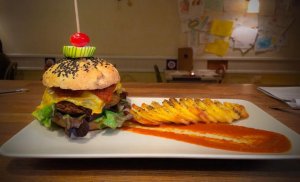 Barcelona is famous for being home to a whopping nine UNESCO World Heritage Sites. But did you know that the city houses numerous delicious vegan-friendly eateries, too? We've listed nine of our favorites, each one as delicious as the last. If you're planning a trip to this vibrant city—whether you're vegan or not—you may want to take notes:
Every single item on the menu at VegetArt is vegan. Choose from gnocchi, bagel sandwiches, pesto pasta, stews, burritos, and roasted sweet potatoes, just to name a few.
Y hoy tenemos un burrito tremendo.
Vengaaaaaaa que os esperamos hasta las 18!
A post shared by Vegetart Cuina Vegana (@vegetart) on Aug 3, 2017 at 3:09am PDT
This eatery offers raw and gluten-free options. Choose from pancakes, lasagne, pasta, risotto, and sweet and savory pastries—all vegan and all yummy.
A post shared by Enjoy Vegan Restaurante (@enjoyveganbcn) on Sep 15, 2017 at 8:53am PDT
What's Cat Bar? It's a vegan beer and burger restaurant. Need we say more?
If you're vegan/vegetarian and you are in Barcelona you must come to @catbarcat
A post shared by Ricardo Teixeira (@ricardoteixeirafoto) on Sep 30, 2017 at 8:25am PDT
This vegan-friendly restaurant may consider itself a "Healthy Restaurant," but that doesn't mean that its food is any less delicious. Teresa's menu includes salads, tacos, burgers, cakes, and delicious baked goods. Or if you're looking for something on the lighter side, you can choose from smoothies, açaí bowls, cold-pressed juices, and "mylks."
No te pierdas la #Vegan Caesar Salad de #teresacarles con lechuga romana
, zanahoria , maíz
, croutons, crunchy de tofu
y tofunesa. Junto a un #GreenLove de #teresasjuicery, la mejor manera de empezar la comida.

Green, tasty & healthy!

A post shared by Teresa Carles (@teresacarles) on Oct 25, 2017 at 4:14am PDT
If you're looking for a casual yet adorable café, look no further than Cafè Camèlia. Whether you're in search of a sweet treat or a hearty meal—think quinoa burgers and ravioli filled with zucchini, tofu, and mint—this place will get the job done.
Burger de quinoa con milhojas de patatas y ketchup casero #vegetarianfood #bcnvegetariano #cafecamelia
A post shared by Café Camelia (@cafe_camelia_bcn) on Jun 30, 2017 at 1:34pm PDT
Vegan salads, sandwiches, pizzas, empanadillas, and montaditos—Santoni has it all. And if you're just in the mood for coffee and a delicious baked good, they've got those, too.
Vegano!!!! Best vegan croissant we've had to date. #vegan #allveganeverything #veganfortheanimals #veganpastries #veganfoodporn #veganfoodshare
A post shared by Aubry (@sister_butcher) on Sep 19, 2017 at 4:18pm PDT
This 100 percent vegan and organic café offers mouthwatering dishes that are sure to satisfy. Start with delicious tapas before choosing a main dish—but with options such as vegan pizza, lasagne, and burgers, you might just want to try them all.
Este es, nuestro menú de la semana, 100% Ecológico/Organico Os esperamos

Reservas ☎️ 931 82 43 71

COMBINADO RAW 16 € Primero Ensalada de mézclum, col lombarda, manzana, apio, pipa de calabaza, vinagreta de lima con anacardo Segundos Espagueti de calabacín con salsa de tomate maduro, albóndigas de frutos secos y setas Paté de pimiento con cebolla deshidratada y con crackers enzimáticas Agua osmotizada o copa de vino ecológico Postre del día o café o te. #homemade #elcafeblueproject #vegano #rawfood #born #contemporaneo #mézclum #espagueticalabacín #arte #Blueprojectfoundation #km0 #historico #sopadepuerros #tofustrogonoff #cafeeco #cienporcienecologico #croquetasmijo #miso #romesco #sopaancestral #salsadelima #falafelverde
A post shared by El café blueproject (@cafeblueproject) on Dec 15, 2016 at 1:27am PST
This vegan restaurant offers healthy, organic dishes made with local ingredients. Patrons can choose from delicious salads, soups, tacos, and even sushi!
#veggieburguer y #veggiesushi las 2 opciones que tenemos hoy para tu #bento ya te están esperando!! A disfrutar del fin de! ! #biobento #healthyfood #plantbaseddiet #veganbarcelona #barridesants
A post shared by Bio Bento (@biobento) on May 26, 2017 at 4:23am PDT
Top off a perfect day in Barcelona with some perfect vegan desserts. Cakes, cupcakes, doughnuts—Daniela has it all. These chocolate matcha bars look pretty tasty:
Barritas de Té matcha, almendra,coco,dátiles ,espirulina y chocolate !

#vegano #vegan #danielabakery #danielabakerybcn #barcelonavegan #barcelonavegana #lovevegan #veganfood #veganfoodlovers #govegan #veganbarcelona #veganfoodlovers #energybar #matcha
A post shared by Daniela bakery (@danielabakerybcn) on Mar 6, 2017 at 9:31am PST
*****
Want even more vegan Barcelona inspiration? Follow Vegan Barcelona on Instagram to see where to find desserts like this:
This dessert takes the cake! Excuse the pun but we're super excited about finding these slices of heaven. This chocolate cake with roses and pistachios is INCREDIBLE, better than any other dessert we've posted (and that's saying a lot). It's €3 a slice and well worth it. Shout out to Honey-B Co. for providing bomb ass vegan options at their bakery.
A post shared by Vegan Barcelona (@veganbarcelona) on Aug 19, 2017 at 12:01pm PDT
And follow Vegan Foodie Bcn for posts about places to find vegan calamari and this delicious-looking vegan shrimp:
Vegan shrimps do exist
at @bar_celoneta
: @jessbrazen #regram #veganfoodiebcn #barcelonetasangriabar #bar_celoneta
A post shared by Vegan Foodie Bcn
(@veganfoodiebcn) on Sep 20, 2017 at 12:03pm PDT
Learn How to Be Vegan Around the World
Booking a weekend getaway? Planning an exotic vacation? Click the button below to get vegan trip tips, and we promise that you'll be living like vegan royalty all across the globe. And don't forget to check out our Vegan Airport Survival Guide, too!
How to Be Vegan Around the World


Learn How to Be Vegan All the Time
Whether you're traveling or at home, going vegan is more doable than ever before, thanks to PETA's vegan starter kits. Click the button below to request a free kit and gain access to recipes, tips on making the compassionate switch, and so much more.
Send Me a FREE Vegan Starter Kit
The post Here's Everything You Need to Know About Eating Vegan in Barcelona appeared first on PETA.