Conrad Maldives Rangali Island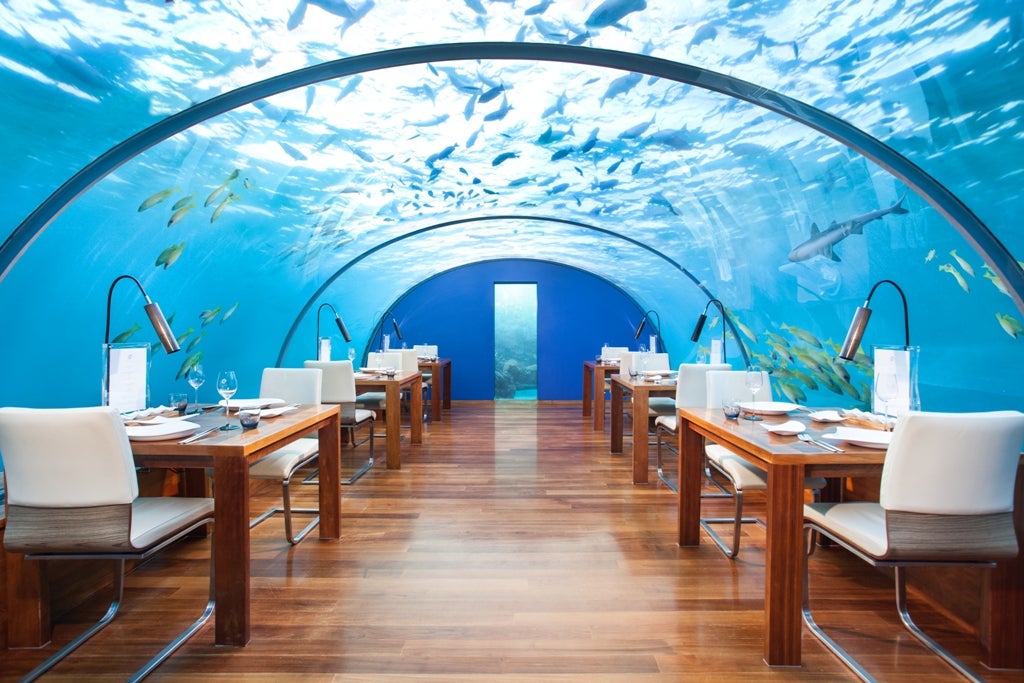 Foursquare Tips
Be sure to eat the early (6:30pm) dinner at Ithaa (the undersea restaurant). You get to be underwater during sunset & dark, so you see very different types of fish during the 2 times of light.

To see sea turtles, your best bet is to try snorkeling near the Mandhoo spa villas.

Heaven on earth

To spot Manta Rays, go onto the bridge between the islands between 10pm - 12midnight, & look in the water near the lights in the middle. They are usually there, eating plankton. (Oct 2010).

Makes you wonder if paradise can be as good as this. Very friendly staff; unbelievable attention to detail; wows you every minute of the day!

It's a shoe-free resort! But you gotta bring at least one pair of long trousers if you would like to go Ithaa Undersea Restaurant :)

amaizing service in a perfect Place. Do you need more? - check out www.werocktour.com/maldivas

Best time of my life had here. So relaxing, beautiful, and the service and attention to detail is amazing. The spa is a must!!!

..sumday i'll be der brotha!!! just wait...:)

Best place I've ever seen, so relaxing, so beautiful... Friendly staff and very high attention to details!!! Try a massage in the beautiful spa retreat!;)

Get snorkeling gear for free from the dive centre, then go to the beach outside villa #225 to see hundreds of amazing coral reefs :)

Hire jet skis for 1 hr and go to a neighbouring island untouched by civilization: huge crabs, shells, sand like powder, and no one there ;)

Huge 2 meter manta rays appear near the middle of the bridge when it gets dark.

Bring a camera for the crazy wildlife! At night this place is alive :)

If you get too hot when walking across the long bridge between the main island & smaller island, you should stop inside the hut in the middle of the bridge. It has AC, cool cloths &cold water inside.

this is PARADISE rite brtha?....wkakakaka....

Sushi is very good...

Free Espresso in your room , have it & relax

7- , - , 2001 "" . !

heaven. best accommodation, best food, best water.