Company Introduces World's First Almond-Based Vegan Protein Powder
October 28, 2016
From www.peta.org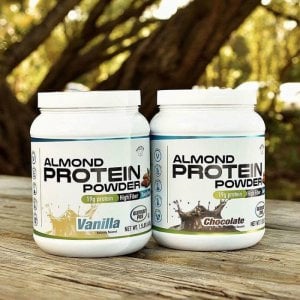 Almond Pro is launching the world's first almond-based protein powder for people who want an ethical and healthier alternative to dairy-laden powders. (Need a reminder of why milk is bad for you? Check this out.)
Almond Protein Powder is packed with 19 grams of almond protein, 6 grams of natural fiber, and 14 essential vitamins and minerals, and it's created using an artisanal method that gives it a lower fat-to-protein ratio than those of its competitors.
Almond Pro Protein Powder comes in two delicious flavors, vanilla or chocolate. Pick your favorite, either way the taste is unbelievable. Go buy yours on Amazon, it's as easy as typing #AlmondProProteinPowder in the search box and it's done. —————————————————- Almond Pro Protein Powder viene en dos deliciosos sabores, vainilla y chocolate. Escoge tu favorito, de cualquier forma su sabor es increíble. Ve a comprar la tuya en #Amazon tan fácil como escribir #AlmondProProteinPowder en el buscador y listo. #almondpro #almondflour #veganstrong #vegan #vegetarian #glutenfree #paleo #protein #recipes #fit #healthy #healthychoice #baking #fitness #crossfit #fitfam #fitness #fitfood #eatclean #veganfit #cleanrecipes #cleaneating #healthylifestyle #bodybuilding #kosher #veganbodybuilding #welovealmonds #AlmondProteinPowder
A photo posted by Almondpro (@almondpro) on Oct 25, 2016 at 2:22pm PDT
Almond Pro first released Organic High Protein Almond Flour to an overwhelmingly positive response. The company's president and CEO, Caulen Foster, explains, "[W]e knew we had to set the bar really high for our next product. I feel extremely confident in saying that we hit the mark with this one."
The plant-based powder currently comes in chocolate and vanilla flavors, with more on the way. It's also gluten-free and soy-free. Your muscles will thank you.
Want more inspiration? Sign up for PETA Living E-News, sent to your inbox once a week.
All fields in bold are mandatory.
By submitting this form, you are agreeing to our collection, storage, use, and disclosure of your personal info in accordance with our privacy policy as well as to receiving e-mails from us.
The post Company Introduces World's First Almond-Based Vegan Protein Powder appeared first on PETA.