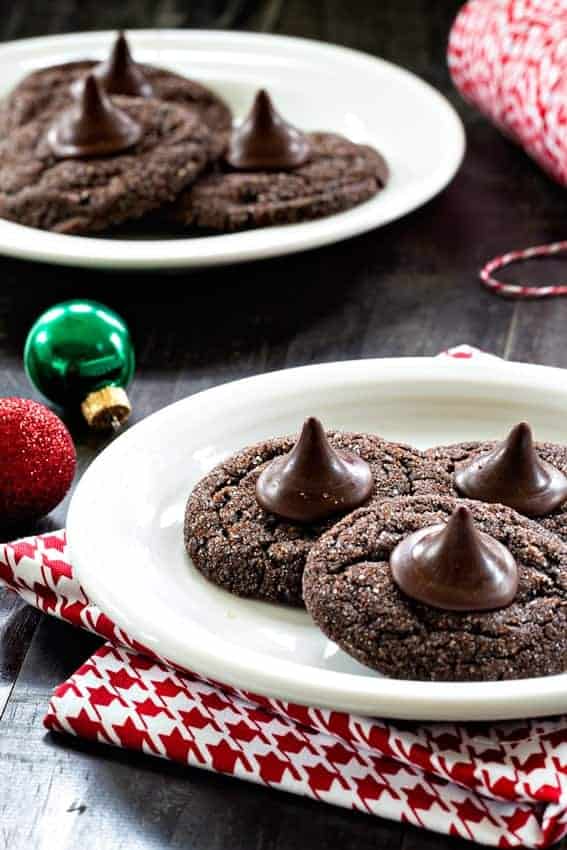 Chocolate Mint Kiss Cookies are the sweetest addition to your holiday cookie platter. They're chewy, minty and loaded with chocolate flavor.
This post is sponsored by Silpat. Thank you for supporting the brands that continue to make My Baking Addiction possible. All opinions are my own.
Obviously, I love to bake and always have, but this holiday baking season is a little more special because I have two extra cute, chubby hands helping me out in the kitchen.
I'm in the kitchen a lot – between testing recipes for My Baking Addiction and whipping up lunches and dinners, Elle has noticed that it's pretty much my favorite place in our home. She's become so curious and interested in the entire process – the girl can even crack an egg!
We're having a blast creating fun and meaningful memories – even if things tend to get a little messy while she's mixa-mixing. Santa has noticed and just might be bringing her a kitchen of her very own this year!
Last week Eric came home from the market with a couple of bags of holiday Hershey's Kisses. I'm a total sucker for the Peppermint Crunch Kisses, but the Dark Chocolate Mint Truffle variety really caught my eye and I thought they'd be the perfect topper for a festive, holiday kiss cookie.
The post Chocolate Mint Kiss Cookies appeared first on My Baking Addiction.