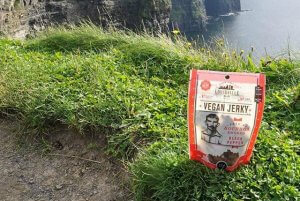 So many vegan snacks, so little time! Here are some vegan jerky brands that you need to try right now:
Lightlife's new product recently debuted at the Natural Products Expo and will hit store shelves soon.
New vegan jerky alert
#TryVegan @lightlifefoods
A photo posted by Official PETA (@peta) on Oct 18, 2016 at 8:16am PDT
High in protein and sinfully sumptuous, Primal Strips come in six flavors: Teriyaki, Texas BBQ, Hickory Smoked, Hot & Spicy, Thai Peanut, and Mesquite Lime.
TFW you open the door in the morning and your Primal Vegan Jerky strips have arrived!!! ahh so obsessed with these. They come in #seitan and #soy. I've seen them at @wholefoods but now I just order them off of Amazon to get the full variety pack

(I just ate a teriyaki seitan strip) the macros on this one is 3F/7C/11P #primaljerky what's your favorite flavor???
A photo posted by @starseedsfitness on Apr 7, 2016 at 7:06am PDT
Using ingredients like non-GMO certified soy and locally sourced maple syrup, Louisville Vegan Jerky Co. products come in five flavors: Bourbon Smoked Black Pepper, Bourbon Smoked Chipotle, Sriracha Maple, Sesame Teriyaki, and Maple Bacon.
A photo posted by Louisville Vegan Jerky Company (@louveganjerky) on May 24, 2016 at 10:04am PDT
Stonewall's Jerquee comes in scrumptious, bite-sized pieces and is available in eight vegan flavors—note that the BBQ "Beef" flavor contains honey.
Oh my yummy! #StonewallsJerquee is really friggin good! #vegetarian #delicious #LayOffMeImStarving
A photo posted by Ainsley Mama (@ainsleymama82) on Aug 3, 2015 at 12:13pm PDT
Cocoburg coconut jerky comes in Original, Chili Lime, and Ginger Teriyaki flavors. We'll take all three, please.
For us vegetarians, these vegan coconut jerky are the best! Whoever came up with this idea is brilliant! #coconutjerky #vegan #coconut #yummy #atx
A photo posted by Leonie (@leonie) on Sep 14, 2016 at 2:29pm PDT
MightyBee is derived from young Thai coconuts, and this jerky is also raw and organic.
#repost @clarkie.cat Mmmm jerky
#vegan #plantbased #yom #veganjerky #coconutjerky #londonbrands #mightybee #glutenfree #paleo #organic #healthy
A photo posted by MightyBee (@mightybeelondon) on Sep 7, 2016 at 1:57am PDT
You can munch on Vegan Dream's four insanely satisfying flavors—Hickory Pepper, Cowgirl, Hot Chili Pepper, and Teriyaki—each of which packs a walloping 14 grams of protein per serving.
Amazing late night snack. #veganjerky #vegandreamjerky #lifeiscomplete #crueltyfree
A photo posted by Papa J & his daughters. (@lazyassvegans) on Sep 6, 2016 at 7:09pm PDT
If you're feeling adventurous, you can order a vegan jerky sampler from the Minneapolis-based shop, The Herbivorous Butcher.
Austin's cranking out some Sizzlin' Cajun #Jerky today. Which flavor is your fave? #veganbutcher
A photo posted by Herbivorous Butcher (@theherbivorousb) on Sep 14, 2016 at 7:46am PDT
Check out these game-changing vegan meat brands for more plant-based deliciousness.
Want more inspiration? Sign up for Living E-news for more vegan lifestyle tips, recipes, and news.
All fields in bold are mandatory.
By submitting this form, you are agreeing to our collection, storage, use, and disclosure of your personal info in accordance with our privacy policy as well as to receiving e-mails from us.
The post Chew on This: 8 Vegan Jerky Brands appeared first on PETA.