Caffe Strada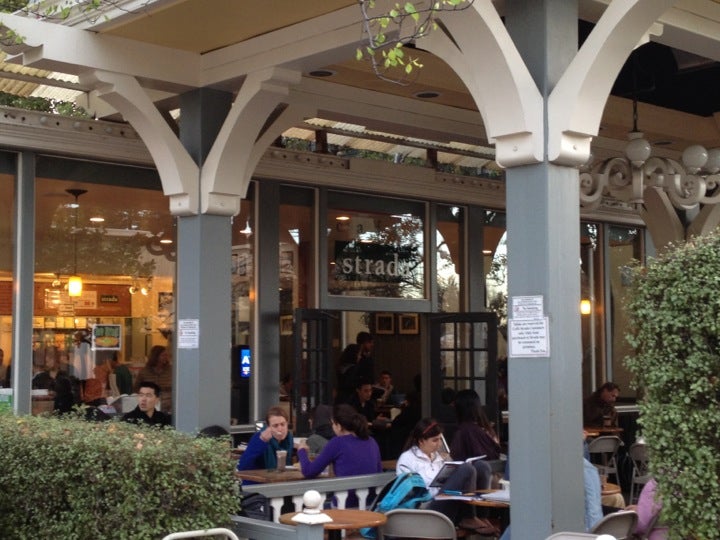 Foursquare Tips
Early Morning Coffee

Go to Cafe Strada, sit outside, have a drink, and go online. Convert your student email address to a free forwarding address. Go to @cal http://cal.berkeley.edu. Use your CalNet login. It's easy!

Go to Cafe Strada, sit outside, drink a latte, and people watch.

Good coffee. Ranked 8th in the 50 best college coffee shops in America

use the bathroom in Kroeber hall, fyi.

They take cash only, but when you buy gift card, you can use credit card ;)

Get yourself a strada bianca (mocha)

When it's warm out, order yourself an Almond Italian Soda. They're delicious !

They have the best mochas!

A popular place to study. Can get crowded and cold. They don't take card, so bring cash. The ATM there charges $3 and banks are a walk away.

Best college cafe place @ bay area

grab a strada bianca mocha and hang out on the patio. i used to study here when i was an undergrad and i still love coming here when i visit. best coffee in the area.

Try the bianca mocha or pomegranate italian soda!

My favorite place in Berkeley!

Sit outside with a latte and pretend to study.

Nut buns!!!

Great place to bring a friend and catch up over coffee!

One of the best coffee shops near campus. The vanilla latte will always please. They usually have live music on Sundays. Coffee+Sun+Music makes studying a bit easier.

An awesome place to study if you don't need Internet, with the cafe's famous white mocha in hand.

Wow super cute outdoor area to study!