Brooklyn Grange Rooftop Farm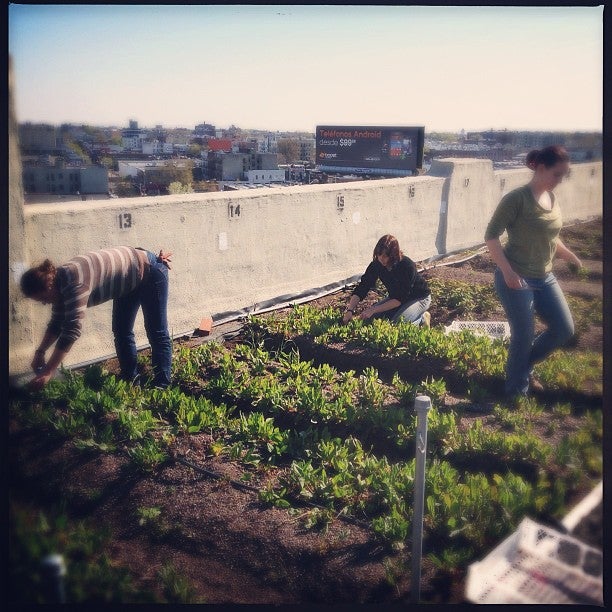 Map: Surroundings & Nearby
Around the Web
well-reviewed pop-up restaurant, What Happens When . And the Brooklyn Grange rooftop farm in Long
Foursquare Tips
Spark Your Senses with the Chevy Spark! Enhance your sense of sight in the beautiful rooftop garden at Brooklyn Grange.

Critics' Pick winner of The Village Voice Best of NYC 2012 Best Rooftop Farm

You can rent the Brooklyn Grange for events, dinners, cocktails and other fun events

Brooklyn Grange is an ethical & sustainable farm participating in Shop Your Values Week! Pledge now to receive discounts at 200+ businesses in NYC from May 3-10, 2012. #SYVW

Eat everything right when you pull it out of the ground

The heirloom tomato cannot be beat!

Sneak to the back of the farm that's closest to the skyline and eat the pea shoots. They are delicious right now.

Visit on a Saturday during summer to get great seasonal veg and lovely extras such as honey and hot sauce

Fabulous location and experience.

Rooftop yoga here is lovely

iftlikler trkiyedekinden ok farkl

The staff here are so knowledgeable and friendly. It's such a cool concept and the produce is delicious!

Fresh produce grown on an NYC rooftop = amazing

The produce is excellent, and so are the events. CSA is decently priced too. Only complaint is the Saturday pickup. Need to change to weekdays next year.

Really rather special - wonderful to see all that kale growing on the city's roof! Monday yoga, Saturday farmers market, and plenty of interesting events.

Astonishing views of Manhattan and Queens, not to mention verdant rows of plants, happy chickens, and pleasant bees. Stop by summer Saturdays from 11-4.

Magnus Nilsson Burger.

If you are inquisitive on the execution and functioning of a roof top garden, this is a must. You just have to appreciate the engineering behind it. They have a variety of vegetables & even honey.

Pretty skyline view.

Register for free, a perfect application for your purchases.