Brooklyn Bridge Park - Pier 1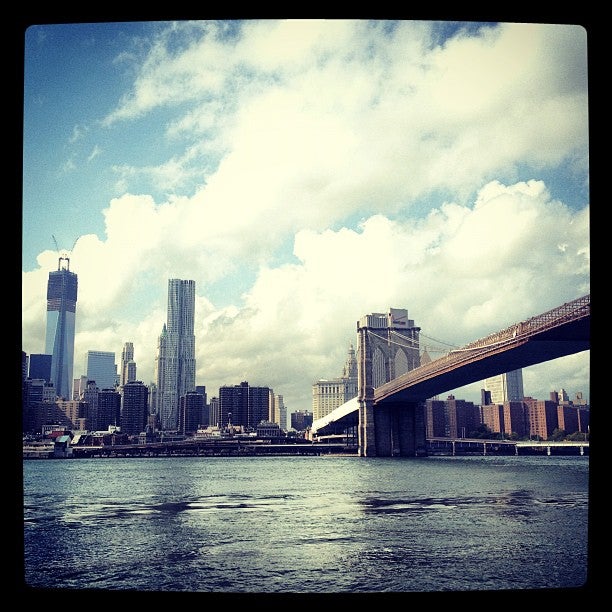 Foursquare Tips
Many types of birds and crustaceans have made themselves at home in the salt marsh at Pier 1. We can't blame them- the view is spectacular!

Don't let your phone die before you can snap and post that beautiful Instagram of the Brooklyn Bridge. Power up at our nearby #ATTStreetCharge solar-powered mobile charging station.

Head to Pier 1 to see Gotham in its full majesty. Enticing treats abound, especially at the Brooklyn Ice Cream Factory. You can even drop in to hear first-rate chamber music at the floating barge.

Battery dying? There are two solar powered AT&T street charge stations here. BONUS TIP: Bring your own USB to micro USB cord. Some if the micro USB plugs don't work.

One of the best views in NYC, and yet so few people seem to know about it.

Best place to play in Brooklyn. Amazing views of lower manhattan, east river and bridges.

This park has it all. Bike paths, large patches with green grass to have a picnic, and last but not least, the most beautiful view of the greatest city on the world from Brooklyn.

Take in a flick during summer movie night thursdays!

Great new view of Manhattan. Lots of grass and benches

Beautiful, might be best park in Brooklyn...

Hang out on the southern slope facing the Statue of Liberty. Less crowded and great for sunsets.

Pier 1 is open, and it's awesome!

Look for NYC's most exciting new waterfront park to open in the coming weeks.

lugar muito lindo..

Look up events on NYC.gov

It's beautiful at night. Perfect for a romantic or meditative stroll.

Free seasonal kayaking and rowing programs are available at Brooklyn Bridge Park on the East River. The organization suggests you sign up at least an hour in advance.

Hundreds of dog bones have been buried under the grass here. They've recently banned dogs on the grass to preserve these artifacts for future dog generations.

Amazing view of the Brooklyn and manhattan bridge at night!

Bring a picnic basket and enjoy the breathtaking views of the Manhattan Skyline and the Brooklyn Bridge. One word of caution, keep your children away from the metal climbing domes.