Branzino al Forno con Patate, Pomodoro e Olive – Roasted Branzino with Potato, Tomato and Olives
October 30, 2016
Branzino al Forno con Patate, Pomodoro e Olive – Roasted Branzino with Potato, Tomato and Olives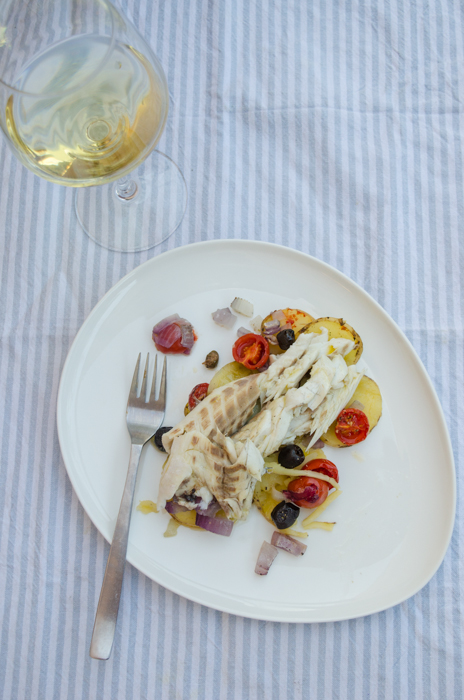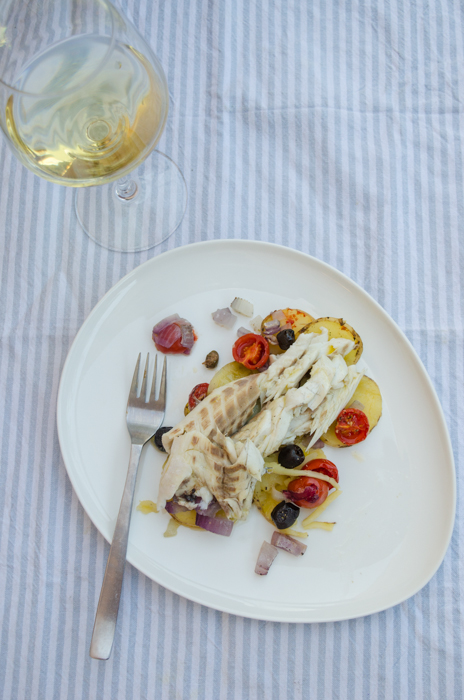 Our culinary experiences on our Italy walking tours are designed to explore the traditional dishes of the regions we visit. During our class this past July with Alessandra and Elena of Peccati di Gola we made several classic seafood recipes from Venice. My last post was on Sarde in Saor, and here is another Venetian dish, featured on many restaurant menus but easily replicated by home cooks, Roasted Branzino with Potatoes, Tomatoes and Olives.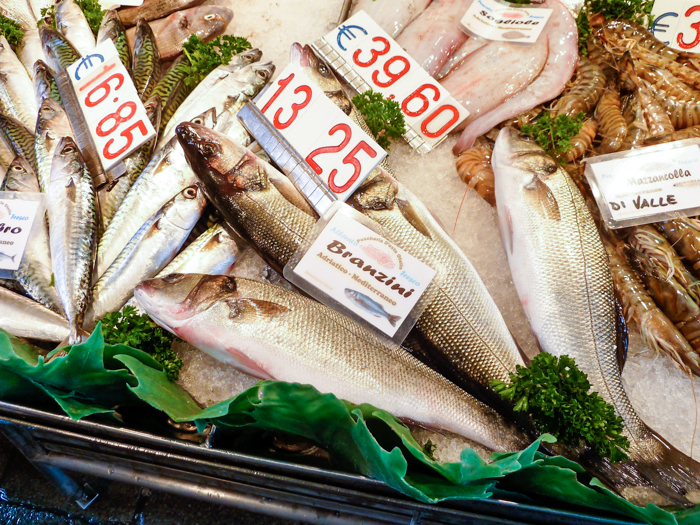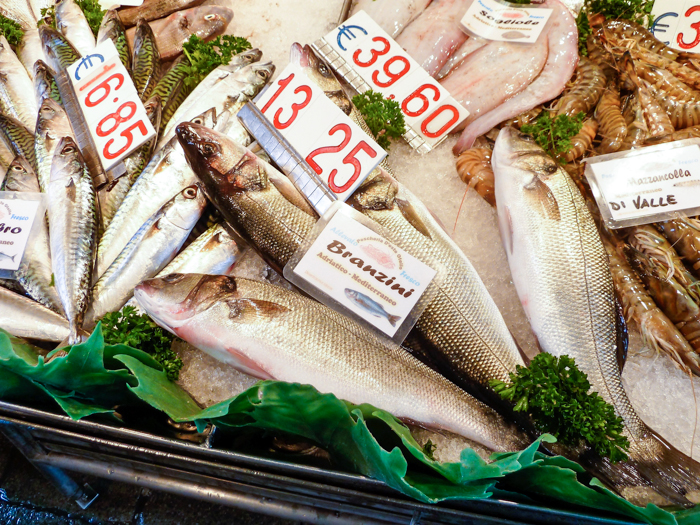 Branzino is a species of fish commonly found in peschiera, or fish mongers, in the Veneto. Also referred to as European seabass, or Mediterranean seabass, it is a a member of the Moronidae family, also known as "temperate basses" as they can flourish in a wide range of temperatures. They are found on both sides of the North Atlantic, over here in the US we have the freshwater species white bass and yellow bass, and the coastal striped bass (Morone saxatilis) or "striper".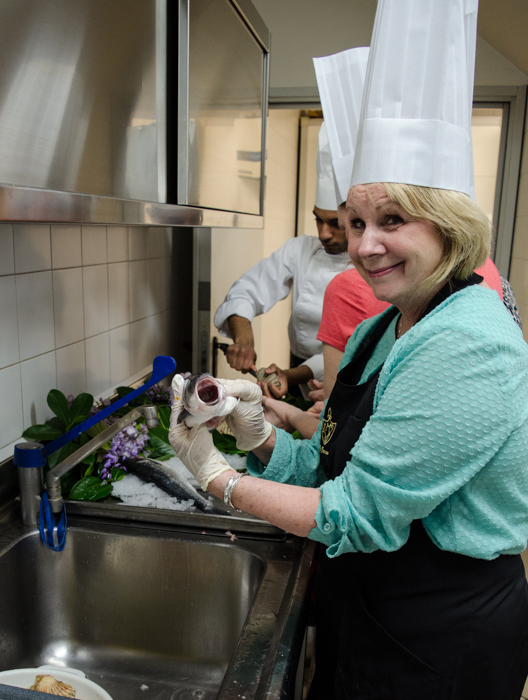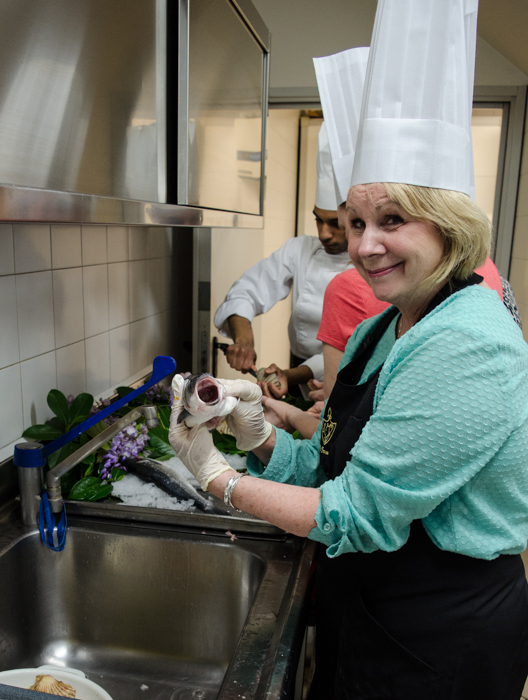 Branzino (plural branzini) is the name of the fish in Northern Italy; in other parts of Italy, it is called spigola or ragno. In France, the fish is called bar commun along the Atlantic, loup de mer on the Mediterranean. It is often farmed, making it fairly easy to find even here in the US. They range in size from 1 to 1.5 pounds, and are sold whole. My fishmonger in Italy will scale and clean it for me, ask yours to do the same.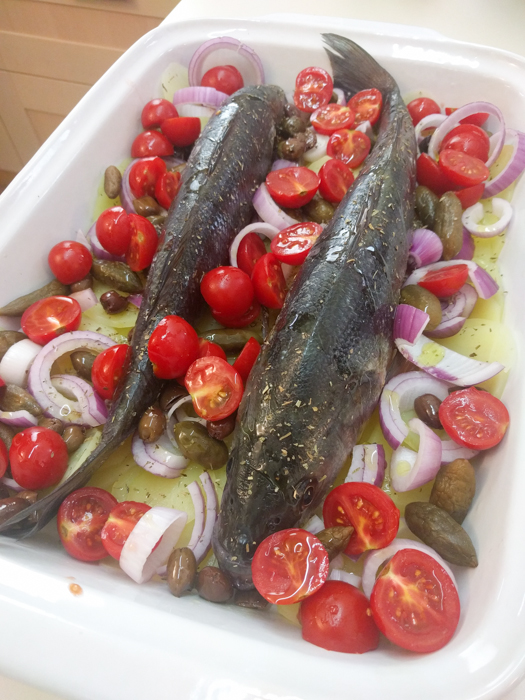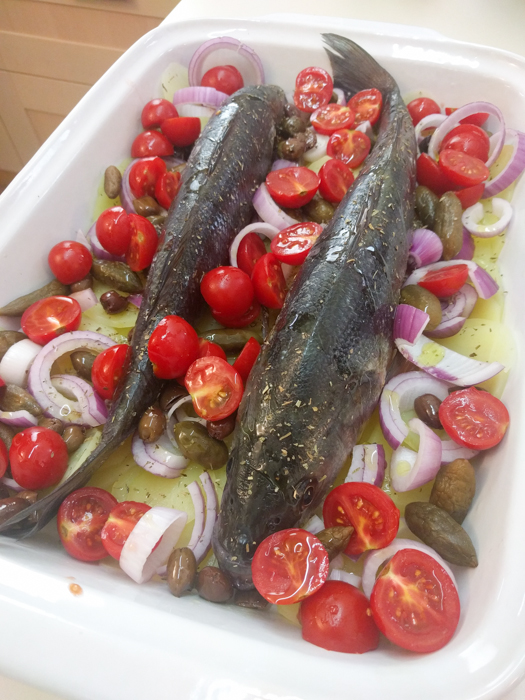 To select a whole fish, check for:
Mild, briny not 'fishy' smell
Clear eyes, not cloudy
Bright, metallic skin/scales
Clean, red gills
Tight, not sunken belly
If you cannot find branzino, you can substitute a whole, white fish of similar size.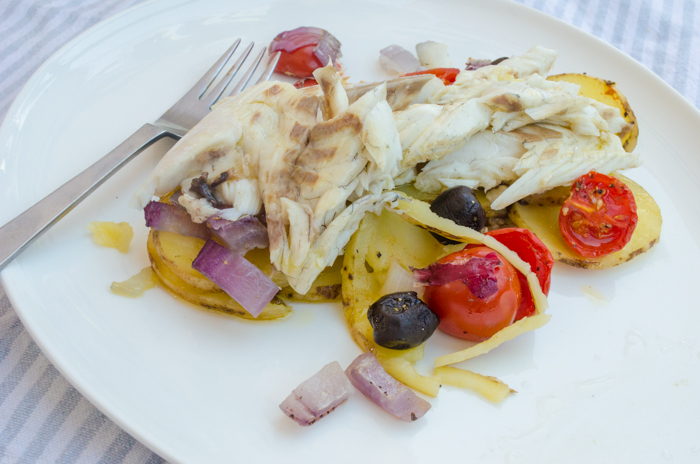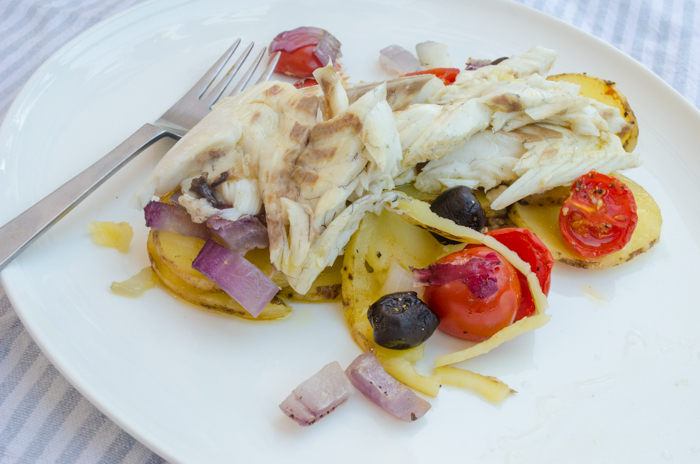 Branzino al Forno con Patate, Pomodoro, e Olive
Serves 2
1 pound potatoes
3 tablespoons extra virgin olive oil, plus more for drizzling
1 large branzino (1.5 lbs) or 2 smaller (1.0 lbs), scaled and cleaned
10 ounces cherry tomatoes
1 small red onion, minced
3 tablespoons capers, rinsed
1/4 cup black olives, pitted
Oregano, kosher salt, freshly ground pepper
Preheat oven to 350F°.
Peel the potatoes and thinly slice. Bring a large pot of water to boil over high heat, and add salt. Boil the potatoes in the salted water for 2-3 minutes, then drain.
Put the olive oil in a large baking dish. Place the branzino, belly side down, on the baking dish, arranging the potatoes around the fish to hold them upright.
Halve the tomatoes and place on top of the potatoes together with capers, minced onion and olives.

Sprinkle oregano, salt and pepper over entire dish. Drizzle oil over everything.
Place in oven, bake for 30 minutes. Serve, drizzled with olive oil.
Serve with a crisp white wine from the Veneto, like a Soave or Vespaiolo from Breganze.