'Bloody' Vegan Burger to Be Served at Fast Casual Chain
October 28, 2016
'Bloody' Vegan Burger to Be Served at Fast Casual Chain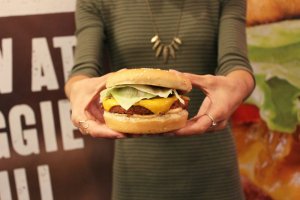 The highly-anticipated beet-juice-bleeding vegan Beyond Burger will be available at the Hollywood Veggie Grill location starting on November 2 and at all locations nationwide soon. Why should you be extremely excited? Because this is the future of food.
Ethan Brown, the founder and CEO of Beyond Meat, has big dreams for the Beyond Burger, and they appear to be coming true in rapid succession.
Loved trying @VeggieGrill's #vegan #VGBeyondBurger tonight in #Hollywood! This tasty, juicy @BeyondMeat burger is coming to a #VeggieGrill near you next month. #GetReady
A photo posted by Official PETA (@peta) on Oct 25, 2016 at 9:32pm PDT
One of his goals was to have his revolutionary, plant-based burgers available in stores' refrigerated meat sections (in order to appeal to meat-eaters, too). The first Whole Foods to carry them sold out of the product within an hour.
And the burger does have crossover appeal. One journalist raved, "I … can verify that it is the closest in taste and texture that a vegetarian burger has ever gotten to a traditional beef burger."
@veggiegrill is officially the first restaurant in the United States to serve the #beyondburger
Starting Nov 2nd, you can order one at their Hollywood location and at all Veggie Grill's soon after! Welcome to #LA Beyond Burger.
A photo posted by Beyond Meat (@beyondmeat) on Oct 26, 2016 at 9:43am PDT
Beyond Meat is getting so much positive attention that Tyson Foods recently invested in it. (This says a lot about the booming plant-based foods industry, doesn't it?) Believe the hype, folks.
Now, plant-based restaurant chain Veggie Grill will be the first to make the Beyond Burger a menu staple. For those not in the know, Veggie Grill just got a huge boost from investors who want to see the chain double in size over the next three years.
Have you been thinking of going vegan for animals, your health, and the environment? Take our vegan pledge today!
The post 'Bloody' Vegan Burger to Be Served at Fast Casual Chain appeared first on PETA.