Best 2015 New Year's Eve Parties In San Francisco
December 18, 2014
Best 2015 New Year's Eve Parties In San Francisco
New Year's Eve Party (credit: Brian Killian/Getty Images)
Thousands of revelers are expected to ring in the New Year at huge events all over San Francisco. Whether you want to watch the fireworks along the Embarcadero or want to attend some of the biggest parties in the city, there is an event for everyone. Although tickets to many of the best New Year's Eve parties went on sale well before Halloween, it may not be too late to find tickets, although time is running out quickly. Here are five of the best New Year's Eve parties in San Francisco.
(credit: nyecityhall.com)
NYE City Hall 2015
San Francisco City Hall
1 Dr. Carlton B. Goodlet Place
San Francisco, CA 94102
(415) 678-5392
www.nyecityhall.com
The steps of City Hall and Civic Center Plaza have been the location of a number of major events this year, such as the Bruno Mars concert at Dreamforce '14 in October and the victory celebration for the 2014 World Series champions San Francisco Giants. But for the event billed as "San Francisco's Premier New Year's Event," this New Year's Eve party is going inside the historic building for a huge party featuring four areas of music, leading DJs, a hosted bar, bottle service and party favors. Among the artists scheduled to appear are DJs Chris Harnett and team Desired Temptations. Guests have the option of choosing from general admission tickets allowing access to the Main Rotunda to five levels of VIP service.
Related: Best 2014 New Year's Eve Concerts In The San Francisco Bay Area
(credit: nyemassive.com)
NYE Massive 2015
Parc 55 Hotel
55 Cyril Magnin St.
San Francisco, CA 94102
(415) 470-8558
www.nyemassive.com
Known as the "original and longest running multi-city themed New Year's Eve event," NYE Massive 2015 returns to the Parc 55 Hotel for the 13th annual party. This year's event will feature world class DJs on five dance floors in five separate areas. Each of the dance floors will feature music from one of five distinct American cities. The massive party will also offer VIP tables with bottle service, casino-style gaming with pro dealers, large screen TVs with live video mixing and premium party favors. The NYE Massive 2015 has sold out every year and people interested in attending are encouraged to buy tickets as soon as possible.
(credit: alistsf.com)
'Passport to the World' 2015
Westin St. Francis Hotel
335 Powell St.
San Francisco, CA 94102
(415) 397-7000
www.alistsf.com
The landmark Westin St. Francis Hotel in Union Square will welcome guests in formal attire into the New Year in what is expected to be the "largest upscale event in San Francisco." Last year's 'Passport to the World' showcased 11 different themes from different parts of the world, such as Roman columns and the Versailles Gardens in the Europe section and Carnival-style partying in the South American section. The main floor, said to be the largest dance floor in the city, will feature DJs playing a wide range of music including Top 40, hip hop and EDM, as well as professional models, dancers and musicians. General admission tickets allow access to eight general areas on both levels and drinks for the night while VIP admission will include an express line, access to VIP areas and all of the provisions offered for general admission tickets.
(credit: seaofdreamsnye.com)
Sea of Dreams NYE 2015 – FrequenSea
Bill Graham Civic Auditorium
99 Grove St.
San Francisco, CA 94102
(415) 624-8900
www.seaofdreamsnye.com
For people ages 18 and up, the Sea of Dreams is arguably the best event to attend for New Year's Eve in San Francisco. Held at the historic Bill Graham Auditorium in the Civic Center, the event will feature both live music and DJs, along with an open bar and VIP access for those at least 21 years old. Headliners scheduled to appear include electronic music artist Derek Vincent Smith otherwise known as Pretty Lights, electronic musician and rapper Flying Lotus and Beats Antique. The VIP access offers preferred main floor views in either the front or side of the main stage, two drink tickets, expedited entry, VIP coat check and complimentary hors d'oeuvres. Tickets can be purchased either online or in person with no surcharge at the Fox Theater in Oakland or the Independent Box Office in San Francisco.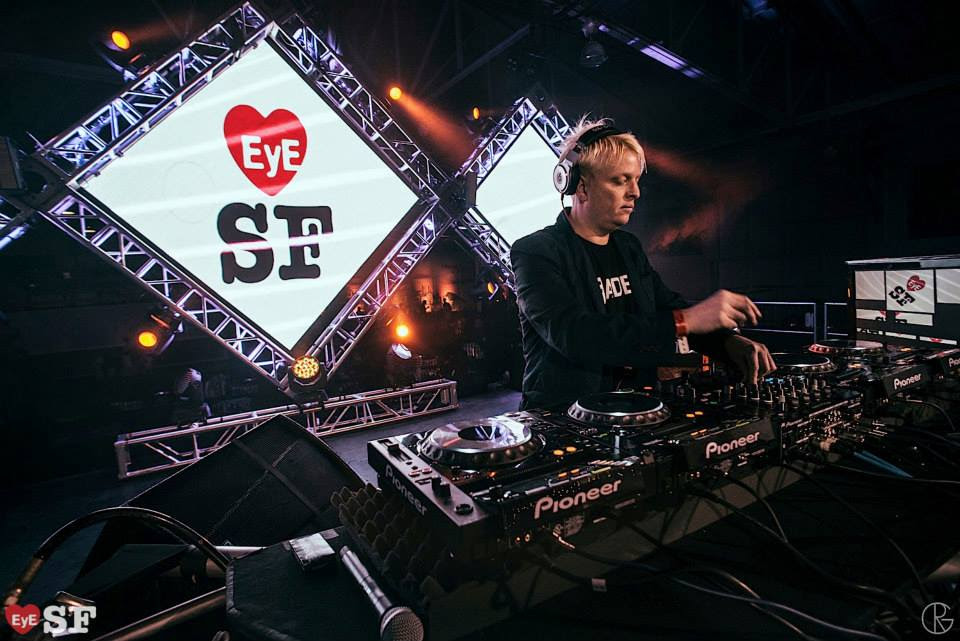 Live 105's Aaron Axelsen (credit: eyeheartsf.com)
Streets of San Francisco
Fort Mason Center
2 Marina Blvd.
San Francisco, CA 94123
(415) 345-7500
www.eyeheartsf.com
Located along the waterfront at Fort Mason, the Streets of San Francisco is one of the city's best New Year's Eve parties. The annual event is in its sixth year and is touted as having the best "bartender-to-guest ratio of any competing party" in the country. Past events have featured such big name DJs as Steve Aoki, Z-Trip and Moby. Ticket prices for the Streets of San Francisco range from general admission, which includes open bar, to VIP with access to VIP lounges, restrooms and a premium open bar. DJs already announced for this upcoming show include Kill Paris, Viceroy, Travis Wild, Chromeo and Live 105's Aaron Axelsen.
Related: Best 2014 New Year's Eve Parties In The North Bay
Randy Yagi is a freelance writer covering all things San Francisco. In 2012, he was awarded a Media Fellowship from Stanford University. His work can be found on Examiner.com Examiner.com.