The Alembic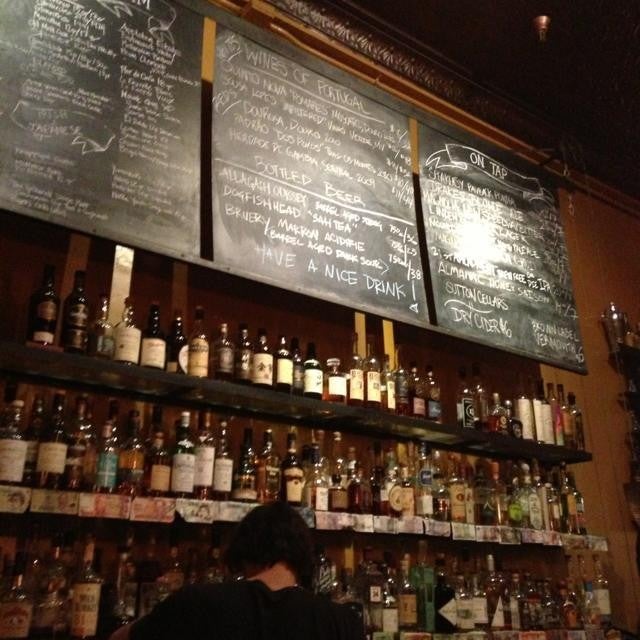 Map: Surroundings & Nearby
Around the Web
day, 5 pm-1 am Related Articles Daniel Hyatt Has Left the Alembic 1725 Haight St. San Francisco (at

Pizzeria Delfina Italian Pizza Mission $$ Aug 05, 2008 The Alembic American (New) Bar Gastropub Haight

Boxing Room It's hard to wrong... Photo-12453761.141692 - SFGate Image 4 of 10 Sazerac at The Alembic The

at The Alembic. Photo courtesy of The Alembic. It's Girl Scout Cookie season, and a couple of local

Girl Scout Cookie Cocktail Week at The Alembic. Photo courtesy of The Alembic. It's Girl Scout Cookie
Foursquare Tips
The Alembic is one of those bars where the drinks take time to make, but they're also hands-down the best in the hood, perhaps in the city.

Must-tastes: The locally-made Charbay vodka, Pritchards rum from Tennessee, and the St. George single malt.

If you can handle wordy descriptions and a sometimes-moody staff, your reward is a haunt for cocktail enthusiasts that serves savory bites warranting a trip on their own merit. [Eater 38 Member]

This place has high quality drinks and a small, but interesting menu including choices like duck hearts & quail eggs. As recommended by Travel Channel host, Anthony Bourdain.

Go to The Alembic. Order an Old Fashioned. Savor it. Then try a Vice Grip. Offer up a prayer of thanks to Doctor Popular, who told me about it.

Alembic is PAIRING Girl Scout Cookies and alcohol TOGETHER. You'll get two cookies served with every one complementing cocktail. What are you waiting for?!

3 words: Pork Belly Sliders

and order a Sazerac and a couple deviled duck eggs. Heaven.

Unwind with an Old Fashioned...it's #43 on 7x7's Big Eat SF 2010.

Order The Bone.

Tasty cocktails and surprisingly creative snacks at this Haight Street bar.

Oh, you thought you were just stopping by for the excellent cocktails? False. You are also here to order the bone marrow. Seriously.

After we finished our bone marrow, our bartender gave us a shot of Fernet luge style through the hollowed out bone it was served in. Pretty effing epic and tasty, if you're into that.

get the blood and sand (cocktail). thank me later.

A damn fine Sazerac!

Congratulations, you've found one of Esquire's Best Bars in America. We recommend ordering a gilded lily, although all of the cocktails here are excellent.

Drink a sazerac

try the "blood and sand" it's a strange name but the drink is amazing

SF Weeklys Best Of 2011 Winner Editorial Pick BEST COCKTAIL MENUIf you like choices, stop by Alembic's Savoy Cocktail nights, when its menu is replaced with an 800-plus-recipe tome...

the lamb sliders are exquisitetly juicy and flavorful.