Gluten Free Gingersnaps Recipe
Nutrition
Cal/Serving: 62
Daily Value: 3%
Servings: 66
Low-SodiumLow-Fat-Abs, Vegetarian
| | | |
| --- | --- | --- |
| Fat | 2g | 3% |
| Saturated | 1g | 5% |
| Trans | 0g | 0% |
| Carbs | 11g | 4% |
| Fiber | 1g | 3% |
| Sugars | 4g | 0% |
| Protein | 1g | 2% |
| Cholesterol | 6mg | 2% |
| Sodium | 48mg | 2% |
| Calcium | 7mg | 1% |
| Magnesium | 7mg | 2% |
| Potassium | 39mg | 1% |
| Iron | 0mg | 2% |
| Zinc | 0mg | 1% |
| Vitamin A | 47IU | 1% |
| Vitamin C | 0mg | 0% |
| Thiamin (B1) | 0mg | 1% |
| Riboflavin (B2) | 0mg | 0% |
| Niacin (B3) | 0mg | 1% |
| Vitamin B6 | 0mg | 2% |
| Folic Acid (B9) | 8µg | 2% |
| Vitamin B12 | 0µg | 0% |
| Vitamin D | 0µg | 0% |
| Vitamin E | 0mg | 0% |
| Vitamin K | 0µg | 0% |
| Fatty acids, total monounsaturated | 0g | 0% |
| Fatty acids, total polyunsaturated | 0g | 0% |
Exclusive from The Daily Meal
If clementines are unavailable, substitute 1/3 cup freshly squeezed juice and a little zest from a...
These cookies take oatmeal to new levels with chocolate chips and coconut.
Add some Mediterranean flavors to your next casserole dish.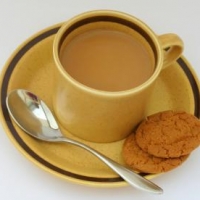 INGREDIENTS
2â…" cups gluten-free flour blend of
choice (or use recipe below)
½ teaspoon ground cloves
¾ teaspoon ground ginger

1 teaspoon

ground cinnamon

½ teaspoon baking soda
1¾ teaspoons xanthan gum
â…› teaspoon salt

1

stick unsalted butter or non-dairy

margarine, melted
¼ cup molasses

1 cup

sugar

1

large egg

sugar for topping
.......................................
High-Protein gluten-free flour Blend
1¼ cups bean flour (of choice), chickpea flour or soy flour

1 cup

arrowroot starch, cornstarch or potato starch

1 cup

tapioca starch/flour

1 cup

white or brown rice flour

Combine flours together. Refrigerate and store in tightly covered container until used.
Recipe Details
| | |
| --- | --- |
| Prep | |
| Cook | |
| Total Time | |
| Servings | 66 servings |