Fall Apple-pear Butternut Squash Soup Recipe
Nutrition
Cal/Serving: 361
Daily Value: 18%
Servings: 4
Gluten-Free, Wheat-Free, Egg-Free, Peanut-Free, Tree-Nut-Free, Soy-Free, Fish-Free, Shellfish-Free
| | | |
| --- | --- | --- |
| Fat | 21g | 32% |
| Saturated | 7g | 35% |
| Trans | 0g | 0% |
| Carbs | 33g | 11% |
| Fiber | 4g | 17% |
| Sugars | 11g | 0% |
| Protein | 14g | 27% |
| Cholesterol | 37mg | 12% |
| Sodium | 415mg | 17% |
| Calcium | 207mg | 21% |
| Magnesium | 64mg | 16% |
| Potassium | 806mg | 23% |
| Iron | 2mg | 11% |
| Zinc | 1mg | 9% |
| Vitamin A | 13585IU | 272% |
| Vitamin C | 30mg | 50% |
| Thiamin (B1) | 0mg | 14% |
| Riboflavin (B2) | 0mg | 19% |
| Niacin (B3) | 5mg | 24% |
| Vitamin B6 | 0mg | 18% |
| Folic Acid (B9) | 58µg | 15% |
| Vitamin B12 | 0µg | 3% |
| Vitamin D | 0µg | 0% |
| Vitamin E | 4mg | 18% |
| Vitamin K | 11µg | 14% |
| Fatty acids, total monounsaturated | 11g | 0% |
| Fatty acids, total polyunsaturated | 2g | 0% |
Exclusive from The Daily Meal
If clementines are unavailable, substitute 1/3 cup freshly squeezed juice and a little zest from a...
These cookies take oatmeal to new levels with chocolate chips and coconut.
Add some Mediterranean flavors to your next casserole dish.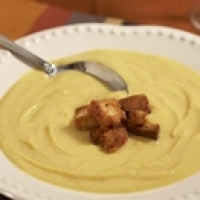 INGREDIENTS
1

medium butternut squash cooked, peeled and cubed

2 tablespoons

extra virgin olive oil

kosher salt and Freshly ground pepper - to taste

1 tablespoon

canola oil

1

Asian pear peeled and chopped

1/2 cup

onion diced (fresh)

2

14-oz. cans chicken broth

1 cup

ricotta cheese

1/8 teaspoon

salt

1 teaspoon

cumin

garmish with cold pear or a few pieces of roasted squash.
Recipe Details
| | |
| --- | --- |
| Prep | |
| Cook | |
| Total Time | |
| Servings | 4 servings |