Shake Shack
Slowly, Danny Meyer's Shake Shack is changing the landscape of the burger world. It started in Madison Square Park in 2001, with a hot dog cart created by Meyer's Union Square Hospitality Group to support the Madison Square Park Conservancy's first art installation. Fans of the cart lined up for three summers until USHG won the bid to open a permanent park kiosk. Then the real fun (and lines) started. The "roadside burger joint" started serving incredibly juicy burgers on potato rolls and rich, thick, creamy custards with mix-ins (concretes), and the best Chicago-style hot dog outside the Windy City. It took until 2007 for the Shack to stay open through winter, but it's since become a New York institution — and spread beyond its borders, immediately ranking among those locales best burgers. Menu additions, mash-ups, and location-specific items have followed at newly launched Shacks in New York, Connecticut, Florida, D.C., Philadelphia, the Middle East, and now London. Location specific items at the CitiField Shake Shack include the Shortstop concrete and Frisky Fries. — Arthur Bovino, 11/20/2012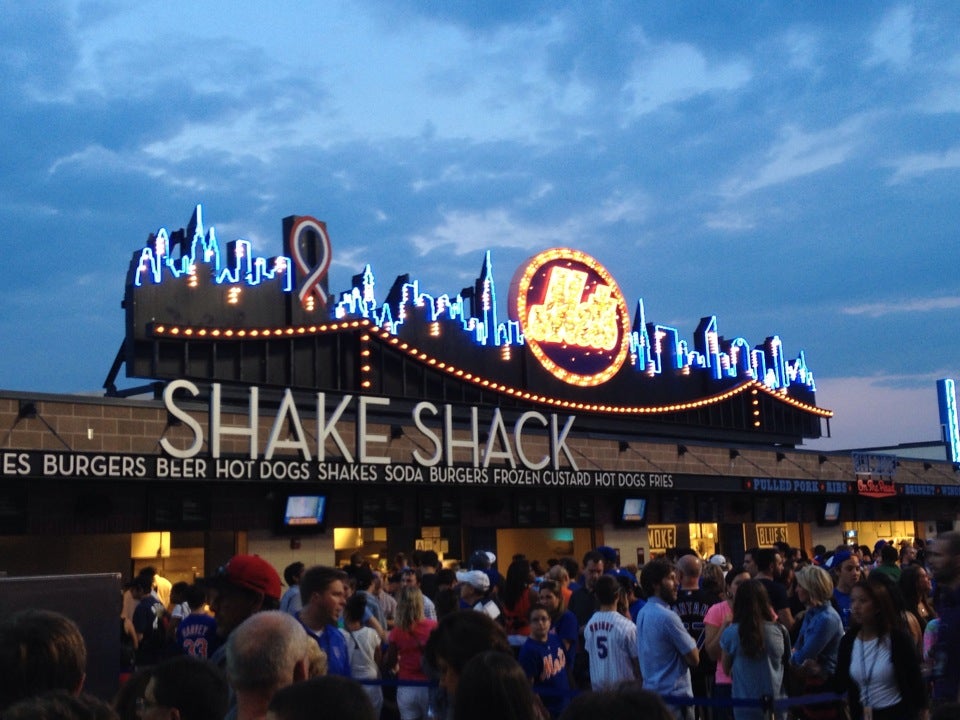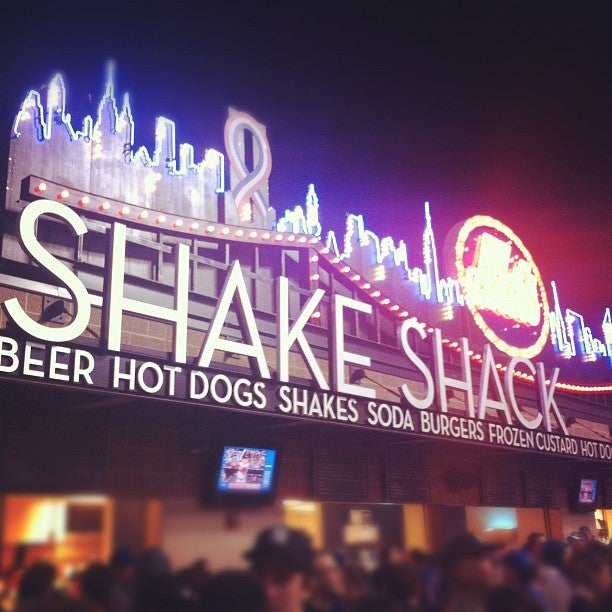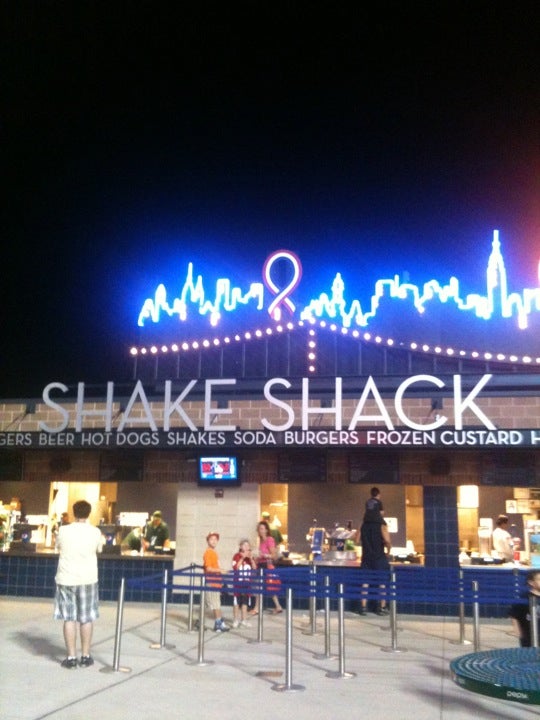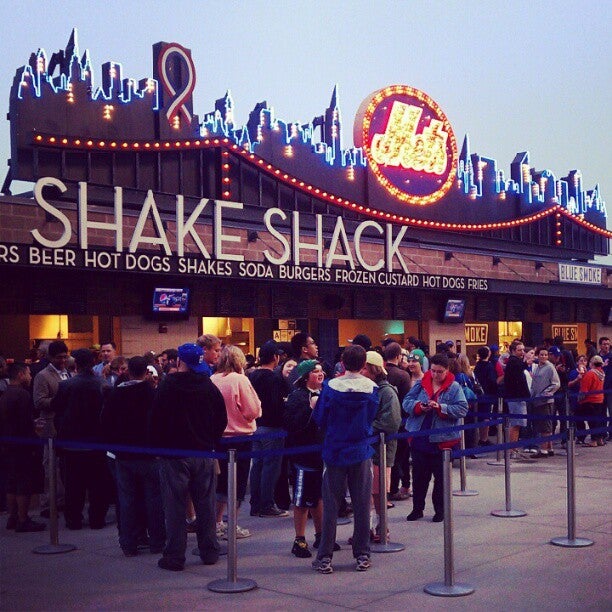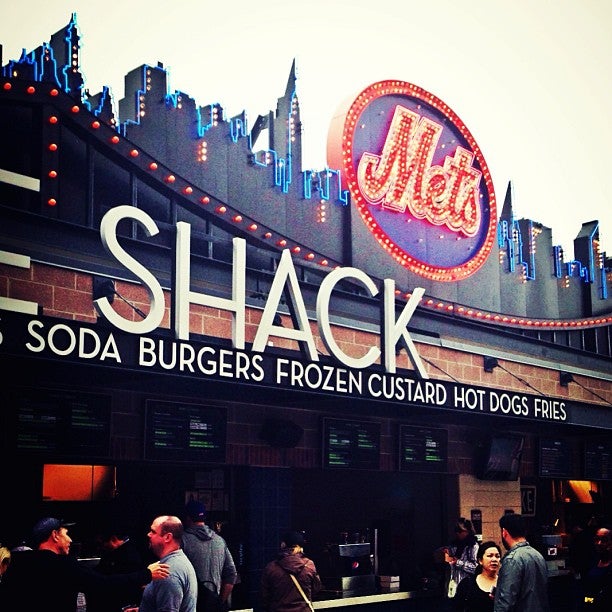 Map: Surroundings & Nearby
Around the Web
Shake Shack - New York Magazine Restaurant Guide New York Magazine Skip to content , or skip to

Shake Shack Brooklyn - Downtown Brooklyn - New York Magazine Restaurant Guide New York Magazine

Shake Shack - Battery Park City - New York Magazine Restaurant Guide New York Magazine Skip to

Shake Shack - Flatiron - New York Magazine Restaurant Guide New York Magazine Skip to content , or

Shake Shack - Hell's Kitchen - New York Magazine Restaurant Guide New York Magazine Skip to content

Shake Shack - Upper East Side - New York Magazine Restaurant Guide New York Magazine Skip to

Shake Shack - Upper West Side - New York Magazine Restaurant Guide New York Magazine Skip to
Foursquare Tips
Not to be missed: French fries dipped in salted caramel, a.k.a. the stuff stoner dreams are made of.

REALLY Long lines (get there early!!!) But the best food @ the Stadium.

grab a beer or 2 at Big Apple Brews for the wait in line @shakeshack

Nothing goes better together than baseball and burgers. While the line is always long at this location, it's well worth it. We usually get the Shack Burger and a black and white milkshake.

Shackburger. Double only if you're crazy.

Great fries

The fries are surprisingly great

don't get dissappointed with the mets play

Simply the best food in Citi Field. :)

Burger and black and white milkshake!

Agreed. Choc/vanilla shake is crack. Small but worth every calorie and penny

if it's super hot out, please get the black 'n' white aka chocolate milkshake. CREAMY COLD DELICIOUSNESS.

Black and white milkshake and hot pepper fries are both awesome. Oh yeah, GO PHILLIES

the one thing the Mets don't have to be embarrassed about. Go Yankees

You will easily wait 1 hour here to order. You have to special request pickles and onions. Crazy.

Shack burger n beer R best combination.

Best Burgers in NYC!

Not just shakes! Best burgers in the stadium.

Go in the late innings when the line is reasonable and have the custard. Excellent dessert! High calories, but totally worth it.

good food... but the place in the city is better! if you gonna do a mets game stick with the shorter line & get a grilled Italian suasage...