Story Tavern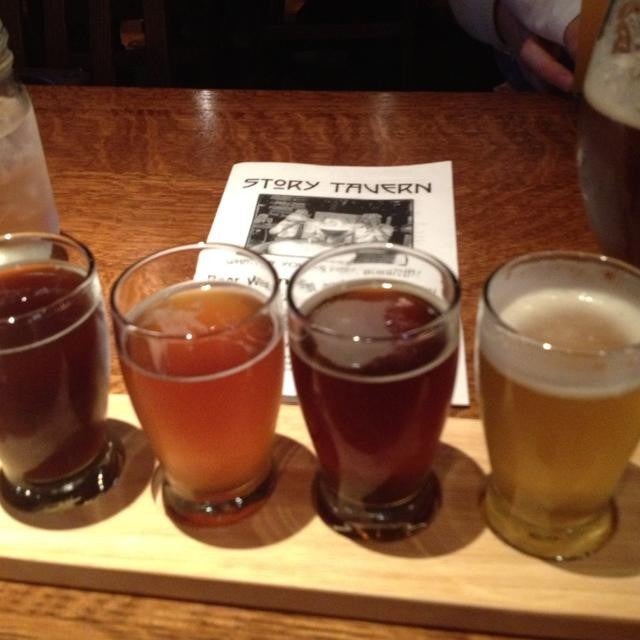 Map: Surroundings & Nearby
Foursquare Tips
Wine on tap?! YES PLEASE!!!

Our server was a dick, didn't allow me to get a drink from the bar despite the bartender wanting to. Just because he said he had made the last call. First and last time here.

Sit down, shut up, get totchos.

Foxbarrel blackberry pear cider .. to die for. Oh, did I mention they offer gluten free food!!

Tell Brian the angry baby says, "See you next Halloween."

It's communal seating so if this bothers you I'd skip it. Great craft beer list. They are not messing around when they called their spicy Mac and cheese spicy!

Came for a friend's going away party had to ask several times for water (I ordered another drink too). Eventually had to go to the bar to get it myself.

Love the cider and GLutenFree choices!!

Great service and atmosphere!

Love the Foxbarrel blackberry pear cidar.

Make sure you get Matt to serve you. He knows what's up.

Great place for a beer or hard cider.

Everything here is expensive.

Great beers and liquor selection - great fun!

Grub is a little overrated, but it's Burbank's answer to the "neighborhood pub"

Brouwerij Van Steenberge Tripel Van de Garre, no additional comment needed

Always a great beer selection. Regular tap take overs

Great beer selections love when they do a brewery take over

They stopped serving Irish Nachos aka tater tots with cheese. WTF? Isn't this an Irish place?

Nice atmosphere, communal seating. Mac attack burger was fantastic.