Hariton's 'Famous' Vegetarian Casserole Recipe
Nutrition
Cal/Serving: 174
Daily Value: 9%
Servings: 36
Balanced, High-Fiber, Low-SodiumVegan, Vegetarian, Dairy-Free, Gluten-Free, Wheat-Free, Egg-Free, Milk-Free, Peanut-Free, Tree-Nut-Free, Soy-Free, Fish-Free, Shellfish-Free
| | | |
| --- | --- | --- |
| Fat | 5g | 8% |
| Saturated | 1g | 4% |
| Carbs | 31g | 10% |
| Fiber | 8g | 33% |
| Sugars | 8g | 0% |
| Protein | 5g | 10% |
| Sodium | 75mg | 3% |
| Calcium | 61mg | 6% |
| Magnesium | 59mg | 15% |
| Potassium | 985mg | 28% |
| Iron | 2mg | 11% |
| Zinc | 1mg | 6% |
| Vitamin A | 577IU | 12% |
| Vitamin C | 56mg | 94% |
| Thiamin (B1) | 0mg | 12% |
| Riboflavin (B2) | 0mg | 12% |
| Niacin (B3) | 3mg | 14% |
| Vitamin B6 | 1mg | 31% |
| Folic Acid (B9) | 72µg | 18% |
| Vitamin B12 | 0µg | 0% |
| Vitamin D | 0µg | 0% |
| Vitamin E | 2mg | 8% |
| Vitamin K | 20µg | 25% |
| Fatty acids, total monounsaturated | 3g | 0% |
| Fatty acids, total polyunsaturated | 1g | 0% |
Exclusive from The Daily Meal
If clementines are unavailable, substitute 1/3 cup freshly squeezed juice and a little zest from a...
These cookies take oatmeal to new levels with chocolate chips and coconut.
Add some Mediterranean flavors to your next casserole dish.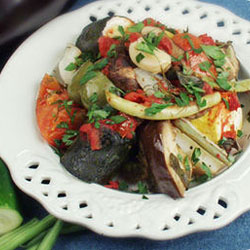 This is a very tasty dish consisting of all kinds of fresh vegetables and herbs baked in the oven. This will tantalize your taste buds. It has been a sell-out at our Greek Church at every function for five years now. We serve this on toasted, warm pita bread.
INGREDIENTS
8

large eggplants

8

large potatoes

8

green bell peppers

8

large onions

8

summer squash

6

tomatoes

1

pound fresh green beans

1

pound whole fresh mushrooms

2

bulbs garlic, cloves separated and peeled

1/4

cup chopped fresh dill weed

1/4

cup chopped fresh oregano

1/4

cup chopped fresh basil

1

(15 ounce) can tomato sauce

3/4

cup olive oil
Recipe Details
Prep:
30 min
Total time:
6 hr 0 min
Servings:
36 servings