Best of New Orleans #7
Herbsaint is chef Donald Link's upscale (yet still fun and accessible) modern bistro
August 25, 2014
Today on The Daily Meal
Location Details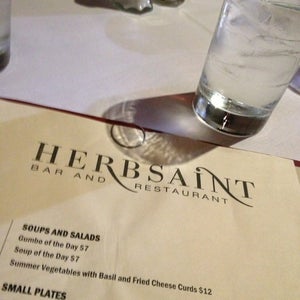 (504) 524-4114
701 Saint Charles Ave,
New Orleans,
LA
70130
OpenTable.com
New Orleans City Guide
City Guides
Choose a Different City
Every day during the month of August, we're highlighting one restaurant from our recent ranking of the 31 Best Restaurants in New Orleans. Today's restaurant, Herbsaint, is #7 on our list.
Chef Donald Link is the latest in a long line of world-class chefs to hone his chops in New Orleans, incorporating the city's flavors and vitality into his cooking. Link is also the man behind the now-legendary Cochon. Herbsaint is his more upscale (yet still fun and accessible) modern bistro; French and Italian-inspired yet still classically Southern. Standout dishes include butter-poached Gulf tuna with pickled chilies and mint, jumbo shrimp with tasso-stewed collard greens and grits, and slow-cooked lamb neck with saffron fideo and tomato confit.
Here's our complete ranking:
#31. Maurepas Fine Foods
#30. Boucherie
#29. Mother's
#28. Luke
#27. The Joint
#26. Dickie Brennan's Steakhouse
#25. Mahony's
#24. MiLa
#23. La Petite Grocery
#22. Gautreau's
#21. Coquette
#20. Parkway Bakery
#19. Clancy's
#18. Dooky Chase
#17. Drago's
#16. Emeril's
#15. Redfish Grill
#14. Jacques-Imo's
#13. Bayona
#12. Camellia Grill
#11. Domilese's
#10. Willie Mae's Scotch House
#9. SoBou
#8. Root
#7. Herbsaint
#6. Domenica
#5. Cochon
#4. Peche
#3. August
#2. Galatoire's
#1. Commander's Palace
Comments

0
Like this story?
Get updates by email, facebook and twitter
The Daily Meal Video Network
Strawberry Brie Grilled Cheese