Best of New Orleans #12
The Camellia Grill is undoubtedly one of the world's finest diner-style restaurants
August 20, 2014
Today on The Daily Meal
Location Details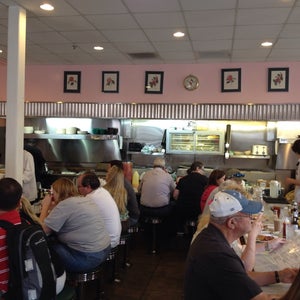 (504) 522-1800
540 Chartres St,
New Orleans,
LA
70130
New Orleans City Guide
City Guides
Choose a Different City
Every day during the month of August, we're highlighting one restaurant from our recent ranking of the 31 Best Restaurants in New Orleans. Today's restaurant, The Camellia Grill, is #12 on our list.
Founded in 1946, this Carrollton landmark is nothing short of legendary. Undoubtedly one of the world's finest diner-style restaurants, the crowds line up on a daily basis not just for the retro charm and friendly service, but for legendary chocolate pecan pie, double-scoop "freezes," gigantic omelets, perfect griddled 6-ounce burgers, waffles, and "Whole Meal Sandwiches." While it's quite possibly the best breakfast place in town, the best time to go is late at night.
Here's our complete ranking:
#31. Maurepas Fine Foods
#30. Boucherie
#29. Mother's
#28. Luke
#27. The Joint
#26. Dickie Brennan's Steakhouse
#25. Mahony's
#24. MiLa
#23. La Petite Grocery
#22. Gautreau's
#21. Coquette
#20. Parkway Bakery
#19. Clancy's
#18. Dooky Chase
#17. Drago's
#16. Emeril's
#15. Redfish Grill
#14. Jacques-Imo's
#13. Bayona
#12. Camellia Grill
#11. Domilese's
#10. Willie Mae's Scotch House
#9. SoBou
#8. Root
#7. Herbsaint
#6. Domenica
#5. Cochon
#4. Peche
#3. August
#2. Galatoire's
#1. Commander's Palace
Comments

0
Like this story?
Get updates by email, facebook and twitter
The Daily Meal Video Network
Feed Me Wine With Keith Beavers: Opening and Pouring